Whilst in London last week, I had the opportunity to check out the NARS Spring 2010 Collection and hear a little more about it's inception and application on the runways at New York Fashion Week last year.
It's the first time I've ever analysed a collection like this… and honestly, I feel a little "hell, what do I know about 'collections' and 'runways' and excuse me while I kick off my Mum's stilletos and get back in my sandbox".
If I shrug off those insecurities, I'm left realising that I was handing over my debit card at the NARS counter in Liberty less than 20 minutes after being given this bag of samples… and really, what other qualifications does one need?
Let's start with the actual collection.  Swatches, thoughts and all.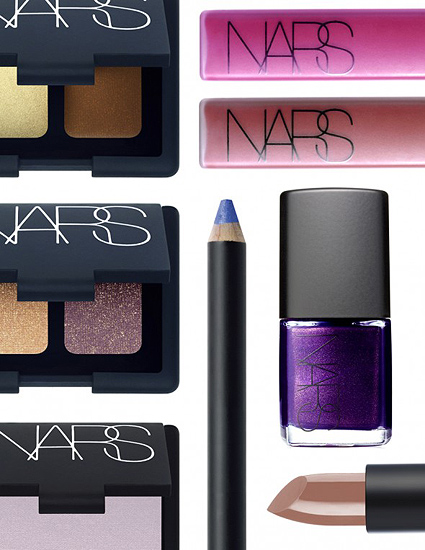 I have to say, I'm not a huge fan of the Catherine Deneuve-inspired promo shot for the collection…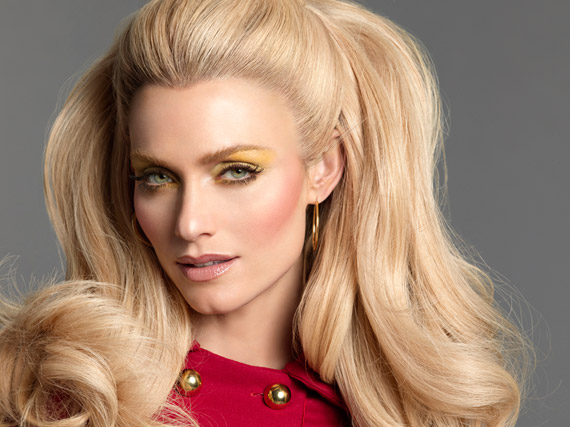 …it just doesn't 'speak' to me.  Infact, before being invited to sample the collection, I'd dismissed it based on this promo.  With that in mind, things didn't get off to a good start.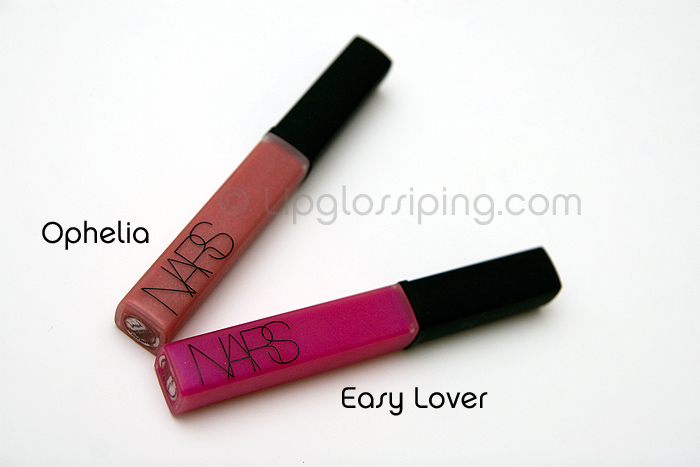 First up are two new lipglosses. Ophelia (£17) (Strawberry Nectar) and Easy Lover (£17) (Sheer Hot Pink).
In the tube, Easy Lover is WOW!  It's a true hot pink that makes you want to grab at it and play (and I did!).  On the lips, I'm disappointed.  It is so sheer, and whilst sheer lipglosses have many uses, I just feel cheated after seeing how it looks in the tube.  Worn alone, it adds no pigment at all to my lips.
Ophelia is more pleasing, I'm loving this over the top of a nude lipstick.  Again, it's fairly sheer… but as it promises less in the tube, it doesn't disappoint me in the same way Easy Lover does.
Swatches of both…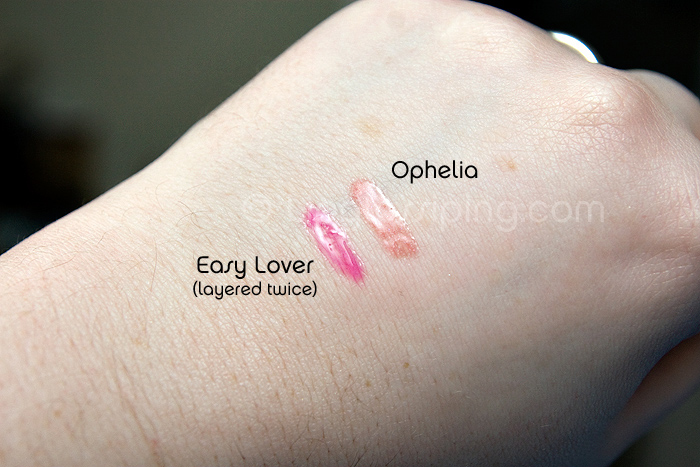 Next up is the single lipstick in the collection: Cruising (£17)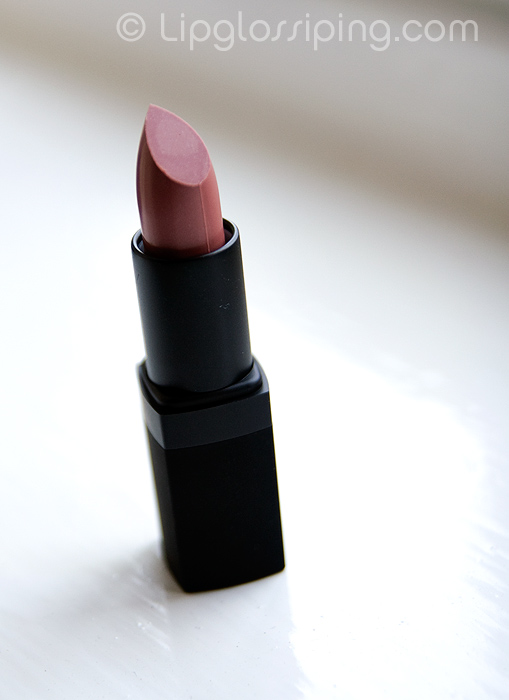 When I first saw Cruising in the tube, I can't say I was too excited by it.  Infact, I don't think it particularly registered until I got home and attempted a FOTD with the collection.  You know, I own over 48 lipsticks… and this has jumped straight into my top five.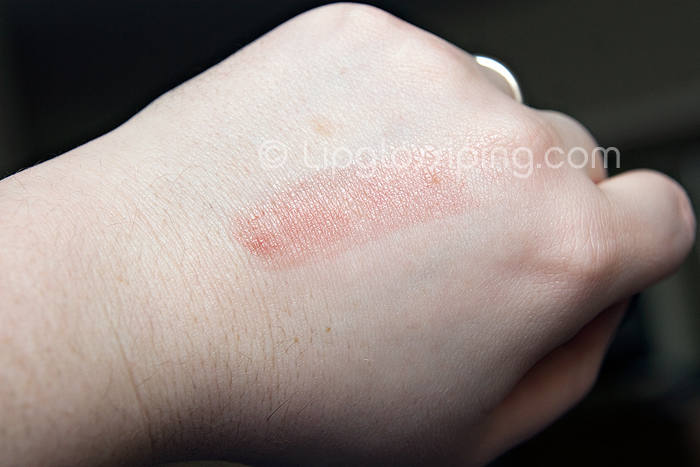 Nude lipsticks are difficult to get right.  Choosing the correct one for your skintone is an unenviable task, so I'm not gonna start shouting that everyone needs to own this lipstick.  I really want to tell you to go and TRY it though.  It is *so* completely unassuming in the tube, I would have passed this by time and time again.
On my dry lips, It's truly moisturising, glideing on with ease but crucially it stays on.  It gives my lips enough colour so as not to look dead but keeps the focus on the rest of my face whilst giving an overall polished finish to my makeup.  And that to me is what a true nude lipstick should do.  I love this, perhaps too much.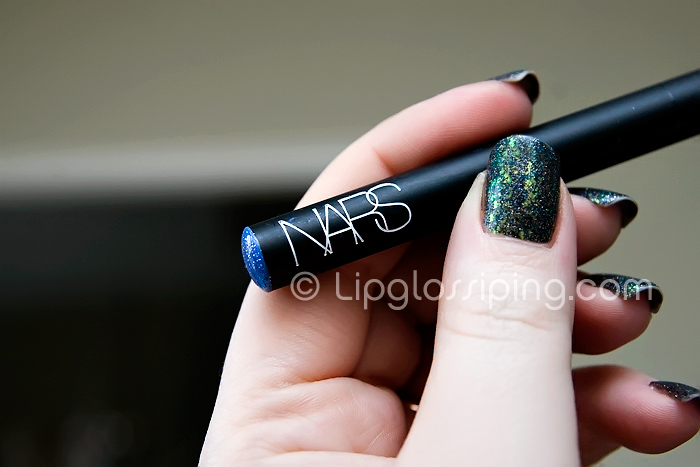 Bains Douches Glitter Pencil (£18.50), the eyeliner in the collection named after the legendary Parisien nightclub is a vivid matte blue infused with silver glitter.  Thankfully, the glitter particles are not particularly chunky and don't irritate my eyes.  I'm not sensitive to eye irritation though, so you may want to give this a miss if you think it could cause problems for you.  Not only that, but I do have to point out… My God it's expensive!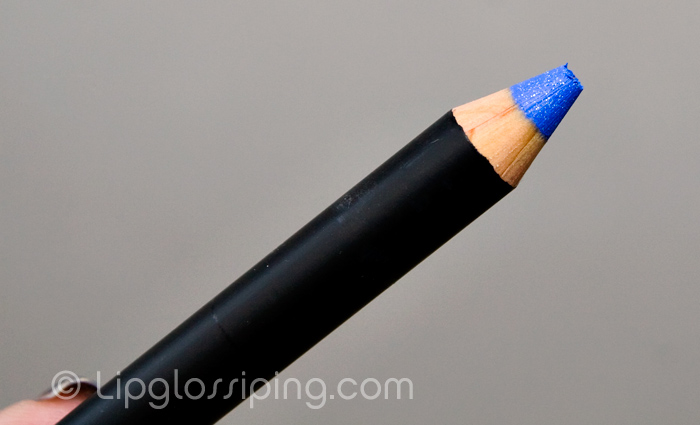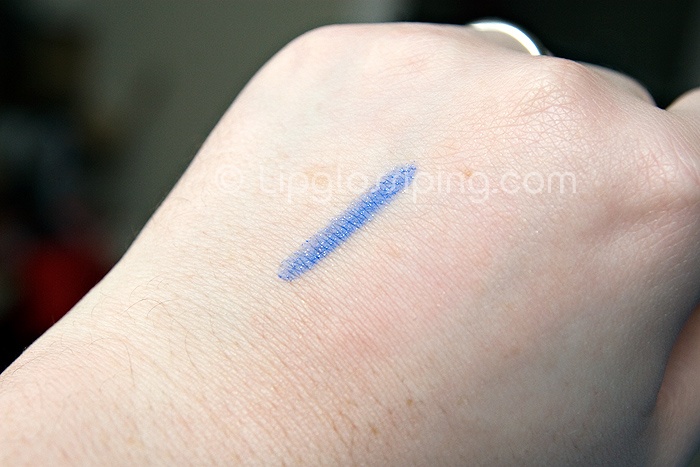 I adore the colour, but my first thoughts were that it sits oddly with the rest of the collection.  Until I tried it on the lower lashline with the Kuala Lumpur Eyeshadow Duo on my lids.  POP!  I'm very pleased to add this to my collection… it will see me right through 'till Winter and the sparkle is subtle enough to wear during the day.  I've surprised myself liking this so much and I'll attempt an EOTD with this soon.  It applies beautifully, without need for 'warming up' and the glitter gives a lovely wide-awake look when applied along my lower lashline.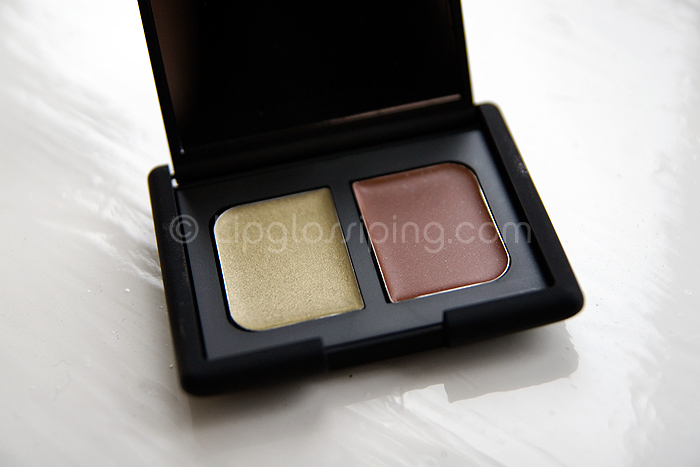 Camargue (£23) is a cream eyeshadow duo described as a Golden Moss/Sienna pairing.  It's a slightly muddy looking combination, but I think it would be amazing on warm medium skintones.
As with all NARS Cream Shadows that I've tried, this really needs setting with powder if your lids are at all oily or you'll be picking it out of your crease in a matter of minutes.  The NARS MUA I was talking to in Liberty recommended the golden half of the Alhambra Duo (which I bought) over the top of the Sienna half of Camargue.  He was right – it's a beautiful pairing.
Camargue swatches, they look particularly warm against my cool skin tone: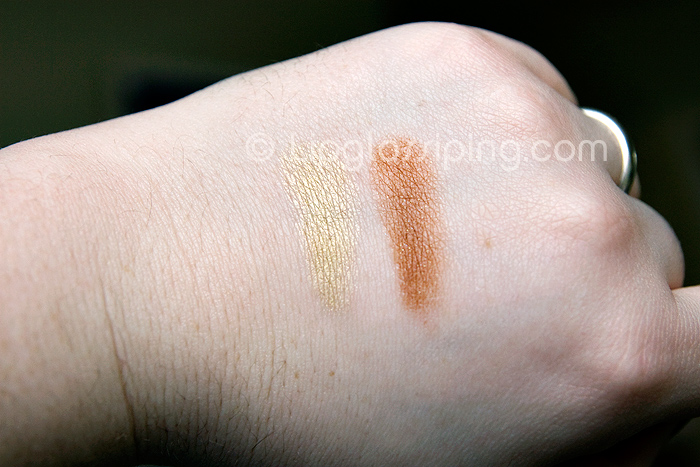 Kuala Lumpur Eyeshadow Duo (£23) is one of the more talked about pieces in the collection: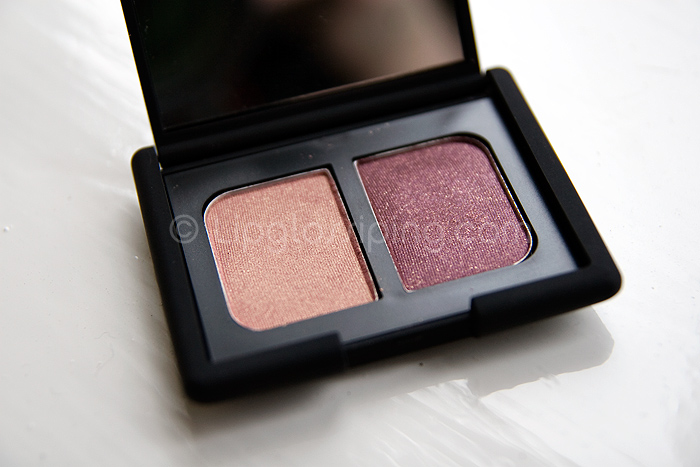 It's a beautifully pigmented combination of Rose Gold / Boysenberry.  Yeah, I'm not really sure what a Boysenberry is either… Google Images was my friend.
In the pan, I thought it would be a touch too warm for me, but it works.
The only thing I'd be wary of is that the right hand side of the duo contains enough red to give you that "I've been crying for 7hrs" look.  If you usually struggle with these shades, I'd steer clear.  Thankfully, I look neither suicidal nor ill wearing this duo and the right hand side is amazing applied wet as a liner.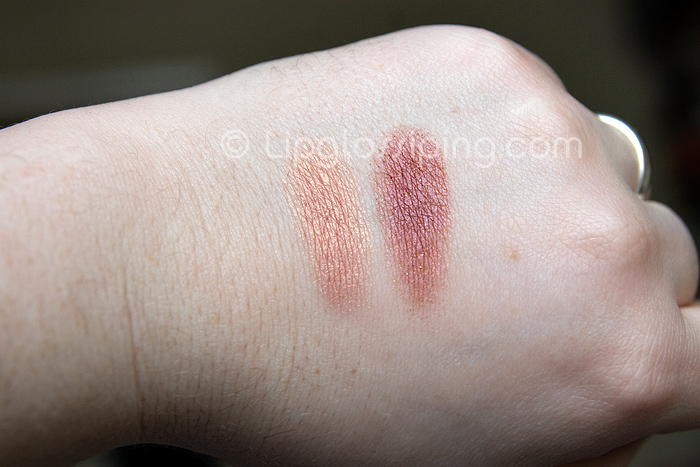 Finally…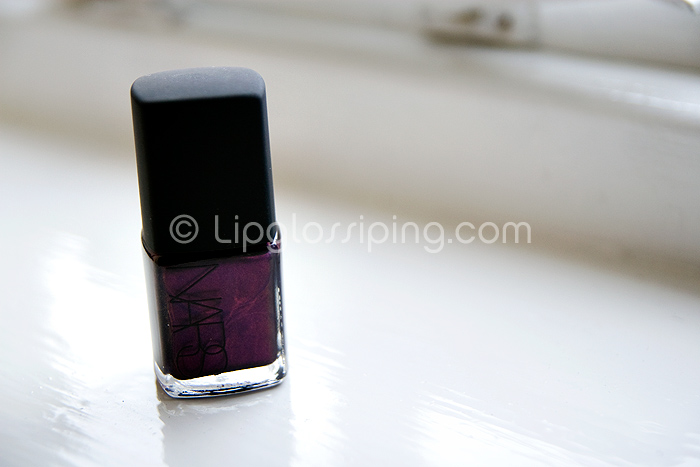 Purple Rain (£13).  I've been hugely excited about this polish ever since I saw nail swatches on Scrangie's blog.  I tried, but failed miserably at capturing how it truly looks in the bottle… the polish is practically dancing in there.  I can't wait to do a NOTD with it.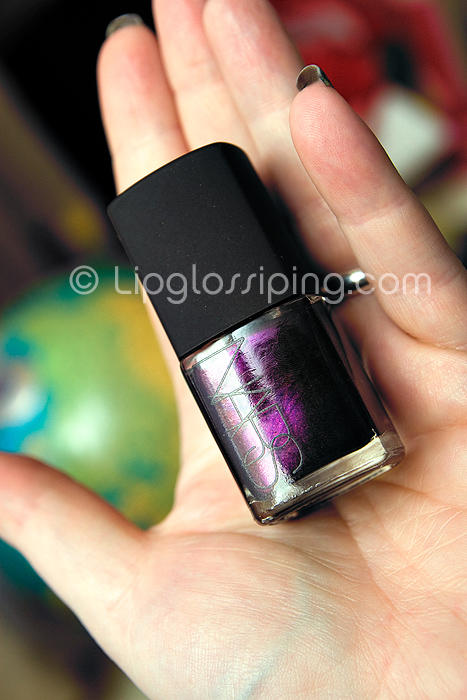 The final item in the collection is D. Gorgeous (£16), a dusty lilac single eyeshadow.  Here's a stock image: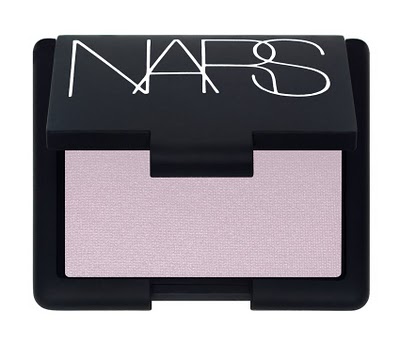 D. Gorgeous (love the name!) is a matte shadow which got a lot of love at New York Fashion Week, especially applied under the lower lashline.  Uneducated pleb that I am, I keep looking at the images thinking… "Tsk, that makes her look like SO tired".  I didn't have this in my goody bag so can't offer an alternative (more educated) view!
So, that's my run-down of what NARS has to offer us this Spring.
The single thing that strikes me is that I'm favouring the pieces that on first look, didn't draw me in.  The slightly brown-looking lipstick, a bright blue eyeliner and an "I've been sobbing" eyeshadow duo… whoulda thunk it.  Not me.
If you're not sure the NARS Spring 2010 collection is for you, go have a play.  It's left me pleasantly surprised.
I'll leave you with a FOTD: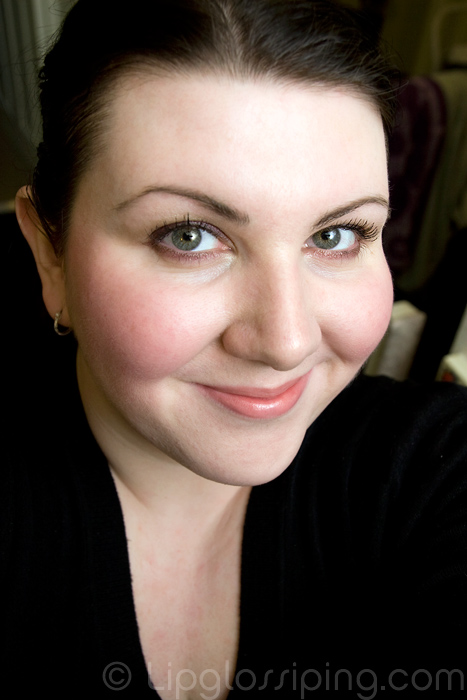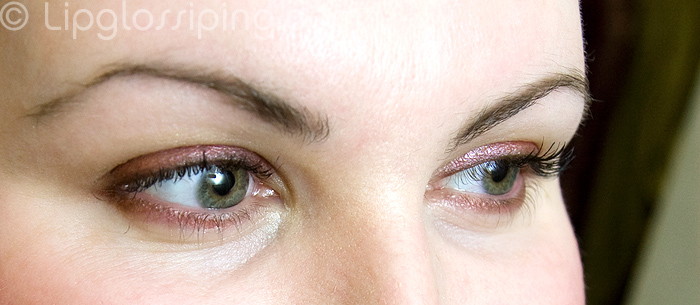 Eyes:
~ NARS Kuala Lumpur Eyeshadow Duo on the lidand blended underneath the lashline.
~ NARS Camargue Cream Duo blended up above the crease (washed out in this image sadly)
Cheeks:
~ NARS Crazed Blush
~ NARS Orgasm Illuminator (applied over blush, bridge of nose, cupids bow) – review coming later today!
Lips:
~ NARS Cruising Lipstick
~ NARS Ophelia Lip Gloss
All items from this collection are available at NARS counters nationwide and online.
What say you? Is anything from the NARS Spring 2010 Collection capturing your attention?