I'm watching the poor postman out the window in his flourescent orange windcheater. He's got an armful of a envelopes and is being blown all over the place… I'd have even more sympathy if he'd already passed my flat but I'm guessing that a couple of those envelopes might belong to me… so hurry it along mister.  It's wild out there today, truly horrible and from what I read on Twitter, our capital city has gone into a transportation meltdown thanks to a number of tube strikes across the network.  Nice week for it.
So, in a bid to inject a little calm and tranquility into an otherwise turbulent week, let me introduce you to a polish from Butter London's Summer 2013 collection.  A collection that was based mostly upon metallics, except for this little odd-one-out.  Butter London Poole is a dusky aqua blue with a hint of green… it's namesake, a town not far down the coast from me, is an absolutely beautiful place to go in the Summer and the birthplace of LUSH Cosmetics dontchano?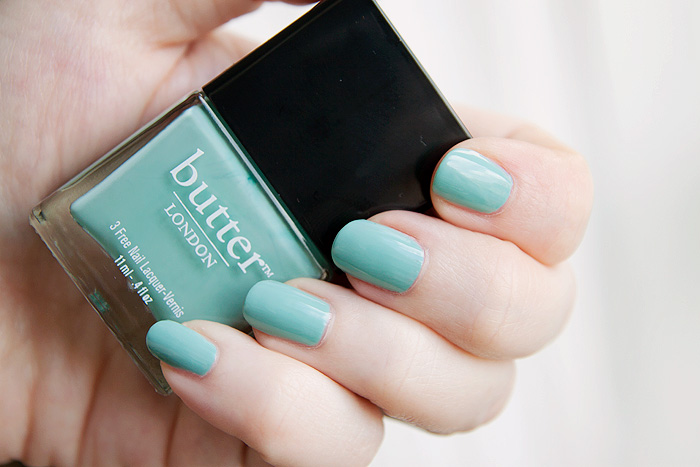 What a lovely shade eh?  Not entirely undupe-able but very pretty nonetheless.  The formula was ok, not one of Butter's best… it needed a bit of smoothing and lacked the nice, even flow that most of their polishes provide.  Opacity was good in two coats, I thought it might need three but the second coat pulled it all together.
Butter London Poole is priced at £11.95 and available to buy online from powderrooms.com
What shades are  you loving at the moment, do I need to prise your fingers away from your Winter staples yet?
* press sample
 if you liked this post, please don't forget to check out my subscriber options, here