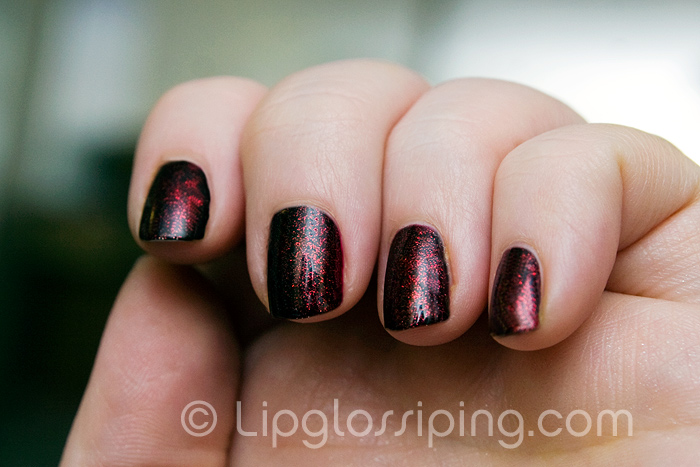 I adore China Glaze's Ruby Pumps at Christmastime (me and everyone else) but I didn't want to wear it quite so full on until a bit later in the month.  I decided to pair it up with a black creme for a little more subtlety.  Can you tell I'm still loving the whole dark nails thing?
HJ Manicure sent me a couple of their mini polishes to try and one of them was this rather basic black called Midnight.
Basic = a bit boring yes?… but basic also = essential… hmmm… like leggings! (stay with me, this analogy will make sense)… You want your leggings to be opaque, easy to pull on and look fabulous on the backside right?  Well, Midnight is your favourite pair of leggings.  It's a beautifully glossy creme which is a solid 2 coater and really easy to apply.  I probably wouldn't wear it on it's own but combined with a coat of glitter (a fantastic jumper dress – see, this analogy is my best yet) it's a total knockout.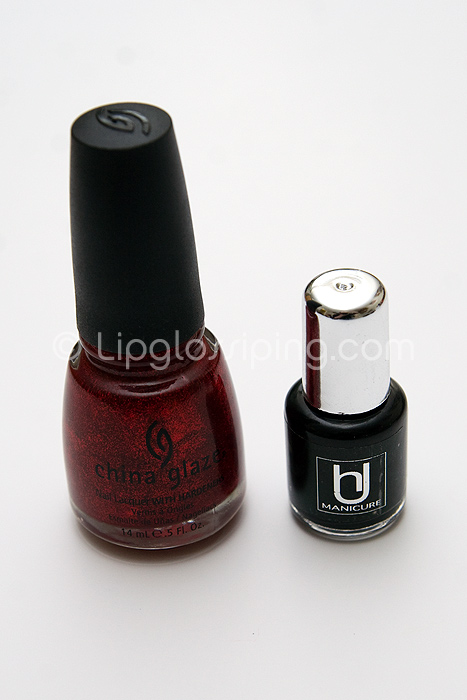 The first picture doesn't actually do this quick and easy mani much justice, I wore it up to London and had many nice comments on my 'lit from within' stumps. (Grow, grow, grow!)  The most realistic impression comes from the little finger in the top picture… you can see the red glow within the black base… see how it's almost opal like.  The other fingers unfortunately make it look a bit gritty which it totally doesn't.
Have you been wearing any combinations?  Do you like pairing polishes up with a great black base? Give me some ideas!