I swear… I will stop doing "greige" soon… when HELL FREEZES OVER! Bwuhahahhaha!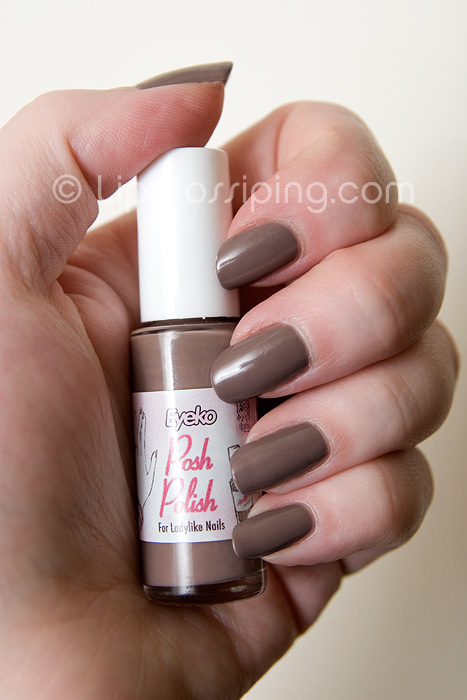 Bored of reviewing Eyeko now…. are you bored of seeing 'em?  Thing is though… they've got some rather fashionable polish shades out now and this is one of them.
Also, this one's got a formula comparable to that lilac that I liked, which means that I owe it to people who don't like the thicker Eyeko formula to let them know that Eyeko Posh Polish might be a good'un for them!
Opaque in two coats and not only that… but this mani is lasting and lasting… I'm actually on my 4th day (at the time of writing this) and um… I don't have any tip wear.  I don't usually get much chipping with any polishes but as a chronic keyboard user… tip wear IS something that I usually suffer with.
Again… £3.50 from the Eyeko website, free UK shipping… cheap international shipping… yada yada yada…
Do you wanna see the rest of the shades (I've got a coral, tea rose and a pink sheer left) or are us bloggers doing Eyeko polishes to death now?  Be honest… I don't mind and whilst it's nice to feature new product releases, I don't want you coming here rolling your eyes at reading your 16th Eyeko NOTD yano?