So, this is how I imagine the conversation went one day at Eyeko HQ…
"So guysssssss, how about it?"
"How about what?"
"Bile polish, you know… polish, that looks like Bile!"
"???"
"C'mon!  If Chanel can do Shit fingers, we can handle a bit o' Bile!"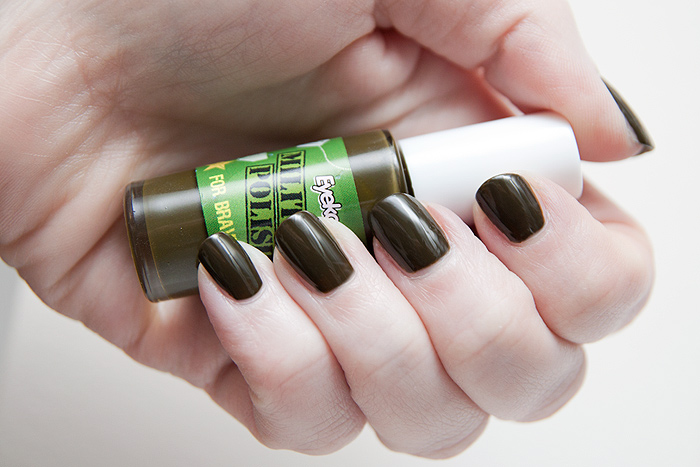 Eyeko Bile Military Polish is a murky brown/green mix that probably triggers equal amounts of joy/repulsion.  I'm… ok with it until the sunlight hits it and the slightly yellow-hued green shows through *gag*.
It's a two coater with a fairly thick formula, it's quite glossy on its own but the above photo shows it combined with a quick-dry top coat.  Wear was fine on this, 3 days before tip wear became enough of an issue to warrant removal.
So, it's not my favourite shade in the world but I'll tell you something…
Slick this on your toes before your Summer holibobs and you won't need to put a towel out on the sunbed at 4am.  You'll be clearing the poolside faster than you can say "fungal infection".
Eyeko Military Polish is available to buy online from PowderRooms priced at £3.50