I'm a total lip liner eschewer.  I love that word… eschewer… makes me think of nuts.
It just seems like one of those extra steps that quite frankly, I could do without.  Same as applying my lipstick with a brush.  I have a beautiful NARS lip brush that NEVER gets used.  I just don't see the necessity?
I was killing 10 minutes last night before I had to be somewhere and my fingers alighted on a Laura Mercier lip pencil in Petunia.  I think I bought it off a blog sale or stole it or something.  I certainly wouldn't have paid PROPER money for a lip liner… heaven forbid!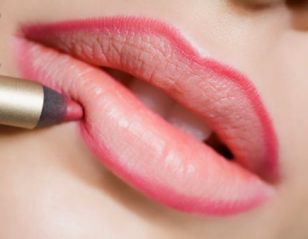 So anyway… yeah… I had a go at lining my lips.  I usually go a bit wonky around the cupid's bow, but this time I was pretty spot on.
Then I filled my lips in with it like wot we is supposed to do..
Finally, I dabbed some Revlon Colorburst in Soft Rose ontop and it looked pretty decent.  Sharp, defined… dare I say it… sexy.
But more importantly?
GOD THAT LIPSTICK LASTED!
I came home 4 hours later and it looked amazing still!  It had obviously faded a little but the undercoat of liner really gave the illusion of picture-perfect lips.  And the best bit?  My lips didn't suffer any extra dryness from adding this step.
.
But now I need your help please ladies (I'm a drain, I know).  Are most lip liners created equal?  I'm still not converted enough to drop lots of money on them but I want a stash to play with and I want it QUICK!
What are your favourite budget liners?  I'm thinking maybe NYX?
Please educate me!!