Does everyone know what a GWP stands for?  I only found out about a year ago despite having been a regular owner of them for ooooooooooh about 10 years?  I think infact that I may have been the last person in the world to discover what the acronym actually stood for.  Kinda like that time I discovered my ex was sleeping with someone that wasn't me.
GWP = Gift with Purchase!
Some brands are pretty famous for their awesome GWPs and many shoppers time their repurchases to coincide with instore events that feature these lovely little extras!  With potential bargainous Christmas pressies in mind, I contacted a few brands to find out what they had to offer for the month of October and was pleasantly surprised to find some not too shabby offerings!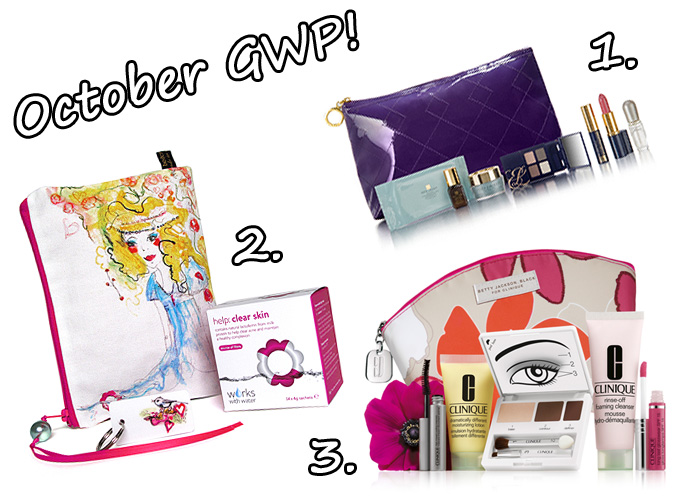 1. Estee Lauder (Exclusive to Boots)
.
Contents (choice of shades available)

Take It Away Long-Wear Makeup Remover Towelettes, 5 sheets in travel size pouch
Daywear Plus Multi-Protection Anti-Oxidant Creme, N/C Skin,15ml
Advanced Night Repair Syncronized Recovery Complex, 7ml
Eyeshadow Quad Compact with Applicator
Pure Color Lipstick
Double Wear Zero Smudge Lengthening Mascara in Black
Estee Lauder Pleasures Edp, 4ml
Purple Patent Cosmetic Bag with cross stitch pattern
Qualifier
Free with any two or more Estée Lauder purchases.
Until
Saturday 23rd October 2010
.
2. Help: Clear Skin (online)
.
Contents
Limited Edition Heidi Cannon Purse
Qualifier
Free when you purchase one month's supply of Help: Clear Skin
Until
While stocks last
.
3. Clinique (Exclusive to Debenhams)
.
Contents
Exclusive Learn by Numbers Eye Compact in Neutral, 2.2g
Rinse-Off Foaming Cleanser, 50ml
Dramatically Different Moisturizing Lotion, 30ml
High Impact Curling Mascara in Black, 4g
Long Last Glosswear SPF 15 in Kissy Fit, 2.3ml
Qualifier
Free with the purchase of two or more Clinique products (one to be skin care)
Until
Saturday 30th October 2010