Perhaps one shouldn't judge a collection on the sum of its smallest parts but damn, I like lipstick.  And I really like this lipstick.  Lancome's French Touch Absolu is heavyweight, solid and beautifully designed to capture the attention of vintage-lipstick lovers everywhere.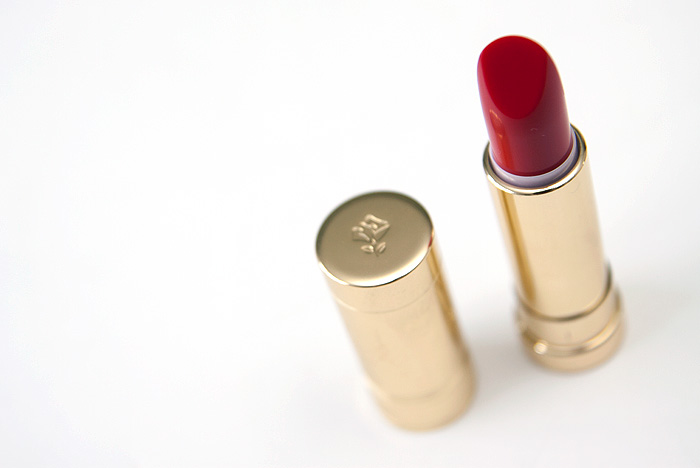 You should take note of how small this is.  Possibly the one down-side to retaining that authentic, vintage styling.  It's practically a stub.  A stub of beauty, but a stub nonetheless.  For the princely sum of £23.50, you get 3.7ml (not listed in grams) of product (EDIT: Rouge Deluxe has come to the rescue and confirmed that you get 3g of product, the same as a MAC lipstick – so, erm, ignore me).
It has a wonderful old-fashioned lipstick scent that evokes memories of playing with my Nan's makeup when I was a little girl.  It's thoroughly charming and despite the obvious absence of any value for money… my heart has been captured.
In 1945, Lancome redefined the codes of beauty by launching "Shaker", its very first lipstick, in the ultimate shade of red.
In creating the latest French Touch Absolu, Aaron de Mey has once again drawn inspiration from Lancome's heritage whilst adding a modern twist.  The sumptuous, creamy texture of French Touch Absolu guarantees a deliciously sensual velvet touch: a true silk cream enhanced with Pro-Xylane™ to give lips stunning contour and shape.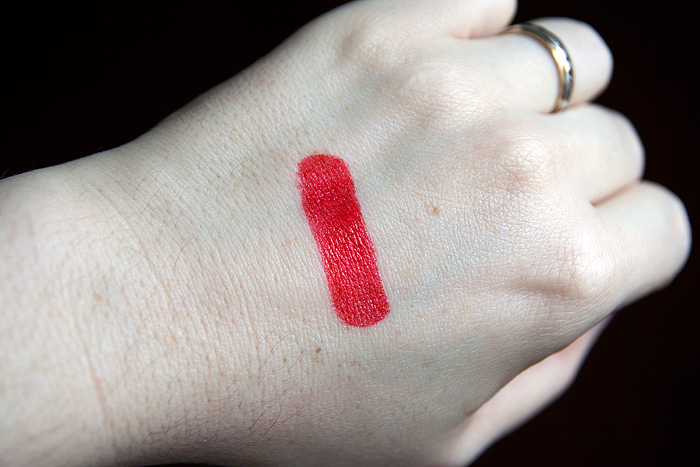 One swipe.  Perhaps there is a little more value for money there than I first anticipated…  The above swatch shows shade #102 Rouge St Honore, but there will be two other reds available (#100 Rouge 29 and #104 Rouge Faubourg).
Words can't quite express how in love I am with this lipstick.  I mean, I know the collection is all about that blush, which is of course ridiculously pretty.  But I'm not just looking at it, I wanna use it and this lipstick would blow most products out of the water.  It's creamy without being heavy, moisturising without being slippy and once blotted, it stays put for hours.  Love.
Lancome's French Touch Absolu Lipstick in Rouge St Honoré is priced at £23.50 and available at Lancome counters nationwide from 1st September 2011
*press sample