In my vain attempts at shedding the remaining 3 1/2 excess stones that are hanging from my bones, I've been customising various recipes and generally bastardising them until they're less likely to (fat) bastardise me.  My latest batch of chocolate brownies packed a concealed weapon of the green variety.  Courgette.  Zucchini… whatever you want to call it.  A veggie commonly used in cakes n' stuff because of it's moisture giving properties.
You wouldn't know it to look at them though huh?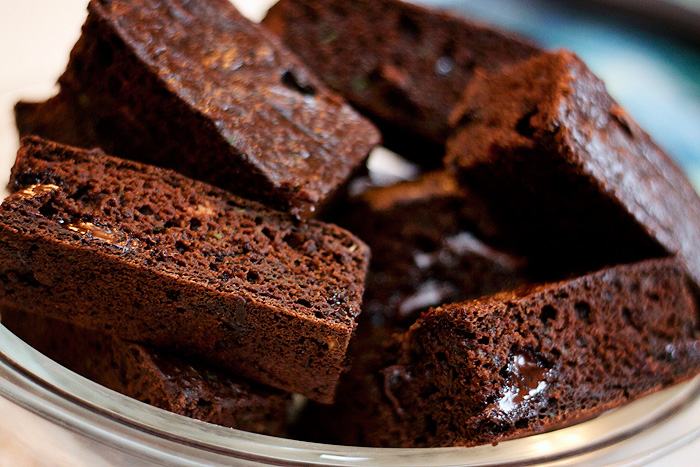 They're sublimely moist, beautifully chocolatey, could do with a little more sweetening and have a satisying, though-not-very-cakey texture.  Half of you will be grimacing at your screens with an "Ugh, sick!" expression, the other half will be piqued by the possibility of being able to indulge in chocolate brownies whilst wearing a smug look of virtue on your faces.  At least I hope.
Courgette Chocolate Brownies (makes 24-ish, approximately 104kcal each piece, 3 Weight Watchers Pro Points)
2 1/2 large courgettes (pulverised in a food processor)
140g Apple Sauce
200g Caster Sugar (I'd add about 50g Splenda to this next time)
300g Plain Flour
100g Cocoa Powder (I used Tesco's Fat-Reduced Cocoa Powder)
100g Plain Chocolate (broken into little pieces)
1 1/2 tsp Bicarbonate of Soda
2 tsp Vanilla Extract
1. Add the apple sauce to a bowl and stir in the sugar and vanilla extract.
2. In a separate bowl, combine the flour, cocoa powder and bicarb.
3. Stiry the dry ingredients into the wet and combine.  The resulting mixture, will be very dry but don't worry, here comes the courgettes to save the day!
4. Add the courgettes to the mixture, followed by the plain chocolate pieces.
5. Pour the mixture into a greased brownie tin and bake in a pre-heated oven at 170 degrees celsius for around 25-30 minutes.
6. Allow to cool a little before turning out and cutting.  Remember, 6×4 = 24!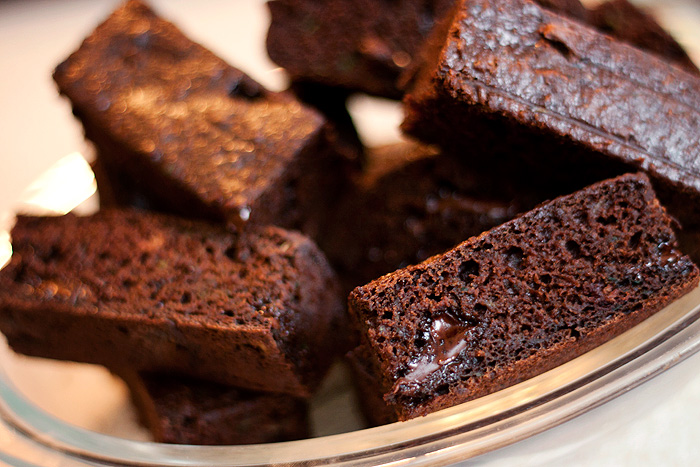 What treats are you enjoying this weekend?