Not another wine lipstick I hear you say!
Well sorry chaps, my infatuation is far from over.  Not only that but today brings another Clarins offering, similar but (at the same time) quite, quite different from the Clarins Rouge Prodige that I showed you last week.
Unlike the Rouge Prodige, the colour of this one when applied is as you would expect from looking at the bullet, there are no shade surprises here.  The new range of Rouge Eclat lipsticks offer what Clarins claim to be their first age-defying formula that boosts collagen and protects against dehydration.
From reading the blurb, you'd expect to find a super-glossy lipstick with a slippery formula and incredibly light texture, not so.  I found this Rouge Eclat to offer more substance, a firm texture and a pigmented finish.  There's enough slip to keep it feeling comfortable but no more than is strictly necessary.  Something which affords the lipstick greater longevity, in other words… you're not sacrificing a long-lasting lipstick for greater hydration.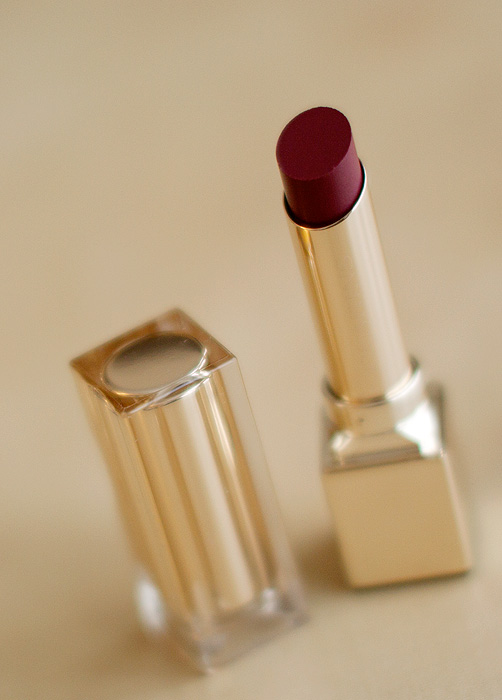 The packaging is frankly, a bit of a disappointment. It reminds me of Bourjois Sweet Kiss in terms of styling but without the nifty opening mechanism.  Basically, it's not up to Clarins' usual luxe standards, too much acrylic and not enough gold.  When you do something so well Clarins, keep doing it!
The scent is the same across the line of lippies, quite pronounced… fruity, I've always called it fig… Clarins call it blackberry & liquorice(!) so never trust a fragrance review from me ever again.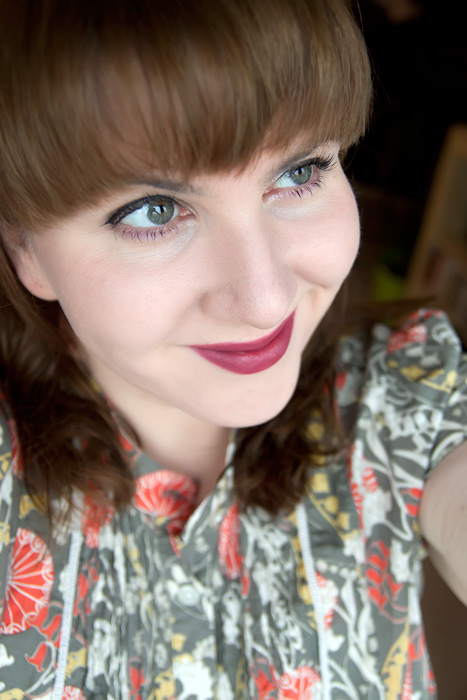 #107 Red Wine* leans to the cooler side of the spectrum with a distinctly mauve edge, it's quite a vampy choice for Spring but looks beautiful when patted onto the lips more lightly than in the swatch above.
Overall, the Rouge Eclat lineup fills a niche within the brand's current range but I was less impressed with the packaging and I wasn't entirely sold on this shade.  Emma from Escentual has done some great arm swatches of the range and I have to say, #05 Pink Berry and #08 Coral Pink look like cracking shades for Spring.
Clarins Rouge Eclat #107 Red Wine is available to buy on counter, priced at £18.50 and online from escentual.com, priced at £14.80
* press sample