When Joan Collins Timeless Beauty launched earlier this year, I was curious to discover how the brand would be received.  It seems quite unfeasible in today's culture (sadly) that an 81-year old woman could release a line of makeup and, to put it bluntly, appeal to anyone under the age of fifty.
Let's face it, the older you get, the more invisible you become.  I've heard this sadly-bemoaned by my own parents, who are now in their 70s, and I wondered how a makeup range, launched by an octogenarian would fare in today's youth-obsessed society.  I held out hope that the undisputed glamour credentials of Joan Collins would be able to transcend the age-divide and appeal to your average Cosmo reader.
Despite my curiosities, this is the first time I've taken a closer look at the range for myself.  And my initial reactions are wholly positive.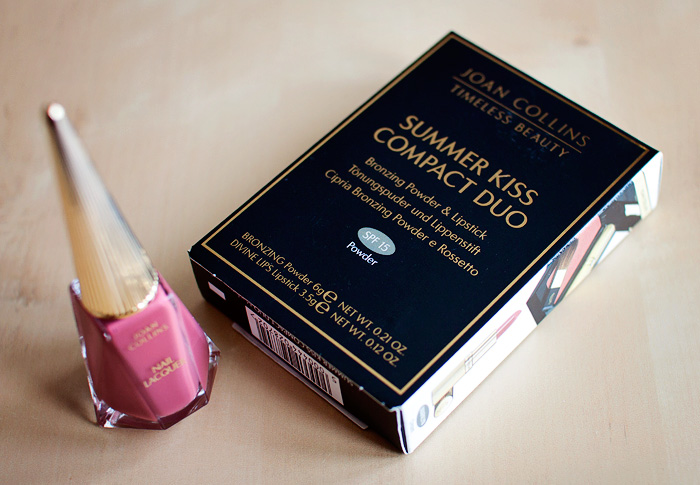 Above all else, the range feels authentic.  It doesn't bend its personality to conform to the popular.  The nail lacquer bottles remind me of the delights my teen self might discover, rummaging the shelves in my local chemist through the dusty old stock leftover from the 80s.  The packaging is bold, angular, and of course… gold.  It's one pair of shoulder pads away from Alexis Carrington.  Just as it should be.
And yet, somehow it doesn't feel old-fashioned or over-styled.  How is that even possible?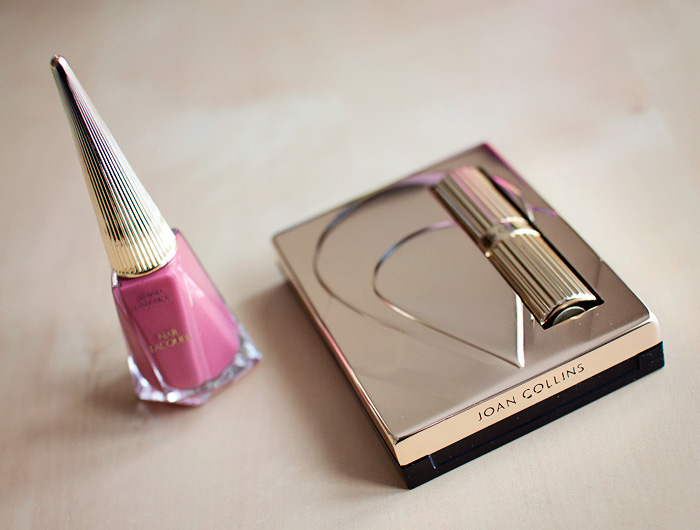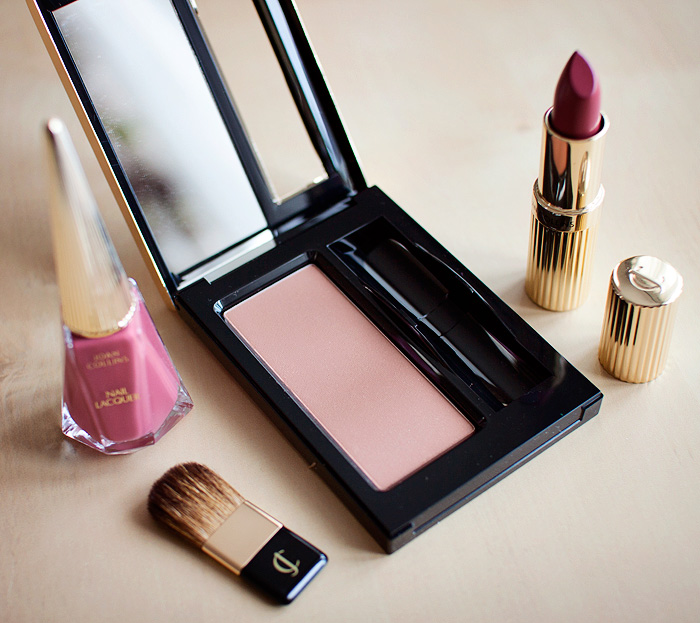 Despite the audacious packaging of the Summer Kiss Duo compact (£29.50), the bronzer housed inside is a mewing kitten by comparison.  Just how this pale chick likes it best, I did fear a pair of 80s go-faster stripes would appear across my cheeks after the initial application but there's a refinement to the powder that delivers a soft, velvety texture and a buildable, flattering hue.
The included brush is useless and it doesn't have anywhere of its own to sit within the palette, I'd recommend chucking it and using your own brush instead.
The lipstick nestled-in-palette combination is darling and the duo deliver a beautifully unfussy pairing for a polished look.  Combined, they deliver no more than a healthy flush of colour, providing the epitome of an unpretentious daytime touch-up.  A true old-skool compact.
The lipstick, Marilyn, is an easy-to-wear shade… one that will go with everything.  A neutral rosewood creme that will add flush and colour to your lips without making any huge statements.  It has a fairly hydrating formula that I imagine will be easy to enjoy and comfortable to wear whatever the weather throws at us over the coming months.
Finally, the Nail Lacquer (£12.50)… also called Marilyn, as you might imagine, matches the lipstick.  The shade when worn on the nails, does feel a little "older", I know that my Nan had a whole drawer full to the brim of these pinky/brown concoctions!  But I can't deny the formula which applies smoothly, thickly, and is completely opaque in one-to-two coats.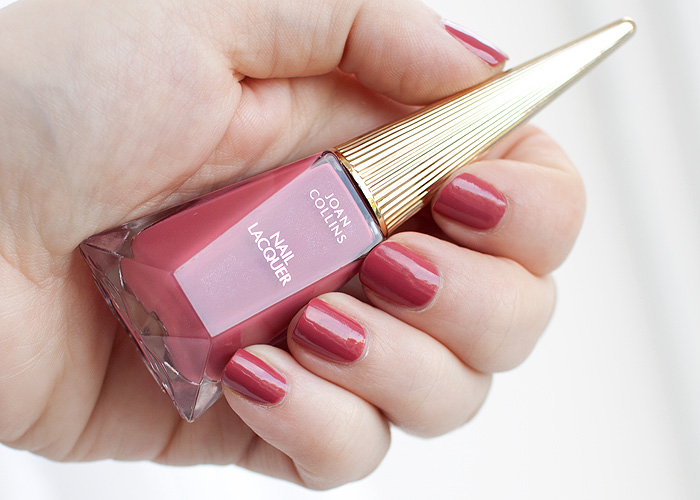 Ultimately, there's not much I can find to fault my first foray into Joan Collins' beauty range.  It has just the right amount of chutzpah to remind you of the origins of the brand but doesn't "Disneyfy" itself by going over the top and playing too much on the "in-your-face diva".  It's completely wearable, has obviously been curated by someone who knows what they're doing, and should absolutely appeal to beauty lovers of all ages.
Joan Collins Timeless Beauty is available to buy online from qvcuk.com and urbanretreat.co.uk
* press sample
if you liked this post, please don't forget to check out my subscriber options, here