Leila's never been much of a runner. While most small children tear around, barely pausing for breath, Leila plods. She's a plodder… slow and steady wins the race and all that. The thing is though, I worry that she will be left behind (literally) when she starts school next week. All the other children will be swinging from the monkey bars, tearing up the playing fields and Leila… well, Leila will be taking the slower, more reserved approach to playground antics.
I've been taking Leila to the playground A LOT recently and trying to teach her how to climb things. Obviously this isn't something I want to do in full view of other parents so we've been going just before bedtime. Above all else, it's taught me that she gets her lack of athletic ability from me. Having said that, we're nearly there with "how to make the swing move without Mummy pushing it" and "how to navigate a Jungle Gym so that you can climb down a ladder without screaming for help".
What can I say? As a baby she didn't crawl or bum-shuffle either.
Anyway, what does this have to do with red-lipped readers? Well, not a lot really but all this outdoorsy stuff has ensured that I'm well aware of how quickly the seasons are a-changing. Formations of geese flying overhead are an almost nightly occurence, noisy things… and let me tell you, something tells me they're heading South. I'm lamenting the darker evenings that are already drawing in but I am getting a wee bit excited about chunky knits and red lips.
So much so, that I thought it might be high time for a little more red-lipped reader inspiration…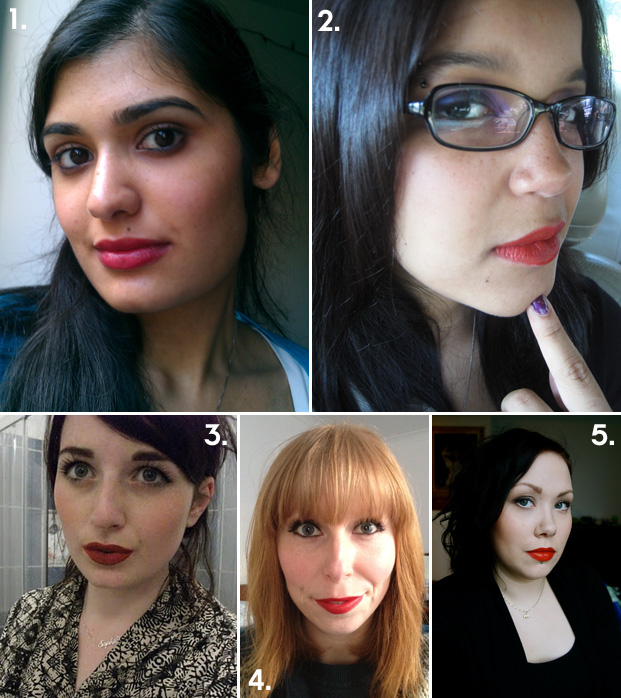 1. Ami from Tall Shopaholic is looking berry-licious in this glossy number from Body Shop's soon-to-be-discontinued Colour Glide line.  The shade, should you want to acquire it before it's too late, is #22 Garnet.
2. Solangel ensures that the temperatures don't fall too quickly with MAC's ubiquitous Chilli which complements her NC43 skintone perfectly.
3. Sophie from from Sophiephiephie keeps all eyes focused on her lips (although I'm lusting over her gorgeous brows too!) with Revlon's Colorstay Ultimate Liquid Lipstick in Top Tomato.
4. Kat from Tales of a Pale Face takes the old classic MAC Russian Red out for a spin and proves that sometimes, you just can't beat an old faithful!
5. Heidi from Black Kohl proves that MAC's Russian Red really does suit every colouring and goes all out Snow White, looking every bit the fairytale beauty.
Are you looking forward to dusting off your vampier shades in time for Autumn?