I still feel quite new at this motherhood lark and haven't come to terms with the fact that after all these years, I'm now included in this annual celebration.
So, when does Mother's Day stop being about your own Mum?  Never, I'd imagine.  My Mum and I don't have the easiest relationship, it's not the kind I want Leila and I to enjoy in years to come, and yet we both understand our failings.  I know I love my Mum and I know that my Mum loves me… in our own ways.
That has to be enough for both of us because neither can bring any more to the table.  That sounds more regretful than it is but it's something we've actually made peace with over the past 12-months, which makes this Sunday more poignant for me, maybe for both of us, than it usually is.  It's also my first Mother's Day away from my Mum, perhaps we just lived under the same roof for too long?!
Regardless, Mother's Day for me, has always been the day where I attempt to repent for my sins.  All those times throughout the year where I happily let my Mum put aside her wishes/choices/motivations to please me instead must now be addressed in full.  Sure, I showed appreciation at the time, and there's lots of you out there that feel these one-day "celebrations" are nothing more than an opportunity to line Hallmark's pockets… but, there's something about dedicating a whole day to say thank you for the role someone plays in your life.
I wouldn't get rid of the celebration for the world.  Plus, my Mum gets to stock up on Walnut Whips and her favourite perfume!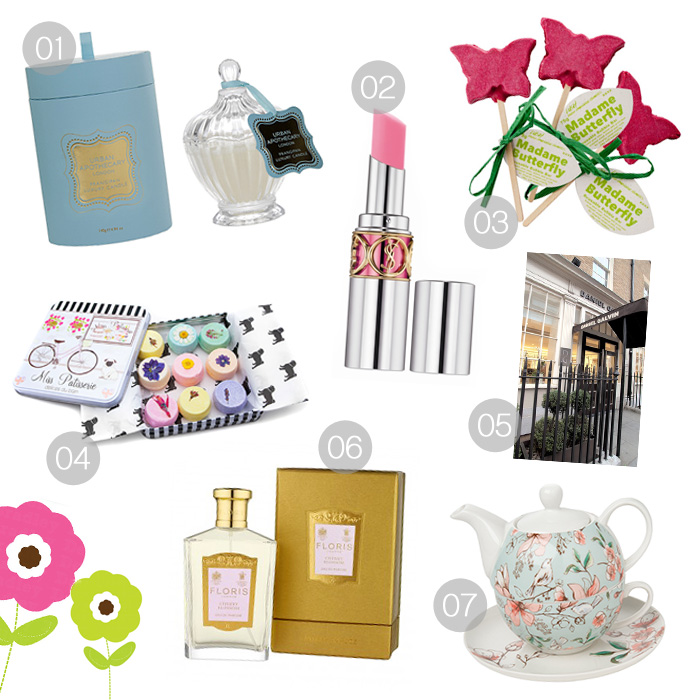 01: Urban Apothecary's Macaroon-inspired candle collection will be sure to get your Mother's taste-buds watering with a choice of scents including: frangipan, violet cassis, mint creme, strawberries and cream, chocolate orange, and white truffle.  Each candle delivers artound 25-hours burn time with a natural soy wax blend and 100% cotton wick. £30, www.urbanapothecarylondon.com
02: Volupté Sheer Candy by Yves Saint Laurent delivers sheer lip colour with a moisturising, balmy finish thanks to a formula developed with fruit extracts.  Available now on counter in ten shades and packaged so beautifully, you wouldn't even need to wrap it. £23.50, www.yslbeauty.co.uk *
03: Did your mother give you butterfly kisses when you were a wee one?  Give one back in the shape of this LUSH Madame Butterfly Re-Usable Bubble Bar enriched with delicious rose absolute, geranium oil and lemon.  Each bubble bar should allow for around six baths, ensuring that you remain #1 daughter for a while.  Madame Butterfly also comes with a rather special tag with wild-flower seeds embedded in the paper!  The gift that keeps on giving! £5.25, www.lush.co.uk *
04: Recently shortlisted as "gift of the year" by the Giftware Association, Miss Patisserie's Macaroon Gift Tin promises to be a true bathing delight for any sweet-toothed Mum's out there.  Nine fizzy melts will release a range of fragrances into your bath including: sweet pomegranate, spearmint & eucalyptus, champagne, french lavender, juicy peach, coconut & citrus, cucumber, garden flowers and rose. £15.50, www.miss-patisserie.com
05: For the Mum who has everything, there's only one option… the works.  Give her the gift of ultimate pampering with a special Mother's Day package from Daniel Galvin.  The treat includes: An express Dermalogica facial, manicure, cut & blow-dry, and a glass of bubbly from the top London salon. £140, www.danielgalvin.com
06: For the sweetest-smelling Mum around, gift her this fruity-floral wonder from an iconic British fragrance house.  Floris Cherry Blossom delivers a fresh blend of bergamot, orange and pink pepper over a heart of cherry blossom, osmanthus, rose and peony.  It's a delicate, decadent, and exclusive gift that evokes the very essence of Spring. £99, www.florislondon.com *
07: If you've ever heard yourself say "let's have a nice cup of tea and a sit down" the chances are, you're turning into your Mum.  Let her lead the way in style with this Blossom & Bird Tea for One set.  Comprising a teapot, cup, and saucer in the prettiest of designs, all you need is a packet of hob knobs for a wonderful afternoon treat. £5, www.tesco.com
Do you go all-out on the Mother's Day treats?  What have you got planned for this year?
* press sample
* p.s – sorry about that intro, I started writing and it ALL came out haha!