So, I finally got that fringe cut in just before Christmas and I'm not bored of it yet.  Honestly, I thought it would last around 10 days before I started pinning it out of the way but I'm pretty lucky that it doesn't take too much styling in the morning.  I was talking to a lady who had to straighten hers every morning, is that normal?  Thankfully, mine behaves with a blast from the hairdryer.  So with my renewed interest in all things hair, I present this month's Cutting Room Floor, filled with bits and bobs that have interested me from the hair world.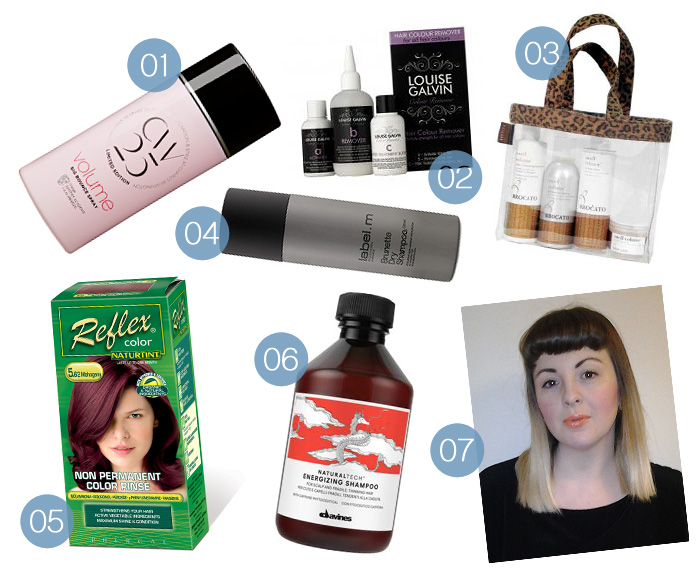 1. Charles Worthington Big Bounce Spray *(£5.10) – From the Limited Edition BAFTA and Anniversary Collection, Big Bounce Spray is a lightweight volumiser that works well on my fine hair.  I'm pretty low maintenance and have been spraying this on damp roots before blow drying for a little lift where I need it most (does it work on boobs?).  The BAFTA and Anniversary Collection launches instore on the 22nd January.
2. Louise Galvin Colour Removal System available at Daniel Galvin (£150) – Containing no ammonia or peroxide, the Louise Galvin Colour Removal System promises to be the gentlest method of restoring your natural hair colour after your latest disaster dye-job.  After years of over-processing my locks with permanent colours, I'm left with the tell-tale 'ends darker than roots' syndrome.  Overdyers anonymous anyone?  Available exclusively at Daniel Galvin's Marylebone salon.
3. The Brocato Swell Volume Collection (£34.95) – If you're looking for a one-stop solution to flat hair, this collection of va-va-vooming goodies from Brocato promises to give you the BIG styles you've always desired.  The collection, complete with animal-print bag contains Swell Volume Leave-In Volumizing Conditioner, Swell Volume Full Body Gel Mousse, Swell Volume Full Body Serum and Swell Volume Full Body Clay.  Have you tried anything by Brocato?
4. Label.M Brunette Dry Shampoo (£10.50) – If you're too posh for Batiste, you'll be pleased to hear that professional brand Label.M have released a new dry shampoo targeted for us lovely brunettes.  No more dusty residues from traditional dry shampoos, this new offering promises to match all shades from chestnut through to rich mahogany.  Available exclusively at Toni & Guy, Essensuals, and some Label.m salons.
5. Naturtint Reflex Non-Permanent Colour Rinse (£9.99) – If you're looking for a healthier way to experiment with colour, Naturtint Reflex is a new 'chemically-light' alternative to semi-permanent home colourants.  Free from PPD (the most common cause of dye reactions), peroxide, ammonia, resorcinol, parabens and natural oil-stripping sulphates – it works by coating the hair rather than opening the cuticles, resulting in a far healthier mane!  Available in six shades from honey-blonde to black.
6. Davines The Energizing Shampoo (£14.35) – I only got a C in GCSE Science, so don't look to me for an explanation of how caffeine phytoceuticals effectively stimulate the cellular metabolism of the scalp but I think I need some cellular metabolism to stimulate my bum into gear… so, by process of logical thinking, I can have another coffee before lunchtime right?  The Davines Natural Tech range includes this Energizing Shampoo which has been specifically designed to treat fragile hair and scalps that are prone to hair loss.  The wider range also includes targeted treatments for dry and brittle hair; sensitized, itchy scalps; environmentally stressed hair; dandruff; and oil control.  More superficially, the apothecary-style packaging is squee cute.  Call 0203 301 5449 for stockists.
7. Bettie Page Fringes at The Chapel – I've been stalking the hair-gurus at The Chapel recently (on their blog, not literally!) and came across this great tip from Ezara for styling a mock-short fringe. "…It best works on a full one length fringe that comes to the eyebrows.  I keep my blunt fringe just above my eyebrows, so this gives me a little bit to work with to create the "bump".  I use my GHD's to flick it under (careful not to burn the forehead!).  Then plenty of hairspray and walking head down into the wind!"  I'm gonna give it a go!  Could you rock a Bettie Page-esque fringe?  Do you?!
Finally a quick shout-out to reader Anna who won the Touch of Silver competition I posted about in last month's hair roundup – she's off to London for an amazing makeover at Taylor Taylor London with a night at the swanky Bloomsbury Hotel thrown in – jealous much?  Enjoy yourself Anna!
* press sample