If there's one face in the over-populated world of celebdom who should know a thing or two about perfecting a great red lip, it's Ms. Dita von Teese.  The American burlesque dancer, model and actress has made the red lip look her calling card over the years, always immaculate and always on the pin-up side of glam.  Who else would you trust with a fabulous retro red lip?
Well, that's obviously what German cosmetics brand Artdeco thought to themselves when they collaborated with the dancer to create the Dita von Teese Classics Art Deco collection.  Of course, my little heart went all a-pitter-patter at the thought of the potential red lipsticks… and I have one to show you today…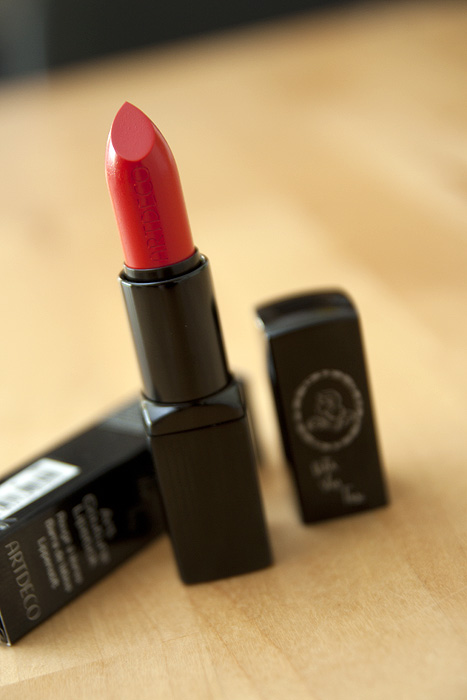 This is #615, the Dita Von Teese Art Couture Lipstick in Muse Red.
I have to say, that if I have one major disappointment about this line… it's the packaging.  There's nothing wrong with it but it just feels a little like a missed opportunity to play up to Dita's vintage styling, I know that when all is said and done, I'd be moaning far more if the contents of the packaging didn't align themselves in a Dita-esque manner… but, I fancied a nit-pick.  Think Besame with a modern-twist… now that would have been something no?
But as things stand, the packaging is simple, elegant and understated – the only real nod to the co-collaborator comes in the form of a signature and a cameo-esque etching, it's cute enough.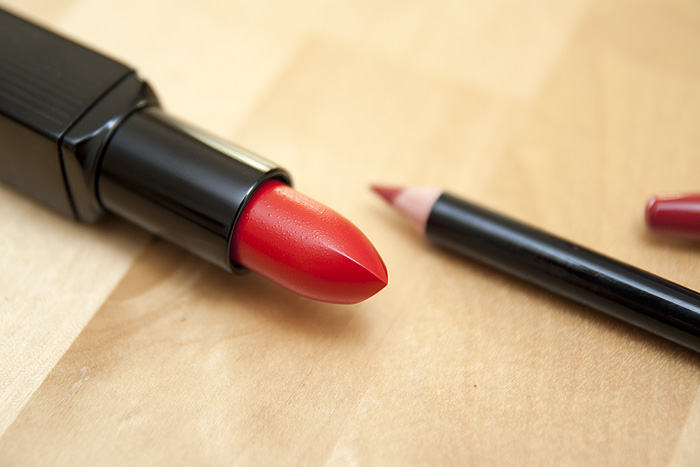 You can see from this photo (hopefully) that #415, 1 of 6 dita-inspired lipsticks, is a warm-toned orange red… not my most favourite reds to wear simply because of my uber-cool toned colouring but to my mind, the most authentically retro-looking of the lot.  The lipliner that you see peeking in the background is also part of the collection and is a much cooler-toned red (#10 Dame) – it works "ok" with the lipstick but it isn't a perfect match and if you were looking to buy the two together, I'd say look elsewhere for a warm-toned lip liner.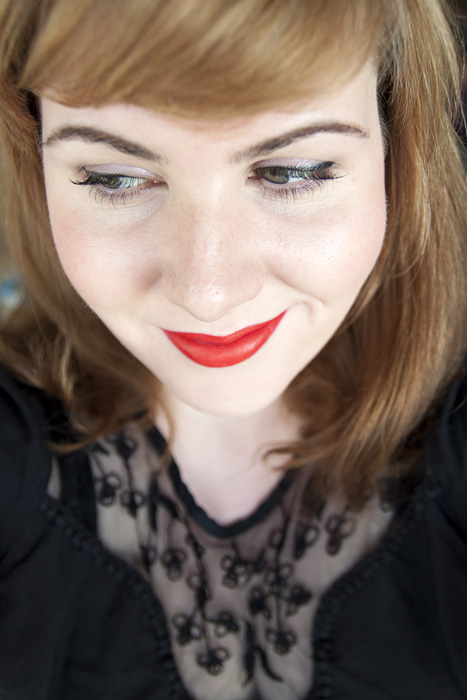 Moans aside, the formula of the lipstick is a delight.  It's firm enough to give you enough confidence that you're not going to end up with colour transfer over your teeth (and I didn't, at all – despite my BIG front teeth which always get in the way), but soft enough to apply without dragging too reluctantly over your lips.  It strikes a really good balance for a bold lip colour, and formula really is all important when you're braving a lip colour with such potential to show you up or let you down.
The lip swatches show the colour with lip-liner underneath to help create sharp-edged definition but in all honesty, I think that this lipstick is "man" enough (last of the great feminists me!) to hold a decent edge by itself.  Obviously, for optimum definition it's always best to line the contours first but most of the time, if I am using a lip-liner, I actually do it to extend the edge of my lips just at the outer corners where 10 years of smoking contributed to a loss of fullness – maybe I'll take some photos of how I do that sometime if anyone's interested?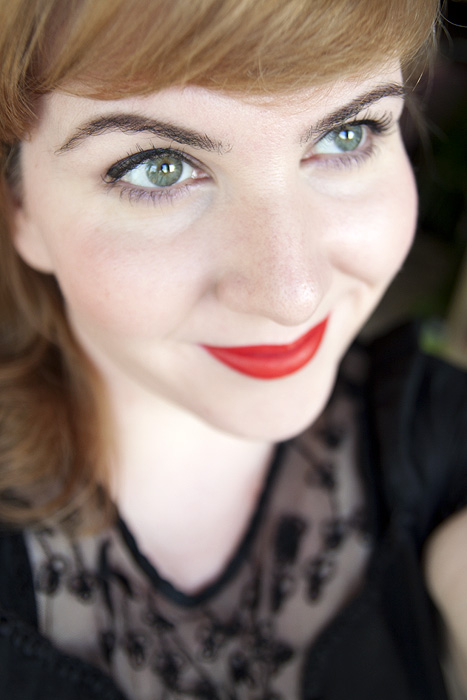 It's always hard when writing a red lip series post to perfectly demonstrate the tone of a red lipstick compared to others in the genre, so I've decided to start swatching them alongside MAC's Russian Red, commonly thought of as a pretty good example of a neutral red – meaning that it leans neither too blue, nor too orange.  I hope it will be helpful.  Either way, as you can see – in the swatch below, Dita's Muse Red is comparatively orange-toned when compared to the MAC neutral (it's also much less draggy!)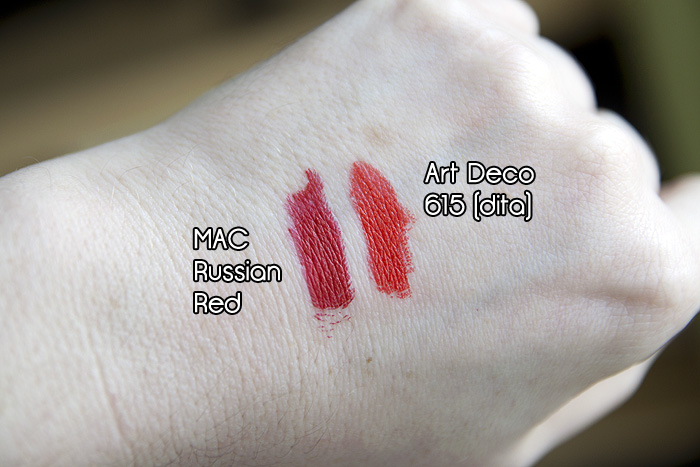 Considering there was much room for disappointment (you don't put out a "Dita von Teese" red lipstick without expecting it to be scrutinised!), #415 is a lovely, retro red that offers good, nay, great longevity… authentic colour and a lip-friendly formula.  What else do you need?
The Dita von Teese Classics Artdeco collection is out now and available to buy in person at larger Debenhams stores and online at debenhams.com
* press sample