Who hasn't dreamed of creating some makeups of their very own?  Leila and I sometimes spend an afternoon making lipglosses together from vaseline and food dye.  When we're not doing that, we're mixing up nail polishes to create some vile frankenpolish, inevitably throwing half a ton of glitter into the mix… just to make sure that it's completely unwearable.  But boy, it sure is pretty to look at!
Last year, GOSH gave two customers the chance to create their own cosmetics in a competition held over on the brand's instagram feed.  The two winners were delighted with the opportunity, and who can blame them?  One got to create a lipstick colour, the other… a nail polish shade.
Danielle Graves from Leeds, the nail polish creator, took colour inspiration from one of her son's toys and transformed the eventual shade into a pretty blue with a subtle shimmer.  Danielle said:
"I was so shocked when I won, I love GOSH and I love Superdrug so to be able to create a make-up colour with them is incredible.  I'm so happy.  It's great to think that other people liked the colour I picked enough to vote for it, my son loves Monsters Inc. and the picture I submitted is actually a close up of the fur on his favourite teddy bear.  It just screamed summer and bright and wow to me but at the same time reminds me of my little boy."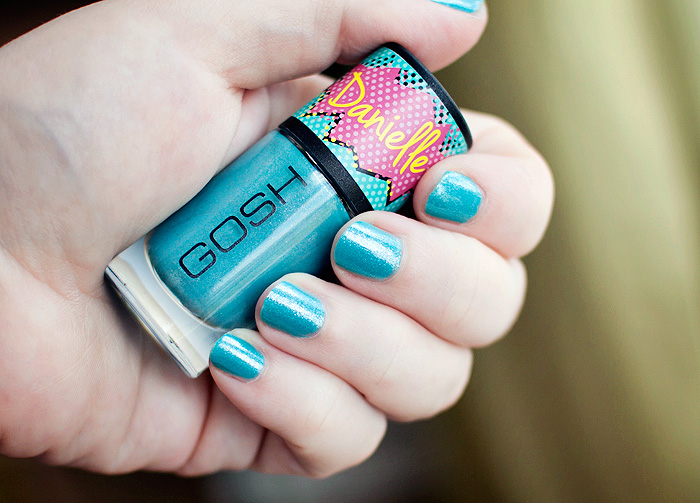 It is indeed, a very pretty shade.  The flecks of shimmer give the polish the effect of sunlight on water, like a glistening tropical ocean.  Very summery indeed!  The formula on the shade is good, with two coats delivering adequate coverage and I had no issues with application or a shorter-than-average wear time.
Danielle's nail polish is priced at £3.99 and is available instore at Superdrug
* press sample
if you liked this post, please don't forget to check out my subscriber options, here