Please tell me that you had to read my title twice!  Childishness aside, I thought I'd share a recent purchase with you.
Just as with foundation, I love the promise of a new eyeliner.  You may have noticed that I'm not a gel liner kinda girl, which was tricky in the old days because when I first started blogging, it was ALL about the gel liner.  Oh lord how I tried to make them work for me, I bought brush after brush… slanted ones, angled ones, thin ones, push ones… and liner after liner… but for the life of me, gel liner is something I am just never going to love.
This was a frankly devastating situation because I wanted a flick.  I wanted ALL OF THE FLICKS.  And you can't do that with kohl, well… not unless your name is Charlotte Tilbury, and I'm only halfway there with the name thing.
"What about liquid liner?" I hear you ask…
Well, up until the time I started blogging… I hadn't even heard of gel liner.  All my friends used kohl or liquid and I couldn't. bloody. do. liquid either could I?  The closest I could get to achieving the semblance of a straight line was with the Ruby & Millie i-writers (remember them?), but even then… I couldn't do it consistently.
I wish I could tell you that I'm about to share the secret of the liquid eyeliner.  I'm not.  All I know is that my unevenly hooded eyelids make the task trickier than it ought to be, which explains why despite copying exactly how my peers applied their liners, my flicks would always be wonky.  All I can say is: don't give up.  Find the tool that you feel gives you the most control (even if you aren't quite there yet) and keep practicing.  For me, it's always been felt-tip shaped liners.
Massive introduction over, the POP Ink Outliner Eyeliner is a pretty brilliant felt-tip shaped eyeliner which you should try if you struggle with your flicks.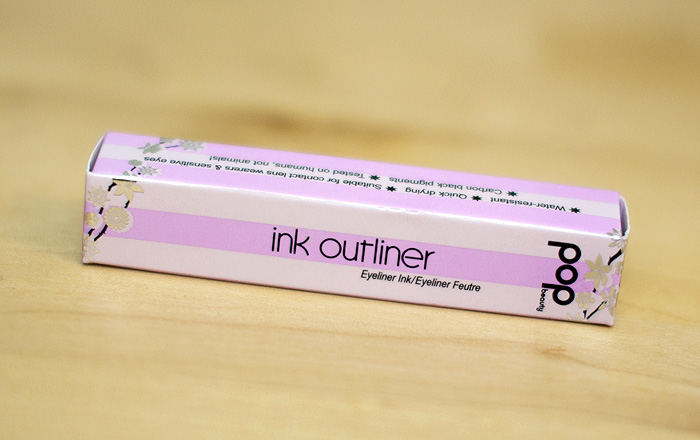 Let me tell you about it…
This liquid liner is a chunky affair, built like a giant kids crayon with a stubby length and chubby girth ("girth" *beavis laugh*).  You can see that the nib is also super-sized, rendering it useless if you want super-fine lines but marvellous for those of us who want to rock a more dramatic look.  The felt tip is quite firm but soft enough to give a little flexibility at the tip without sacrificing any control.
With a light stroke, you can achieve a fine line but it does take a little patience.
I've only been using this for around a month, but it doesn't show any signs of drying out.  Infact, the closure "click" is very strong and it takes a bit of effort to pull the lid off – it gives the impression that they've paid attention to preventing it from dehydrating too rapidly – something which can be a real problem with this kind of eyeliner.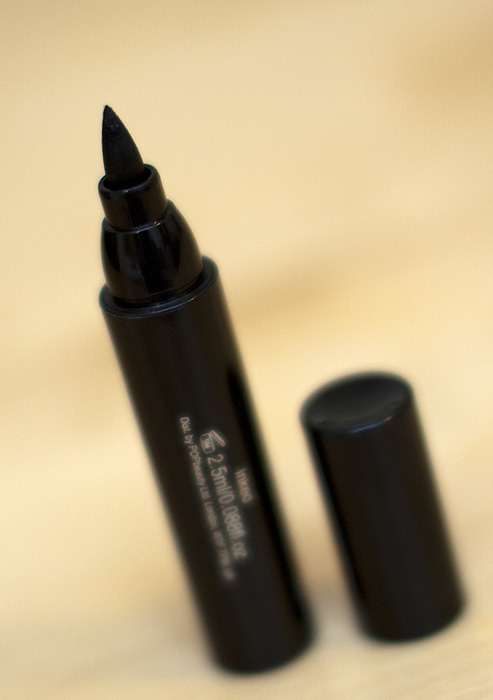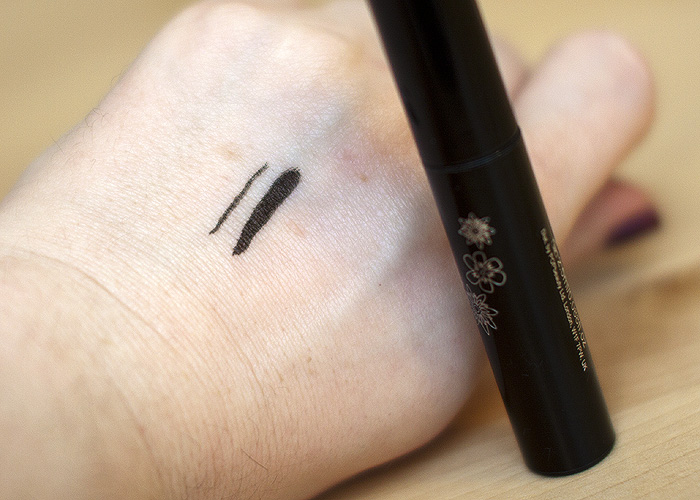 The formula is inky black and dries quickly.  It promises to be water-resistant although I feel that it sometimes fades quicker than I'd like, especially as I'm one of those awkward people who cry when they laugh.  It doesn't even have to be that funny.  I don't have watery eyes at any other time, life's a bitch.
The swatch above shows two single swipes, one using just the tip and the other, showing a firmer press at a 45 degree angle.  The beauty of this eyeliner for novice application is partially thanks to the fact that you don't have to repeat your lines, one pass and the pigmentation has reached its full potential.  It also cleans up very nicely with the tip of a cotton bud should you make any mistakes.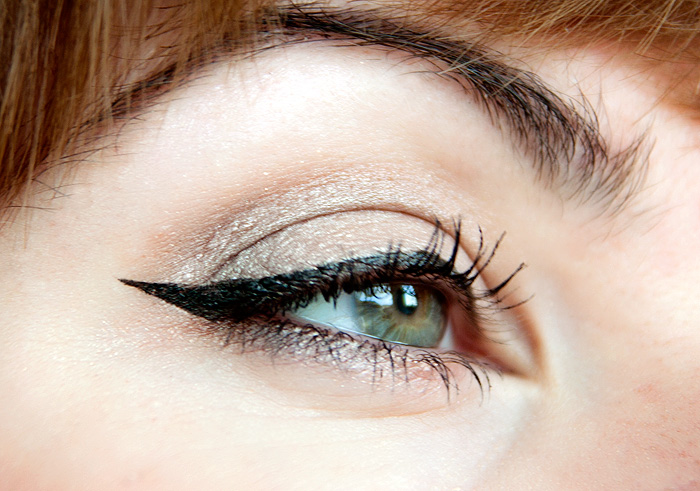 POP Ink Outliner Eyeliner is priced at £10.00, and is available to buy online at www.asos.com and popbeauty.co.uk
How are your flicks?