You may remember my post of tips I put together regarding the cleansing of dry skin… well, I'm back with a follow-up on how to treat dry, reactive skin types.
Allow me to copy in a little from the previous post to remind you of the background…
What do I mean by dry skin?  Well, for me… my combo/dry skin is largely self-inflicted.  I know I don't drink enough water (and always see a marked improvement when I do), I refuse to give up my cleansing oil addiction and although I'm leaning more toward kinder organic cleansing balms, I refuse to just 'get rid' of some of my more drying oils until they're finished.  Waste not, want not as my Mum would say.
I don't suffer too badly in the Summer, but come the end of October, my skin loses its glow and the biggest problem I have to battle are those dreaded flakies that make any foundation look like crap.
I'm breaking the tips into a couple of posts:  cleansing, treating, moisturising & makeup.  Please remember that I'm in no way an expert, I've just bumbled through a lot of trial and errors to find what works well for me.  So without further ado…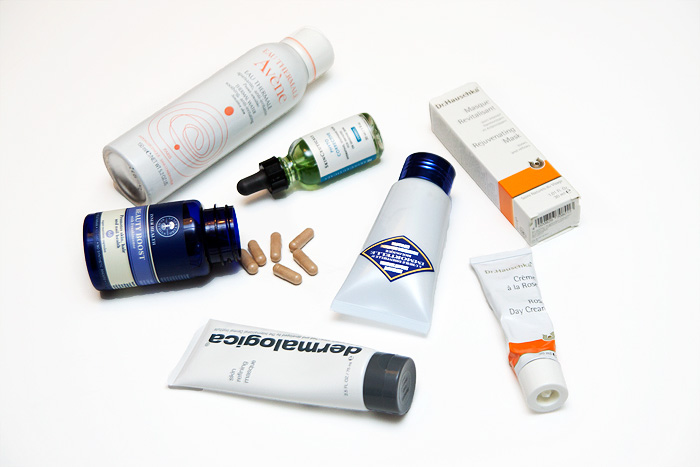 Treating
1.  Think about supplementing your diet with additional vitamins or minerals to keep your skin in top shape.  Either go for a general multivitamin to give a beauty boost or look for something more specific containing zinc and a good balance of vitamins A, E & C.  Also aim to eat more foods rich in high-quality fatty acids such as Omega-3.
2.  One of my most-frequently repurchased beauty items are cans of pH-balanced water.  To many, that will sound like a horrible waste of money but I became addicted after my laser hair removal last year, when nothing else worked to cool and hydrate my skin as quickly.  I keep a can in the car and one by my computer, they mist lightly and instantly give a boost of hydration when needed.
3.  Exfoliating is critical for those of us with dry skin but as our skin is often quite sensitive, we have to be careful to choose the right kind of exfoliator.  If you prefer the feeling of a mechanical exfoliator, make sure the granules are fine enough not to cause any micro-tearing to your skin.  Alternatively, opt for a chemical exfoliator that harnesses the power of fruit enzymes, glycolic acids and BHAs.  As to how often you should exfoliate, that varies and the best way to find out is to see what your skin will tolerate.
4.  Get specific to your skin's needs with a high-intensity serum, oil or concentrate that contains hydration-boosting or skin-repairing ingredients.  Incorporate this into your bedtime routine to give your skin optimum time to repair itself while you sleep.  Look for products that combine well with your favourite night creams to quench the thirst!
5.  Lie back, put your feet up and treat your skin to a regular mask treatment.  Because I still get an oily nose, I tend to use two different types of mask simultaneously — on my cheeks, chin and forehead I use something deeply nourishing whilst my nose gets blasted with a good old dose of something clay-based to draw out the impurities.  Don't be afraid to mix and match, it's all about tailoring your skincare to find the best results for your skin type.
.
Whilst you're treating a flare up, avoid products that foam and make sure that when you bathe or shower, the water isn't too hot.  Turn down the central heating just a touch (yeah, I know) and if Winter causes annual issues, think about investing in a humidifier for the room you spend the most time in.  Most "normal" dry skin conditions can be treated with a little know-how and a lot of dedication to pinning down what works for you but if in doubt, always consult your doctor.
Do feel free to add any TREATMENT tips you've discovered for dealing with dry skin, I'd love to hear them.  I'll be covering general moisturising tips later.
* disclosure: in the above picture, the SkinCeuticals Phyto Corrective, Neals Yard Beauty Boost and Dermalogica Skin Refining Masque were press samples