That's it… stick a fork in me, I'm done. Infact, I'm overcooked. I've been par-boiled, roasted, reheated, and now I'm nothing but soggy leftovers. I know that in roughly 16 weeks, you'll find me moaning about the cold… perhaps even the snow that global warming is sure to rain down on us again, but I don't care. I've had enough. How is a girl even supposed to contemplate makeup in this heat?
You know, I've turned partially feral because of it don't you?
Aside from a daily splash about in the shower, I've haven't done a single thing in the way of beautifying.  The curse of the self-employed.  My roots are greyer than the sky will be when these thunderstorms finally take their toll, my leg hairs are trailing the floor behind me and I'm ashamed to admit that my toenails are most certainly NOT sandal-ready right now.  I'm going to a spa on Friday for a wee bit of pampering and I will have to force myself into some semblance of action before then if I don't want to frighten all the punters away.
Infact, since returning from holiday last week, the only place I've been to is Iceland (the shop, not the country).  It made sense… I'm hot, they have freezers… and I knew that no-one gives a shit about sandal-ready toes in there, most of their patrons have webbed feet anyway.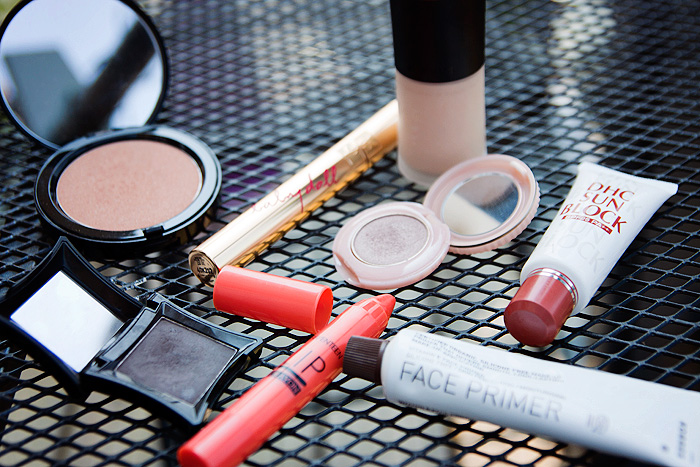 Clockwise from top-left: Bobbi Brown Illuminating Bronzer in Bali Brown, YSL Babydoll Mascara*, Paul & Joe #23 Eyeshadow, Giorgio Armani Luminous Silk Foundation, DHC Sun Block SPF25, Korres Face Primer, Boots Seventeen Lip Crayon in Bold*, Ilamasqua Eyebrow Cake in Gaze
Eight products, that's not bad for a hardened makeup addict like me is it?  I couldn't manage a single more installment on my face anyway… the more you apply, the more there is to slide off right?
I'm playing a game of using up products that should have been finished a while ago… I'm not entirely sure how old my Korres Face Primer is but I know it's been discontinued… the same goes for the Sun Block which thankfully, only has a couple of squeezes left in it.
In this weather, I can't get enough of those Seventeen Lip Crayons, they strike the perfect pigment balance between the original Clinique chubby stick formula and the more pigmented version.  Also, while I'm updating on products I've previously reviewed… it's worth mentioning that the YSL Babydoll Mascara has yet to dry out in the tube, it's a miracle!
Anyway, put all those products together and you get a FOTD that looks something like this: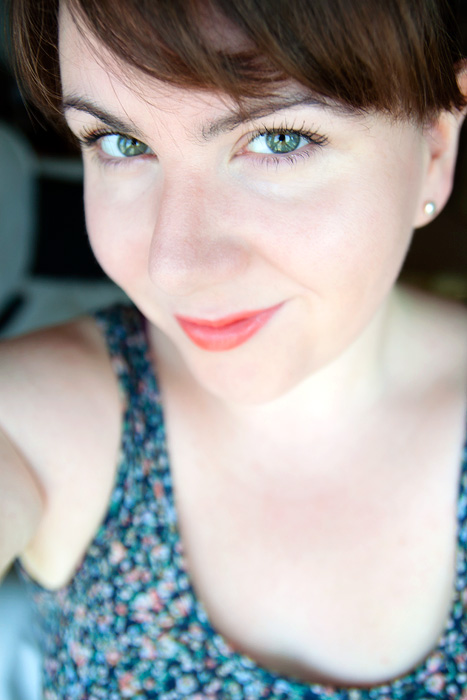 I look mega-posey in a "How you doin'?" kinda way but honestly… I just wasn't feeling the FOTD thing infront of the window while the sun beat down, altering my DNA structure from within and giving me rapid-onset heatstroke.  In other words, this was the best of a very bad selection.
Do you bother with makeup when it's this hot?  I gotta cover that lush's nose somehow!
* press samples