Well, not entirely monstrous, but green is not a colour that I can pull off with much success.  Mr. L, who never comments on my makeup (other than to tell me I look lovely when I drop enough hints that he ought to be saying something), readily agrees that green is not a colour I should allow into my makeup-playing repertoire too often.  About halfway through the day I asked him, "Have you noticed that I'm wearing green on my eyes today?".
"Yes. *pause* It doesn't look too bad does it?"
And that ladies, clearly means that it looks amazing.  Or not.  I'll go with the former.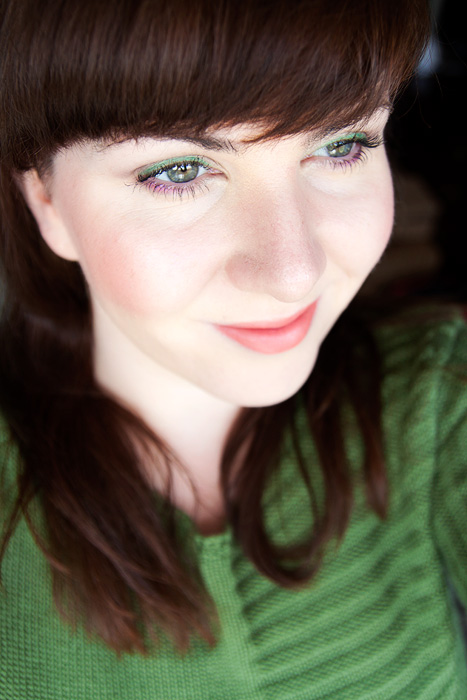 Do you ever get the feeling that you're getting a bit old to wear bright colours on your eyes?  I do.  I mean, when I was 27…. I thought I was getting too old, but now that I'm 30 and I'm looking at the photo thinking, "I think it doesn't look too weird" but, I surround myself (online) with beautiful women who love to have fun and enjoy a passion for makeup.  What must women who don't share our creativity when it comes to slap think?
Of course, one totally shouldn't care what other women think and I'm neither fishing nor asking for validation here, it's just that being on the cusp of the wrong side of 30 makes me hesitate.  Nothing more and nothing less, I guess it comes down to the fact that you can't really pull off the "cute" thing once you reach your thirties, and so there's no room for error in the same way as when you were younger.
"Should know better".  I'd like that on my headstone… along with "One Day", a long-held shot at faith.
I usually only have time in the morning for the basics when it comes to makeup but Mr. L has been super-generous with his time in the run-up to releasing his next game, so you can expect a few more FOTDs than normal simply because it feels lovely to walk out of the house in a proper made-up face once a week you know?  The type where you've played and pontificated over choosing what to apply rather than reached for the quickest, most fool-proof things you own.
Anyway, I'm really rambling.  I'll do a quick product breakdown.
Face
Face Atelier Ultra Foundation in Ivory
Laura Mercier Secret Camouflage SC-1
Guerlain Terracotta Moisturising Bronzing Powder in 00
Eyes
GOSH Velvet Touch Eyeliner in Green Grass on the upper lashline
Purple Eyeshadow from the Smashbox Muse Artist Eye Palette on lower lashline
Clinique High Impact Curling Mascara*
Illamasqua Eye Brow Cake in Gaze
Lips
Bourjois Sweet Kiss Natural in 09 Sienne Kiss*
What's your colour nemesis?  Do you hesitate when it comes to colour?
* press sample