As you gently sashay through the sweet-smelling wafts of Lemon Lavender, Midsummers Night, and White Gardenia in your home… do you ever ponder upon what your fella is missing out on?
Well, wonder no more because Yankee Candle have brought back their much-talked about Man Candles with a Man Candle II collection.  But what new scents have they introduced that could possibly entice our men-folk into splashing the cash on home-fragrance, I mean… let's face it, it's not on the top of their list of priorities is it?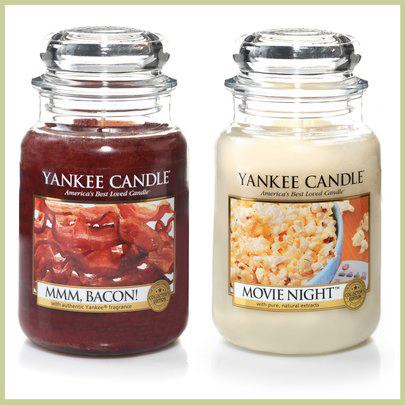 Genius.
Who doesn't like bacon?  (Apart from the bazillion vegetarians around the world OBVIOUSLY).  I'm seriously hoping that the Movie Night candle smells nothing like the movie-nights we have chez Lipglossiping because I almost always burn the popcorn and trust me, there is no worse smell on Earth than seriously charred kernels.  Heck, I'd need a dozen Bacon candles to mask the smells created by my kamikaze microwave.
And just in-case they're not willing to lay down the pennies on a full-size jar, these man-scents are also available as in-car fragrancers.  A wave of processed-pork under your nostrils each time you jump in the passenger seat?  Oh, you ladykiller you!  Possibly, quite literally.
I can only see these on the U.S. pages for now, but keep an eye on the UK Yankee Candle website where they should be turning up to join the other Man Candles available.