Thinking it would be a great space-saving idea to pack a couple of dresses and woollen tights for London means that I'm more than over winter now.  Move along, make some room for Spring please.
With this in mind, I'm thinking warmth.  I'm channeling sunshine, balmy evenings and cloudless days.  And nothing evokes warm sub-tropical feelings better than the sweet scent of Frangipani.  Discovering the Hei Poa Monoi Beauty Oil whilst browsing Zuneta, has left me in a "I must have this immediately" frame of mind.  Oh, you know the one!  Yeah you do….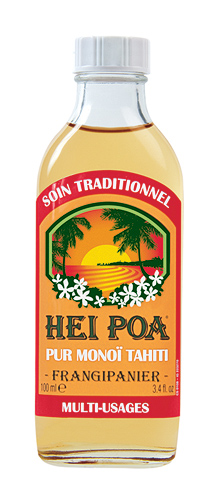 It's a multi-use product.  I like those, I have so much crap variety of products in my bathroom, that I'm in dire need of a bit of space-saving.  You can use the Hei Poa Monoi Beauty Oil on your hair or your skin.  I've never really had a great relationship with hair oils (hello greasies!) but my skin drinks body oils up like my Nan in a Guiness factory.
Produced in Tahiti and priced at £9, Hei Poa beauty oils are completely natural, containing no preservatives or colourants.  They promise to leave skin and hair delicately scented and nourished. Yes Please!
Hei Poa products can be purchsed from Zuneta, I'm off to check out what else I feel like being tempted by on this miserable Tuesday afternoon!