Su requested a swatch of the Laqa & Co Nail Polish Pen that I talked about yesterday, and I jumped at the chance of a quick and easy post so I could get to bed early (and carry on decorating bright and early tomorrow), forgive me for repeating myself!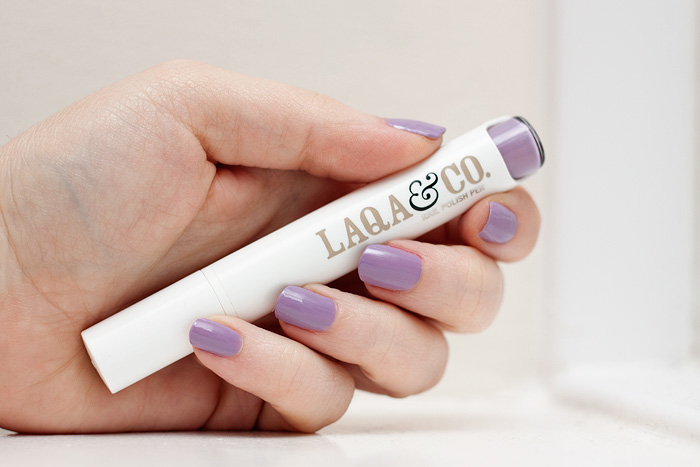 Incestuous is one of those muted lavender shades that suit my skintone really nicely.  I know that some tones, especially olive skintones can struggle with muted purples which can sometimes make fingers appear lifeless but Incestuous (hate that name) offers enough saturation, I think, to avoid this phenomenon.
Application was basically pretty fun.  Except for the part when I realised that I would, in essence, be painting my nails with the wrong hand – with a pen.  Any ambidextrous readers out there?  Lucky.  I got my fingers in a proper muddle, made only more difficult by the fact that my nails on that hand were wet!  All in all though, the results were really good – the above image shows two coats (three on two of the fingers that I messed up).  Judging by the little window in the pen, it doesn't seem to have consumed too much polish, but considering the pen only holds 5ml (the same as a Mavala) and costs £10.95 – this certainly isn't the most economical way to paint your nails.
Having said that, it's great for holidays and showing off your beauty gadgetry to anyone who gives a shit.  Which, let's face it… is probably no-one.  You should probably just get this to amuse yourself/give as a present (the box and artwork is way cool/or for your holiday manicures.
Laqa & Co Nail Polish Pen in Incestuous is priced at £10.95 and available online from PowderRooms.
* press sample