A few weeks ago, I was invited along to experience the facilities and treatments at The Vineyard Spa, located just outside Newbury in Berkshire.  It's only a short hop up the A34 from where I live and a blisteringly hot day meant that by the time I'd pulled up outside the hotel, I was more than ready to cool off in their swimming pool.
The spa offers a range of pampering options, specialising in treatments by Darphin and some rather special Grapetherapy – well, they are The Vineyard, after all.
Facilities include a large circular pool, jacuzzi, steam room, and a sauna with changing areas and plenty of relaxation spots in the main atrium.  The spa is attached to the hotel and as such, offers a more informal setting with unisex facilities and even designated "children's times".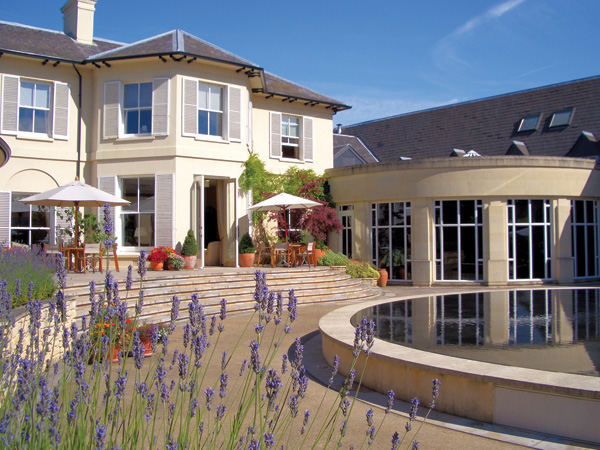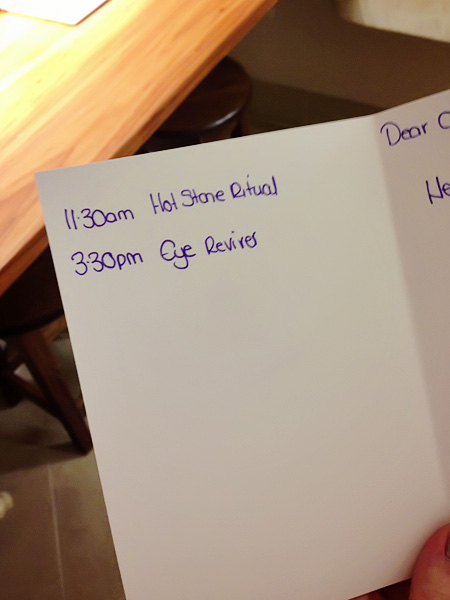 I'd booked myself in for two treatments, a full body massage with some added hot stone loveliness and an eye reviving treatment which I hoped would plump those fine lines that are slowly creeping in to view.  On arrival, we were checked in and had our treatment appointments confirmed before being shown around the facilities and directed to the ladies changing room.
Inside the lockers you'll find the obligatory robe and slippers, although the mood lighting is lovely… I did spend a good five minutes trying to retrieve the set of keys that I'd managed to drop into the abyss, and then nearly left my phone at the back of the locker because I didn't spot it on the way out – one of those motion-sensing (i.e. locker door opening) lights would be really beneficial in there.
My other grumble about the changing room would be the toilet facilities.  There's a single loo… with a frosted glass door and no hook inside to hang up your dressing gown/towel/whatever else you might be holding.  Basically, it's all rather… public.  If someone's having a wee… anyone using the changing room will hear you.  Now, I don't know about you… but I'd rather wee without worrying whether other people are imagining that Austin Powers scene!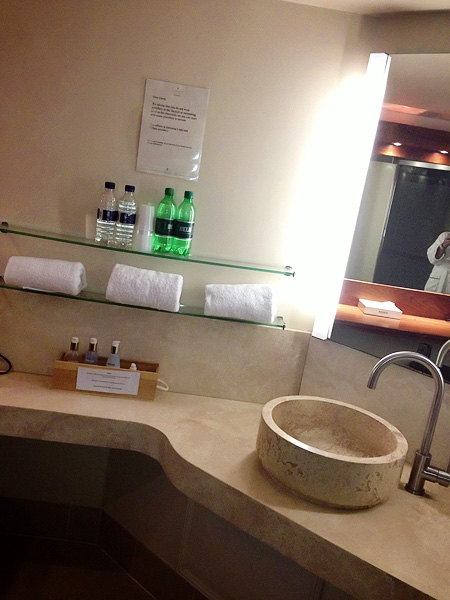 Having said that, there were plenty of things to make up for these shortcomings… Darphin skincare beside the sinks, plentiful clean towels, complimentary bottled water, and hair-dryers that make short work of actually drying your hair.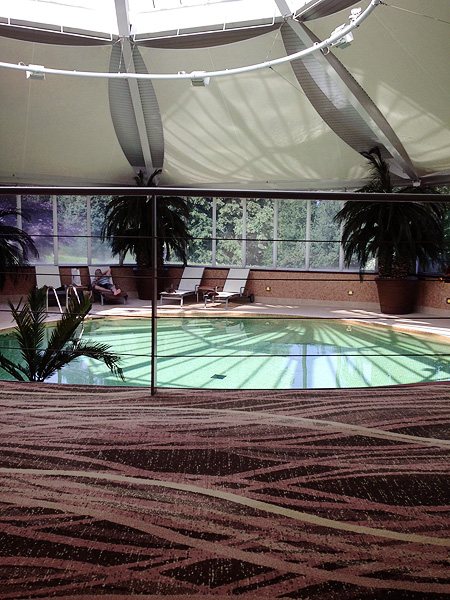 I spent an hour relaxing by the pool, catching up with some friends before being collected by one of the therapists for my first treatment.  The treatment rooms are located in a different part of the building… a little walk away from the spa area.  To be honest, I didn't enjoy walking through the hotel like this… past the reception area, past the kitchens, along the corridor and up the stairs.  It's a little humiliating, fresh of face, wrapped in a towelling robe and shuffling along in a pair of slippers.  I thankfully only passed one small group of guests on my way but they looked rather bemused to see someone in this attire!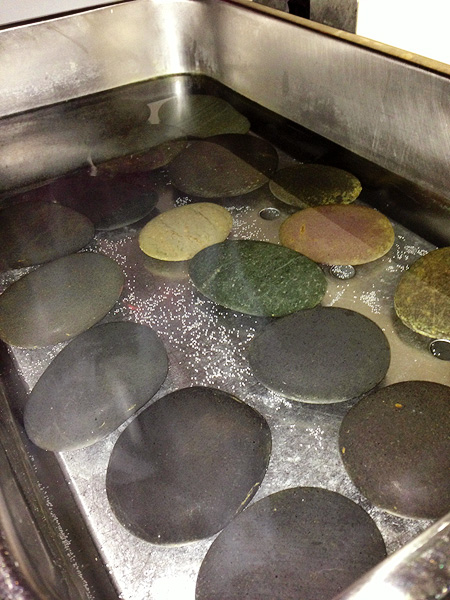 I'd been looking forward to my first treatment for a long while, my first full body massage and my first experience with hot stones.  What can I say other than I loved it?  My therapist, although small in stature, applied plenty of muscle-relieving pressure that literally undid the knots that I'd been feeling in my calves.  Combined with the reassuring warmth from the hot stones, I enjoyed an experience that I didn't want to end.  I'd recommend the Hot Stone Ritual to anyone.
The ambiance in the treatment room was perfect… gentle, repetitive music that lulled me into a deeply relaxed state and a cocoon-like room temperature that tempted me into hibernation!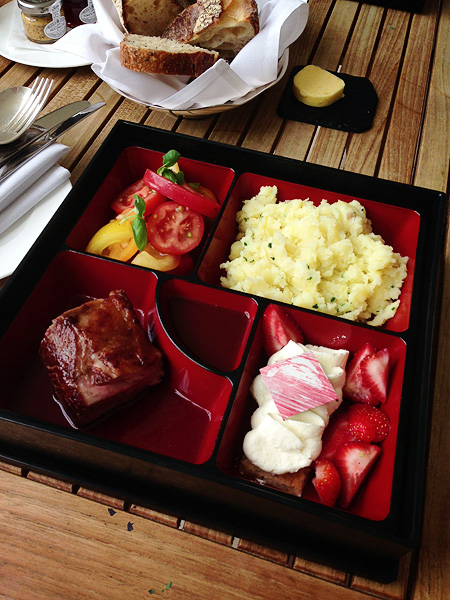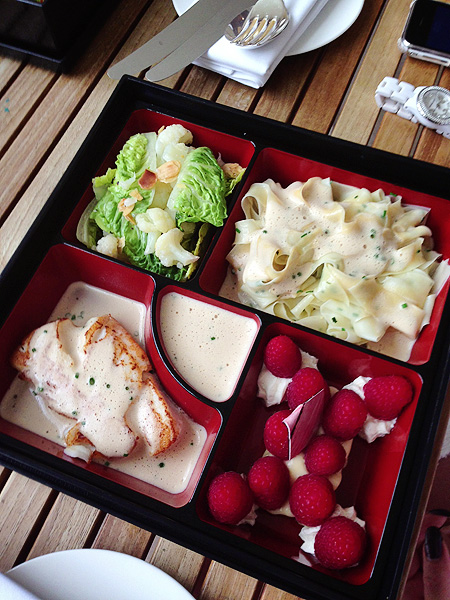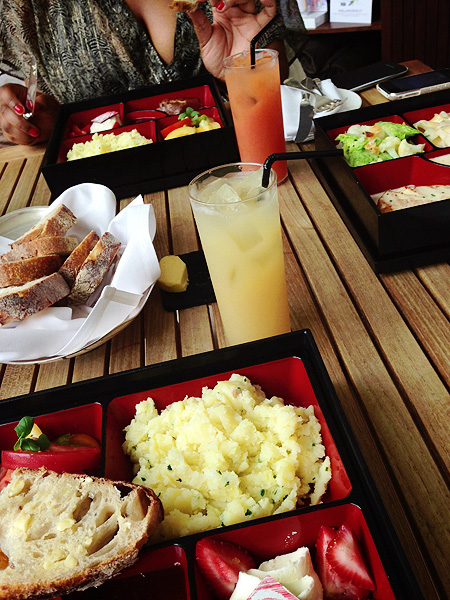 Back in the atrium, beside the pool… lunch was served.  I opted for the lamb which was served bento-style with creamy mashed potato and a tomato salad.  It was truly delicious, generously dished, and cooked to perfection.  Dessert was a classic strawberries and cream with a slice of sponge.  The meal was filling without being too heavy or rich, nicely balanced and… well, I'm making myself feel hungry just remembering it!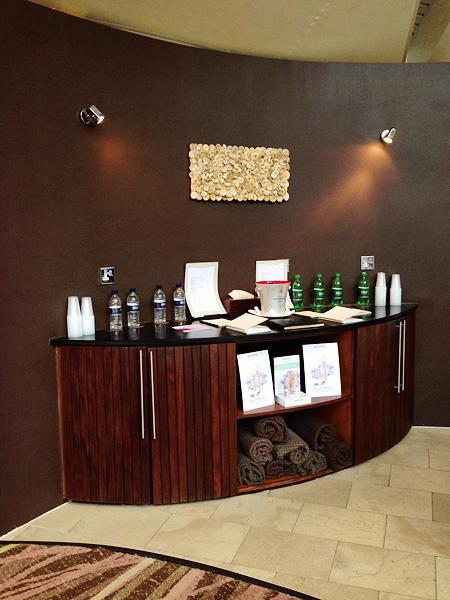 After lunch, I returned to the treatment rooms upstairs for my second pampering session of the day… this time, the Darphin Eye Reviver.  Sadly, I wasn't quite so enamoured of this treatment as I was with the hot-stone massage.  I felt that for the length of time given to the treatment (25 minutes), too much of that was spent cleansing and toning my face… time which I would have preferred was spent performing manual lymph drainage or other massage technique.
Having said that, once again, the whole experience was incredibly relaxing and I did emerge with temporarily refreshed-feeling eyes.  I'm just not sure I'd pay for that treatment again.
The Vineyard Spa in Berkshire is a great choice for a more informal spa day.  Spa connoiseurs may feel that the hotel/spa setting doesn't quite deliver the level of privacy or finesse that they expect but if you're a little intimidated by the thought of protocols surrounding spas and treatments this would be a great venue for an introduction to the spa scene.  The staff are welcoming, friendly, and knowledgable… the food was delicious and the facilities more than adequate.
I'd be particularly tempted by one of the Vineyard's spa evenings for two which includes four-hours of spa time, a main course, and a 25-minute treatment each for £105.  A lovely (and not too expensive) idea for couples to spend a bit of relaxation time together over dinner.
To find out more about The Vineyard hotel and spa near Newbury, visit their website, find them on twitter, or call them on 01635 589415.
* I was a guest of The Vineyard Spa for the day and received one complimentary treatment.