Whether or not you celebrate Valentine's day, it's an event that's pretty much unmissable in terms of marketing and hype.  A walk down the high street from mid-January is all you need to be reminded of how much of a little shit Cupid actually is.  He's not the most endearing figure from Roman mythology is he?  I mean… for one thing, what's with the nappies?  Does falling in love make you incontinent?  I know it certainly makes some people sprout a load of crap… but that's from their mouths.
When I was little, my Dad would send me a Valentine's card each year… but I became pretty high-maintenance about the effort he had to put into deceiving me that my card had actually come from a secret admirer.  It's no surprise he stopped sending me them when I reached my tween years and discovered that my solitary valentine's card had been postmarked from his workplace for the last few years.  Having your card sent from a category B men's lifer prison is enough to make you not want to take it into school to show your friends.
As for now, we don't really do Valentine's day.  That is to say… I tell my husband that I think it's a load of old crap because he does lovely things for me throughout the year.  Then my husband doesn't do anything for Valentine's day and I don't talk to him for the rest of February because he didn't buy me anything.  It works for us.
Here are some bits and bobs that have been catching my eye in the run up to V-day.  I suggest printing them off and drawing a massive red circle around anything you want (preferably in your partner's blood) before leaving it taped to the front door (both sides).  Taking such precaution may ensure that you at least end up with some flowers from the local Esso garage.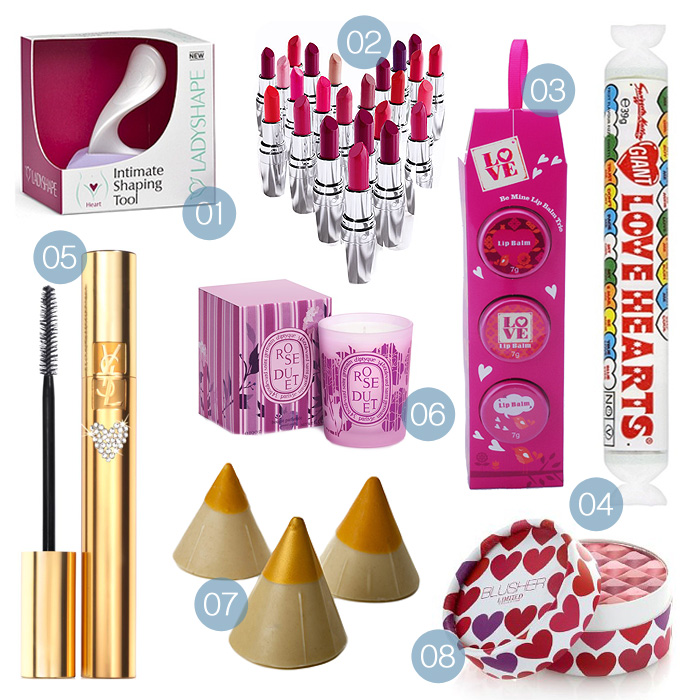 01: Ladyshape Intimate Shaping Tool, for err… shaping your "lady".  The only reason I'd do this would be to see the look of confused WTFery from my husband.  We've been together for 12 years, he would not be expecting this.  He would point, I would laugh, we'd all have a nice cup of tea and I'd spend the next seven days scratching. (£12.99, stressnomore.co.uk)
02: Avon Perfect Kiss Lipstick*.  Currently on sale, this well-received range of full-cover lipsticks from Avon offers the full rainbow of Valentine's appropriate lip shades.  From Berry Smooch to Lovey Dovey Pink, Naughty Nude to Red Embrace, even the shade names are getting in on the act!  (£4.99, avonshop.co.uk)
03: Be Mine Lip Balm Trio.  You don't usually get much change from a fiver nowadays when picking up gifts but this little trio of lip-smoothing balms should get your pout ready for some kissing action.  (£3.00, asda.com)
04: Saving those pennies from my last selection will ensure that you have plenty left to pick up the ultimate Valentine's gift.  You can't beat the iconic Swizzel's-Matlow Giant Love Hearts when it comes to romancing your beau… apart from maybe a sunrise jaunt in a hot air balloon over Paris, complete with Krug Grand Cuvée but who's got time for that?!  Seriously though, nothing leaves behind a sweeter taste than saying I Love You with 30g of sugar per roll.  Yum.  (£0.35, everywhere!)
05: Fluttering lashes go hand-in-hand with hearts that are all of a flutter no?  What greater excuse do you need to customise your next purchase of YSL's best-selling False Lash Effect mascara with a Swarovski crystal heart.  Still not convinced you need this extra sparkle in your life?  How about when I tell you that you can get this bespoke addition for no extra cost… available from February.  (£23.50, selected YSL counters at Selfridges, Harrods, Harvey Nichols, Fenwicks, Brown Thomas and Fraser's)
06: Ahh la rose.  The quintessential flower of love.  The problem with a dozen roses is that it's not long before the flower's fresh scent changes from ravishing to rancid once the petals begin to droop.  Prolong the good-feeling with this beautiful limited edition candle from Diptyque.  The Rose Duet, so-called because of its marriage of two wonderful fragrances in one candle (Rose and Baies) will ensure that the scent continues to linger perhaps even longer than the relationship (harsh!) (£42.00, instore and online at diptyqueparis.co.uk)
07: Looking a lot like a pencil tips/gold-dipped Madonna boob hybrids, these From Dusk Til Dawn massage bars* from LUSH offer a convenient excuse for a foot rub.  Or a back rub.  Or a bum rub.  Whatever floats your boat.  They smell delicious in a just-stepped-out-of-the-orange-grove kind of way and leave behind a subtle sheen on the skin.  They melt beautifully and I don't mind admitting that I prefer to use these solo while I'm still warm from the shower, as Charlie from LadyoftheLane advised me, they're brilliant for dry shins! (£4.95, lush.co.uk)
08: M&S have released a few makeup cuties just in time for Valentine's Day.  The Limited Collection Multi Blush* features a variety of pink-hued blush hearts compressed into a single pan to deliver a rose-tinted flush to cheeks.  Sparkle, flush and glow get it (ho ho ho) from your nearest store.  (£6.00, marksandspencer.com)
Will you be celebrating Valentine's Day?  And how much of a diva-strop do you throw if you get nowt?
* press sample