I remember the first time I visited the Bare Escentuals store in Covent Garden. It hadn't been open very long and at the time, I think I referred to it as "the candy shop".  You see, for a makeup lover, there's something about being surrounded by so many mini pots of jewel-toned pigments that makes it quite easy to lose your sense of decorum.  I emerged from the store, so completely covered in swatches, it looked like I'd had my own private Holi festival.
Obviously, pigments and powders is where it all started with Bare Escentuals and when the brand announced a range of pressed-powder products, I was excited for the convenience that this brings, but also wary that the same kind of vibrancy and pigment quality wouldn't, nay perhaps couldn't translate itself so well from the confines of a pressed pan.
Well, I worried needlessly.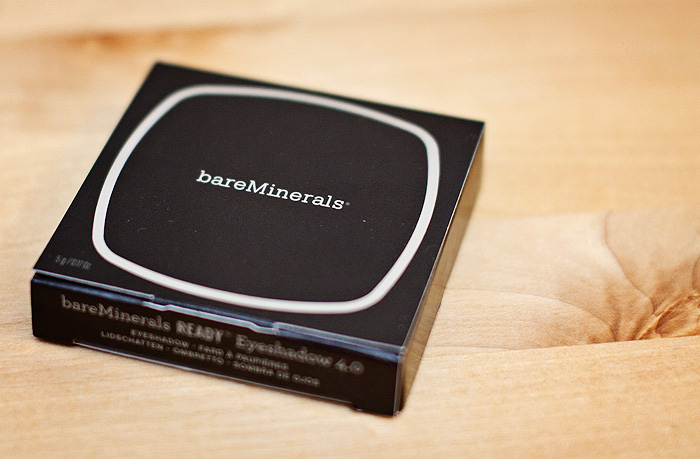 My first experience of the new(ish) BareMinerals READY Eyeshadows comes in the form of one of their quads: A List*.  On paper, it's got my name written all over it, I'm a sucker for a purple-toned palette.  I'd heard about the "incredible" texture of the new READY eyeshadows and I had the highest of expectations as a result.
First thing to note about this particular eyeshadow quad is indeed, the texture which is truly buttery.  You can tell that this product comes from a brand who know their way around a pigment or two because the powders are so softly textured, they feel almost creamy.  There's a hint of roughness to the purple shade (Swanky) but you have to expect that from the glitter particles.
You'd expect a buttery-textured eyeshadow would blend with ease, and in my opinion, they do.  Infact, above all else, I'd put weight on this being their best selling-point.  It's not always easy to blend smooth gradients from shadow to shadow, getting that perfectly refined edge to soften to the point of invisibility is a well-honed skill, and anything that makes lighter work of it is a marvel.  On this score, the BareMinerals READY Eyeshadow Quad in A List, is, a marvel.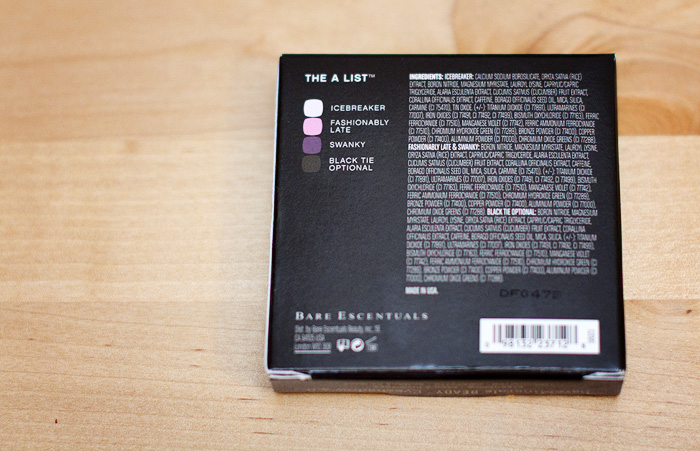 Where I think some of these palettes could do with a little work is with their combination of colours.  I feel that A List doesn't quite give me the eye palette that I want to work with.  The highlighting shade (Icebreaker) is very pale, very shimmery, and very…. highlighter-y.  Unfortunately, I feel that the next shade up in the quad, the pink (Fashionably Late), is also playing the same role… albeit in a more vibrant way.
For definition, I need a solid crease colour, and unless I go black, my only option is the glittery Swanky.  The jump between Fashionably Late (on the lid) and Swanky (in the crease) is quite large and on my skintone at least, the palette is not quite there in terms of shade combining.  I would have liked to have seen these pink/violet hues without both extreme ends of the spectrum (white/black) incorporated in the 4-pan palette.  Perhaps something like The Dream Sequence is closer to what I'm looking for.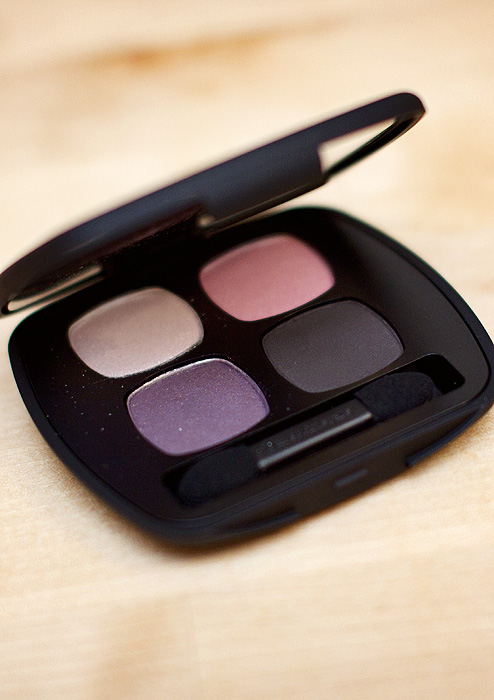 I had one other, minor, issue with the palette.  In the photo below, I've highlighted where one of the pans is raised above the level of the palette.  It's not quite enough to cause any problems with the closure mechanism but… and perhaps I'm being a touch fussy… it's not something I expect from a £29 (on counter) eyeshadow palette.  It looks untidy but is hopefully a one-off.  Really not interesting in a sponge-tipped applicator when I'm paying nearly £30 either.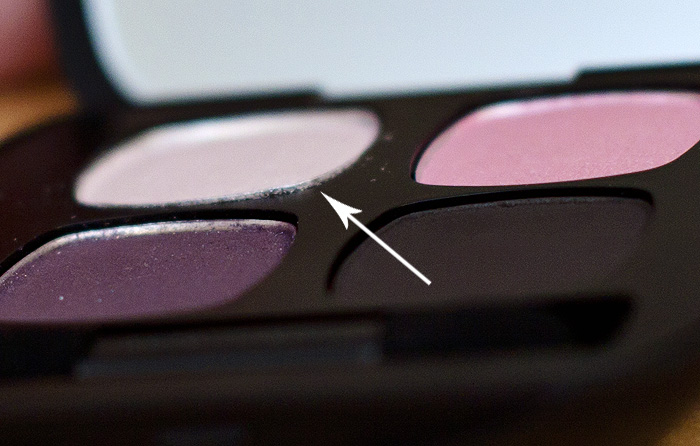 These grumbles aside, I really can't fault the colour payoff and texture of the included shades.  Black Tie Optional makes a great liner close to the lashline, or smoked out at the edges to deepen and intensify the overall look.  Both Icebreaker and Fashionably Late offer something a little more frosty but both will work as highlighters, although FL is a little saturated to blend too high up the browbone.  Swanky is a really nice purple that's blue-enough not to deliver the bruised/consumptive look, the added sparkle is a nice touch.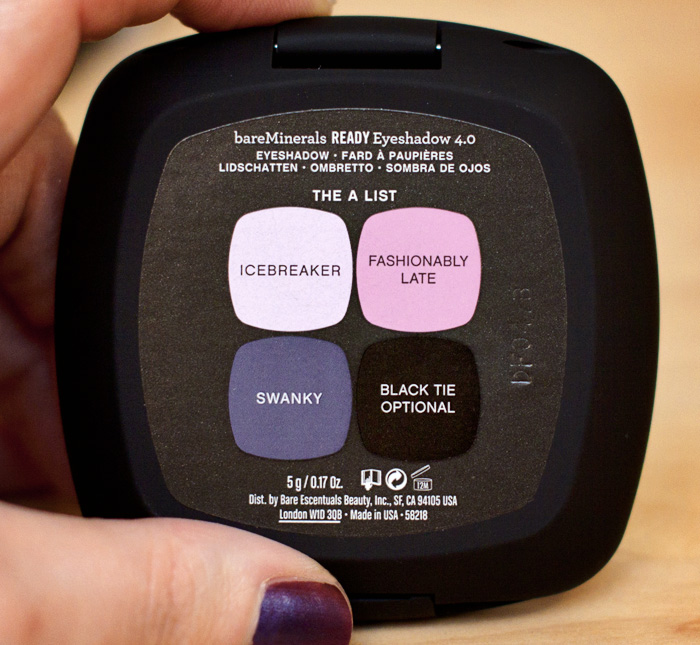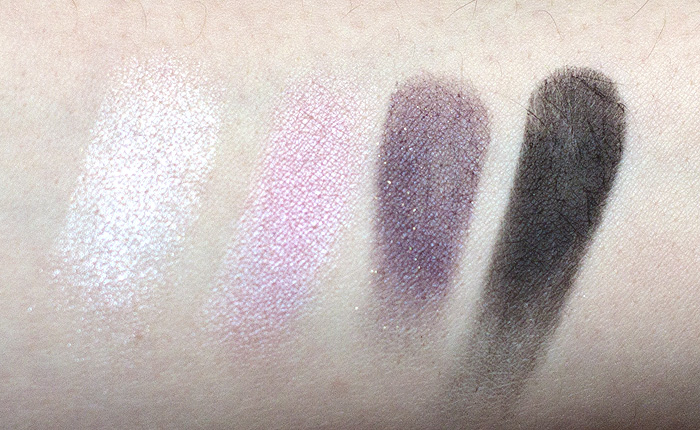 BareMinerals READY Eyeshadow Quad in A List is available to buy online from beautybay.com, priced at a very reasonable £23.49
* press sample
** come back later today for a FOTD with the above palette