We all know how it feels to sneak five minutes of our lunch break on the way back to the office with our sarnies.  Some people will spend that precious respite browsing the news-stands, others may glance over the cosmetic counters.  The very last thing you want to do when you only have minutes to spare?  Get into a conversation with the shop assistant over the latest launches.
Alternatively, you just may be an anti-social bitch like me and prefer to shop without assistance until you request it.  Or perhaps you love hearing about the technology in the latest serums on the market but can never find an SA willing to talk shop with you?
Clinique have been looking at the way us shoppers like to prowl the counters and have come up with a potential solution to this common problem.  Complimentary wrist bands.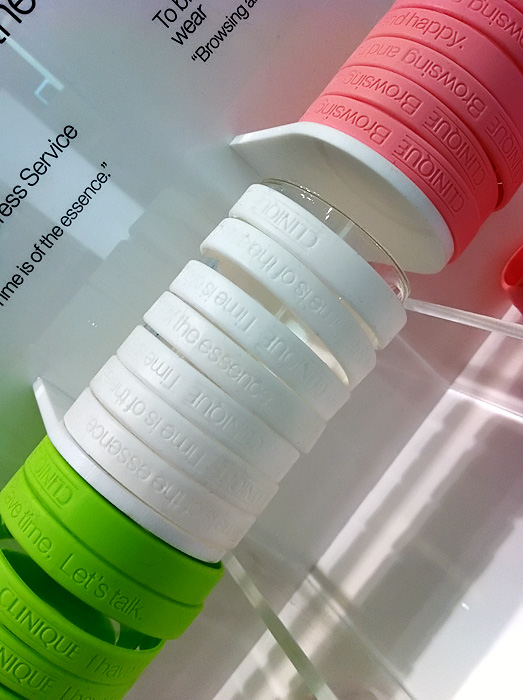 Three different coloured wrist bands to be precise.
Which wrist band do you go for?  Well that depends on your mood!
Green = Chat me up and tell me whatchu got!

White = Help me/Serve me, QUICKLY – The boss is coming back any minute now!
Pink = Leave me the hell alone unless I ask otherwise.
How effective this scheme will be, remains to be seen.  I popped by the Clinique counter in Selfridges (Oxford Street) on Tuesday afternoon and although the billboard was up, advertising the new Service As You Like It concept — there wasn't a wrist band to be seen.  I asked about them and a friendly (though slightly suspicious!) SA explained that they were waiting on more bands to come into stock before they put them out on display.  She kindly let me have a look at the display box and seemed keen on the idea when I asked about it.  It was clear however that there had already been some teething issues with 'customers' picking them up in handfuls and simply walking away with them without even attempting to have a look around the counter!  Dreadful.
I have to applaud Clinique for tackling such an age-old problem with this scheme.  Hopefully it will ultimately mean that time is spent more effectively on customers who require assistance and will generate better relationships between the SA and the customer.  A potential win-win situation for both brand and shopper.
Here's hoping!  What do you think?
The Clinique Service As You Like It complimentary wrist bands are on counter from Selfridges Oxford Street, House of Fraser Meadowhall, House of Fraser Glasgow, Debenhams Leeds and Fenwick Newcastle.