No idea when this is coming out over here… or even IF it's coming out, I'm still sulking over the missing Wildflower Collection.  Maybe we can expect this next Winter, who knows? *shrugs*
That aside… High Steppin' is Barielle's Summer 2010 offering.  Mostly metallics which aren't generally my favourite finish unless they're formulated well enough to avoid streakiness but I'm pretty keen on some of the colours and I like that they've included some of their glittery numbers too.  I'm a big fan of those.
Enough chatting, have a looksie…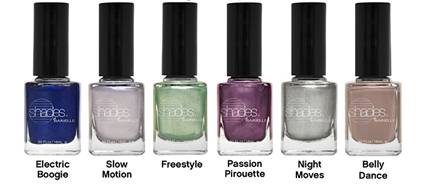 So here's the lowdown, shade by shade…
Electric Boogie: Inky Blue with teal glitter (yes please!)
Slow Motion: Light metallic Lavender (possibly… if it's edgy rather than sugary…)
Freestyle: Metallic mint with Silver Glitter (hmmmm….. not sure… maybe)
Passion Pirouette: A grape metallic purple (I'm nodding furiously)
Night Moves: Sparkling metallic silver (meh….)
Belly Dance: Nude taupe with shimmer (ewwoooogah! as Leila says in a fit of enthusiasm!)
So that's half the collection in my shopping basket if and when it ever gets released over here.
What do you think?