Unlike most in the fashion and beauty world, the messy bun and top-knot trends are here to stay.  The truth is that for women with plenty of hair, it's the perfect solution for sweeping your mane away from your face with the least amount of fuss and bother.  For those of us who are less-than-blessed in the plentiful hair department, it serves as a stark reminder of "shit we can't do".
Perhaps you can get away with using a hair doughnut to add a little volume to your bun, or perhaps like me, you find that without meticulous strand-placement, you still don't have quite enough hair to cover the bulky doughnut without creating a healthy dose of can-you-see-my-doughnut paranoia?  If this is you, I may have found a solution that still manages to keep things just as simple.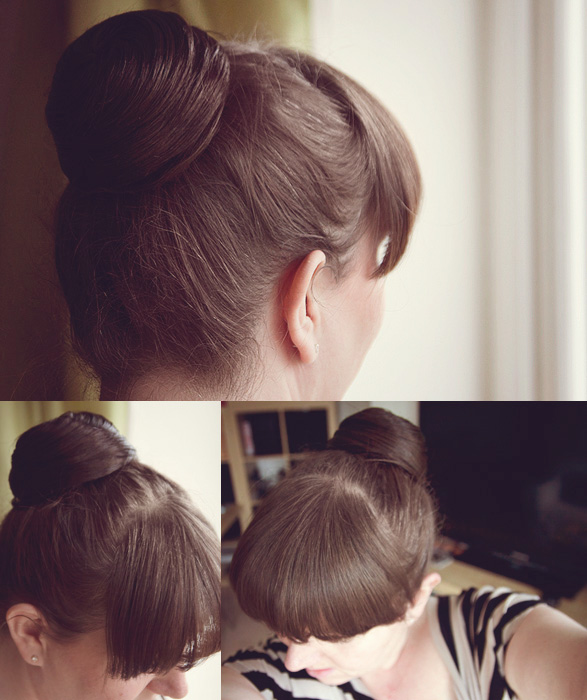 The Messy Hair Bun from Foxy Hair Extensions delivers a clip-on solution that works surprisingly well.  All you need to do is scrape your own hair back into some semblance of a pitifully small bun, secured with a hair band.  The single benefit of having such fine hair is the fact that I can keep my baby-bun secure all day with just two bands, one for the initial ponytail and one for the wrapped-around-my-finger bun.
After doing this, all you need to do is place the faux-bun over the top of your own and secure it with the provided clips (and bobby pins if needed).  No faffing about looking for your own methods of securing the extension, just align and clip into place.
For my hair colouring, the shade Dark Chocolate was a good match, perhaps just a hint too dark, but as soon as I redo my roots, it'll be perfect.  Although the Messy Hair Bun is synthetic, it doesn't look overly shiny or false, the only thing I'm not sure about is that for me, it's a little too sleek… a little too… ballerina?  I'd prefer it to be a touch messier without such an obvious, neat "swirl" at the back.  Having said that, it shows promise of looking more naturally untidy with each use… any little tugs and pulls will only serve to create a messier better-looking bun.
You can wear the bun-extension as high or as low as you like, attach it off-centre for an oh-so-fashionable side bun or keep things simple as I did.
The Messy Hair Bun is priced at £14.95 and is available online from www.foxyhairextensions.net in a range of 12-shades from the lightest platinum blonde through to the darkest black.
* press sample
if you liked this post, please don't forget to check out my subscriber options, here