These trio of eyeshadows from Illamasqua's latest Human Fundamentalism* collection landed on my desk this week and I thought I'd post up some swatches.  The three matte shades are: Vernau (yellow ochre), CanCan (bright lilac purple), and Pivot (yellow green).  Get ready for some piccies… (I dunno why I always say that like it's 2001 and you're all hitting X so as not to max out your 56k dial up *shrugs*)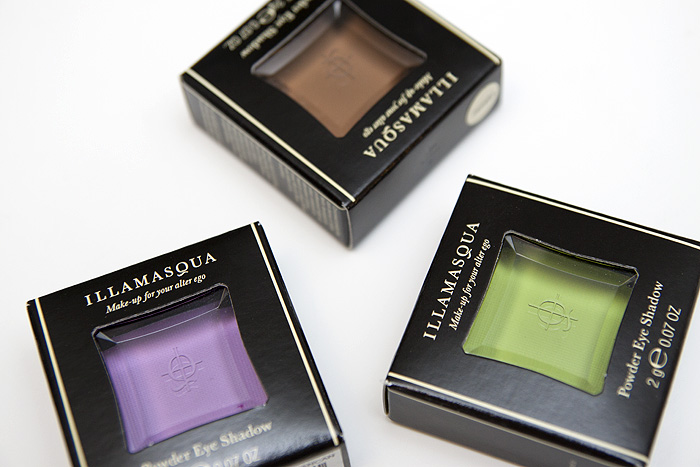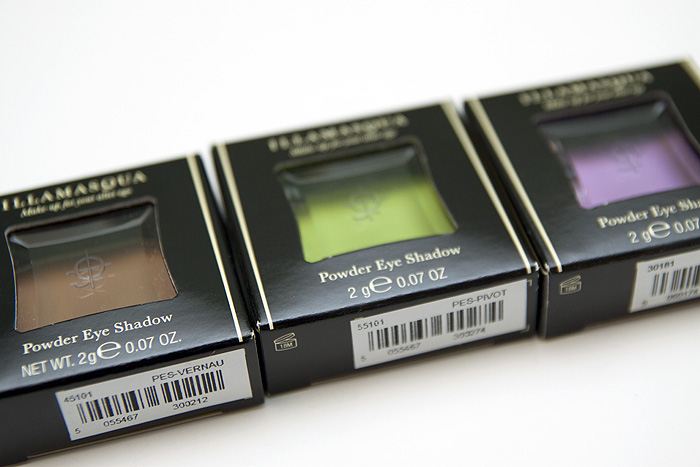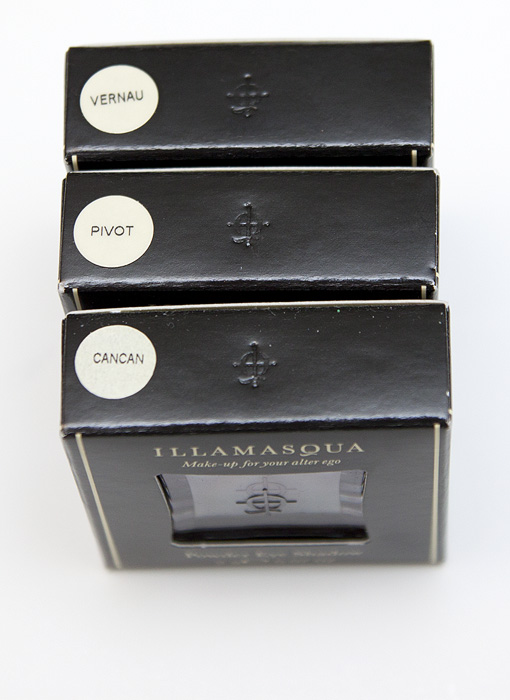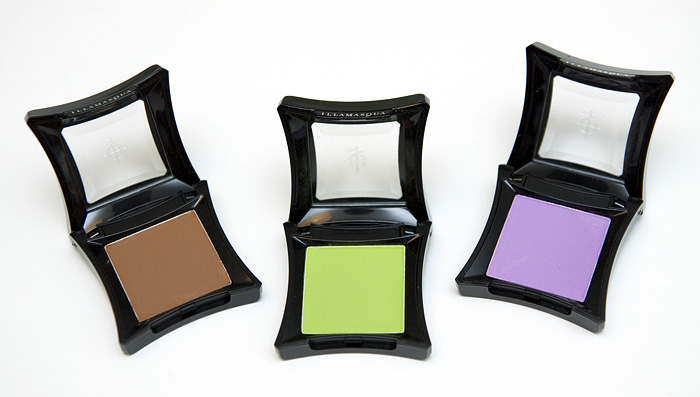 The shades have fair to good pigmentation (for mattes) and blend nicely.  The pick up is powdery but again, this is something you often have to contend with when you're using a matte formula.  On with the swatches…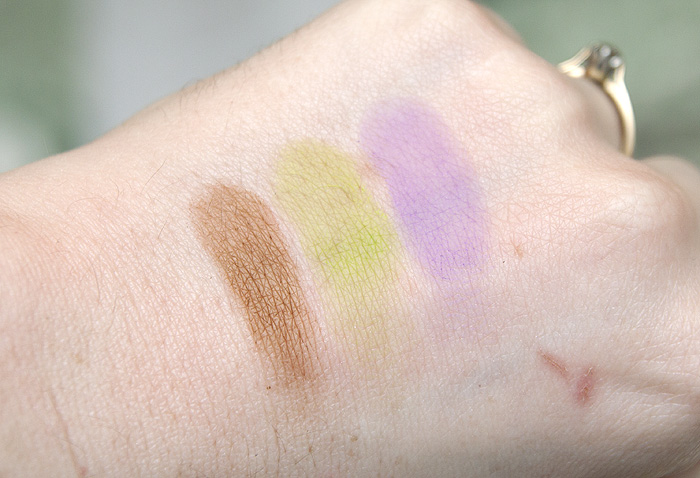 Applied on dry skin with no primer (please excuse the cycling scratches).  The pales don't look too chalky considering.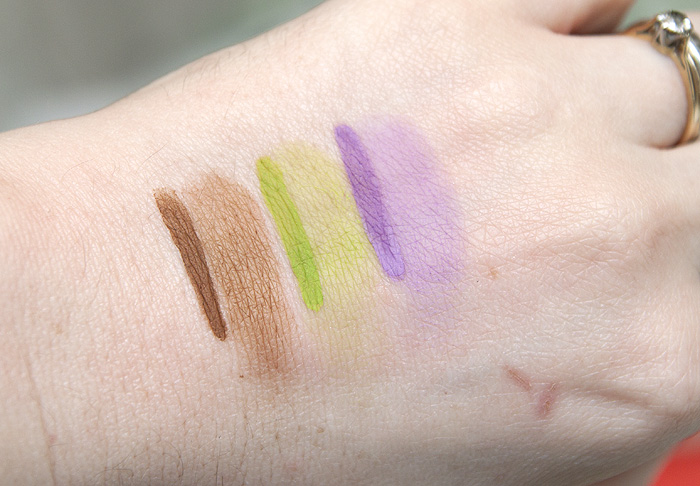 Each shade applied with Illamasqua's Sealing Gel* (as you would for an eyeliner application).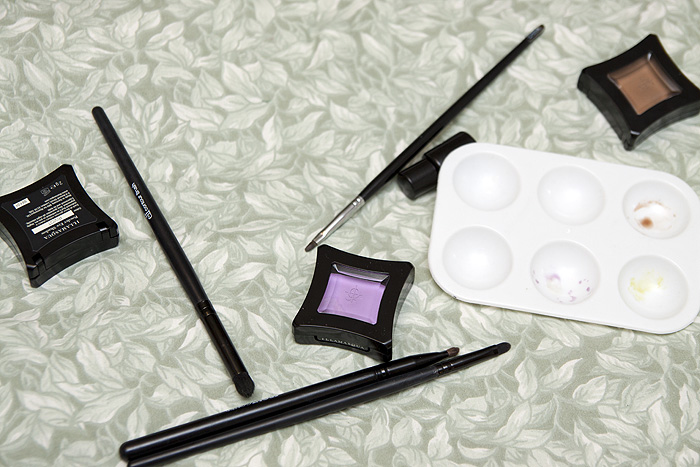 My attempts at a FOTD sadly ended with me looking at myself in the mirror and declaring "you look like a twat in those colours".
But…. and this is where it gets interesting…
I went to the bathroom to remove my clown face and upon scrubbing with face wash and warm water….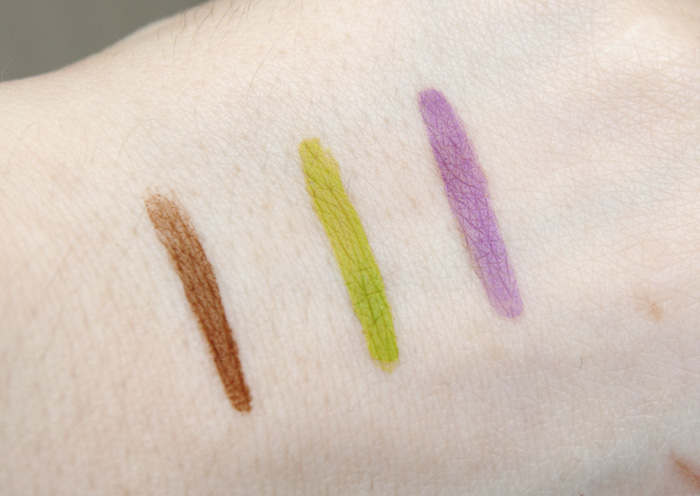 The swatches done with the Sealing Gel would. not. budge.  I mean, they really wouldn't budge.  I'm sat here 5 hours later and they're still looking at me.
So my review is being thoroughly hijacked because I can't coo over a trio of eyeshadows in shades that I wouldn't be seen dead in (did I mention Illamasqua will makeover your dead body?).  However… I can get excited over the Illamasqua Sealing Gel which would be a phenomenal addition to your makeup routine if, like me, you have hooded eyelids and can't stop eyeliner from transfering up to your hairline when you blink a bit too hard.
The shadows are ok, if you're gonna get all hot and sweaty over them… you probably don't read my blog anyway to be honest.  But check out the inconspicuous looking bottle of sealing gel next time you're near a counter.  I already own/use a mineral-makeup branded sealing gel… this is 100x better.
Illamasqua's sealing gel is priced at £10.50 and can be purchased on counter or online.  Also, if you haven't seen them already – check out Illa's pretty glorious moving swatches on their new-fangled website.  The Human Fundamentalism Collection can be seen here.

* press sample