Ok, so these aren't necessarily 'moody' but I didn't know how to describe them.  I love blue polishes and wanted to do a comparison post showing some of the blues in my collection that are a little different to the norm.  A little greyer… a little more… stroppy.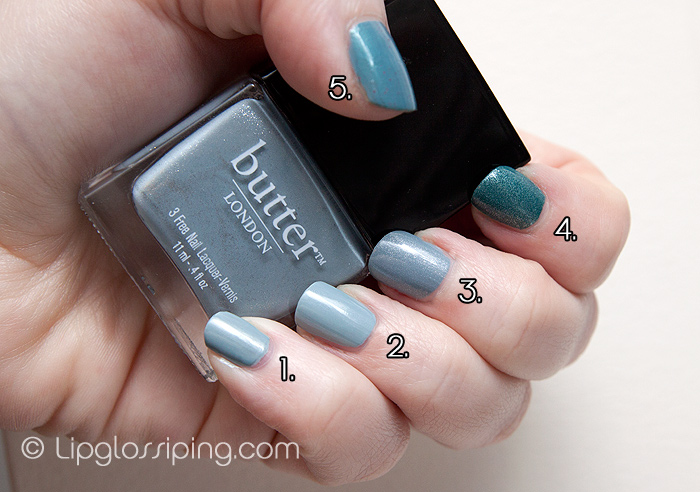 Some of you were also keen for me to elaborate on potential dupes for Butter London's new Lady Muck polish.  I'm afraid I came up empty handed on that score!
1. Essie – Sag Harbor
2. Eyeko – Rain
3. Butter London – Lady Muck
4. Butter London – Victoriana
5. Barielle – June Bug

A close up so that you can see the finish of each polish.  You can see that the HTF Essie Sag Harbor and Eyeko Rain are definitely quite close in appearance.
Yesterday I was also asked about the differences between BL Lady Muck and Victoriana.  Hopefully you can see that they're worlds apart.  Barielle June Bug?  Well that's just a fun odd ball!  Incidentally, I wonder what's happened to Barielle's Spring/Summer collection… anyone know if there is one?
.
What are your favourite 'odd' blues to wear?