Ahhh, it's time for the pretties. As much as haircare, skincare, mancare, and all that other "care" is great… it's these lovelies that rock my Christmas stocking. There's nothing *quite* like un petit cadeau of cosmetics to put a smile on your face is there?
Even more enticingly, you can go a tiny bit wild with your choice without rocking the boat too much – introduce a friend to a red lipstick this year, go on – she'll love you for it. And if not? Screw her… keep it for yourself.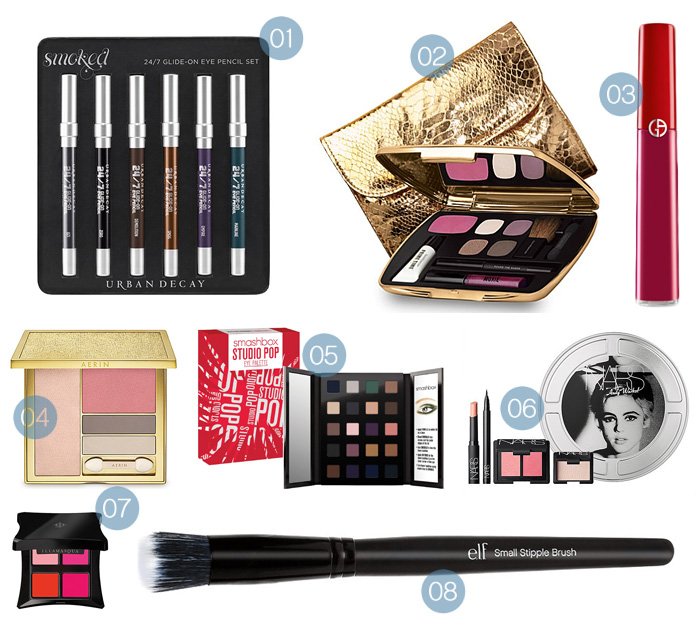 01:  Urban Decay Smoked 24/7 Glide On Eye Pencil Set (£26.00)*
Smoke out any look with the Urban Decay 24/7 Glide On Eye Pencil Set and give your gift receiver a full choice of shades for every look.  There's nothing too eccentric here, and all pencils will work brilliantly for neutral or smokey eye looks.  It's a workhorse gift that she'll never get tired of using.
02:  Bare Minerals Fired Up Face Palette (£36.00)
The most beautiful, plummy winter palette I've laid eyes on this year – isn't she stunning?  Featuring four BareMinerals READY eyeshadows, one blush, a mini eye primer, mini eyeliner, and a mini lipgloss.  It's a full-face palette that doesn't mix up the creams and the powders (pet hate).  I only have one more thing to say: cute bag much?
03:  Giorgio Armani Lip Maestro (£25.00)
I have literally, been on tenterhooks waiting for the UK release of these since I heard about them last June.  Who doesn't love the convenience of a great liquid lipstick?  And when it comes to gifting, you don't get much more luxe than an Armani liquid lipstick.  I'll admit that I haven't swatched these myself yet, but if you're looking for a tip – I'd bet on #504 being the one that will take you into Spring with a smile on the receiver's face.
04:  Aerin Holiday Style Palette (£45.00)
Sold out from most retailers, the Aerin Holiday Style Palette contains some beautiful, soft, shimmering neutrals that seem to straddle the Winter/Spring divide with elegance.  This seven-colour palette from Estee Lauder's granddaughter contains six eyeshadows and a highlighter to inject some luminosity in these days were there is none.  A real "girl" palette from a grown-up brand.
05:  Smashbox Studio Pop Palette (£36.00)
If you know someone who suffers from the age-old dilemma of always wearing the same look, day in, day out – treat them to the gift of variety with the Smashbox Studio Pop Palette.  Featuring 16 Photo Op Eyeshadows in a wide range of shades and four of the brand's famous cream eyeliners, they'll be spoilt for choice!
06:  NARS Andy Warhol Edie Set (£54.00)
Oh NARS, every year… at some point, you undo me.  My pennies sadly didn't stretch to this wonderful Andy Warhol Edie Gift Set inspired by the inimitable Edie Sedgwick but for £54, you actually get quite a lot of bang for your buck here.  The set includes: Film Star Pure Matte Lipstick—60s nude pink, Edie Eyeshadow—cream with a little bit of shimmer, Carpates Eyeliner Stylo—black, and a mini Blush Duo in Deep Throat and Amour—flirty, sheer peach and peachy pink. Everything you need to create the "Edie" look.
07:  Illamasqua Lip Palette (£34.00)
Featuring four of Illamasqua's best-selling lip shades in: Fable, Plunge, Over and Corrupt – this lip palette would be all you need to take on your summer holidays next year wouldn't it?  That, and some fake tan of course!  A great gift for anyone even mildly obsessed with lip products.  Use the palette to mix and match your own new shade or stick to the tried and tested formulas for a perfect pout.
08:  ELF Small Stipple Brush (£3.75)*
Following on from the release of their larger stippling brush, ELF have unveiled a mini-counterpart!  This smaller brush is perfect for applying cream blusher to the apples of the cheeks, blending foundation around the nose area or smoothing out concealer to ensure a flawless finish.  For the price?  It makes an unbeatable stocking-filler.
Are you all prepared for Christmas?  One last gift guide coming up tomorrow – hope that you've been inspired my lovelies!
* press sample