Very, very tentatively am I moving into some proper Spring nail colours.  I know it's like, April already and most of you are being all fashion-forward with your neons but me, well… I'm just a bit of a 21st century yokel.  You'll have to let me bump along with the times at my own slow pace.
Deborah Lippmann's Daytripper is the perfect example of my favourite. shade. ever. (other than taupe).  It's what I like to call "Guava", a softer version of coral… a version of coral that's more forgiving to my pasty, pale pink skintone.  It doesn't scream, it just siren-songs you into a gentle Summery submission.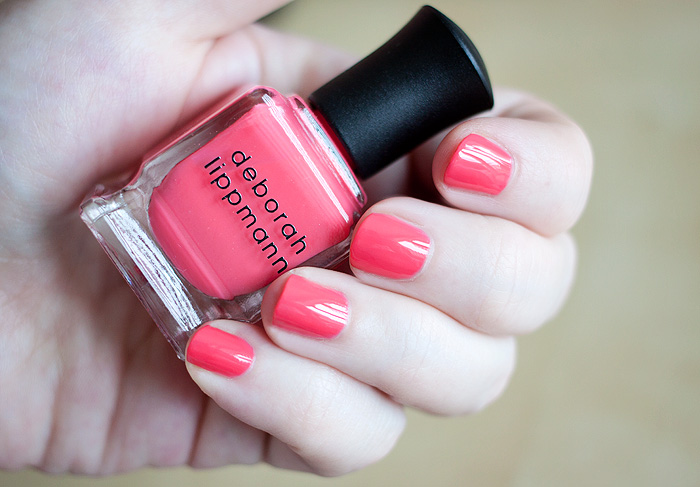 Aside from the obvious fanaticism I have over the shade "guava", this version of the shade on my fingertips sings even more temptingly thanks to it's super-glassy finish.  That's no top-coat on display there folks, this one is so shiny, you'll have no need to carry a mirror around with you.  The above photo shows three coats because I hate a VNL (visible nail line).  If you don't mind a little sheerness in your polish, this one has that pretty semi-translucent hard boiled sweet thing going on after two coats.  Me, I just like all out opacity.
Application is good, wear is good… and to be honest, so it should be from the premium brand.  I think I like their cremes even better than their notorious glitters!
Deborah Lippmann Daytripper retails at £16.00 for 15ml and is available to buy online from harrods.com and lookfantastic.com (where shipping is also gratis).
* press sample
if you liked this post, please don't forget to check out my subscriber options, here