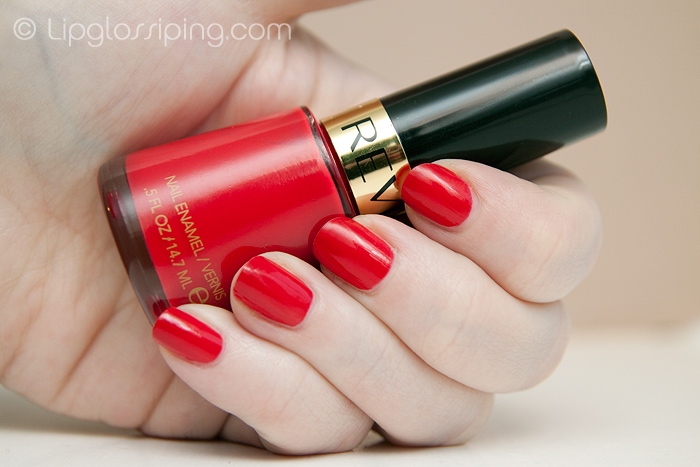 I do love these retro reds… they always make me feel a little 'pin up'… it doesn't matter how much the rest of my body lets me down on that score, a quick peep at my tips is enough to convince me I am Bettie Page personified!
Is it the ratio of orange to red that does it?  It's something that this shade, Eyeko Saucy and Models own Red Alert all seem to have in common.  I should do a swatch comparison to see if they're as simillar in the flesh as they are in my head.
Anyway, rambling aside… All Fired Up is a neat-o shade.  It applies a little more sheerly than I anticipated and took three coats to remove all traces of VNL (two if I'd layered it on with a trowel).  It dries fairly slowly so would always use a quick dry top coat… I do anyway, so this isn't really an issue for me.  It scores big points for long-wear, it lasted a full 3 days before tip wear became noticeable.
I really haven't checked out many Revlon polishes, I kinda jumped straight from not digging polish into my OPIs and Essies… infact, I'm sure there's some sick part of me that just loves the chase of a good product.
Giving this some wear over IMATS weekend has convinced me that I need to delve into the lower shelves of my nearest Revlon stand to investigate further, I like the bottle design and the brush which was a pleasure to use.
Revlon All Fired Up is priced at £6.29 and exclusive to Boots.