You only need the quickest of peeks at the iconic flash of yellow below to see where the latest in beauty boxes is coming from…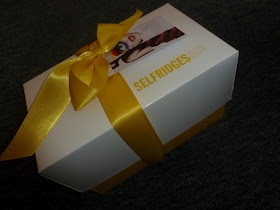 Image courtesy of vexinthecity
Yes, iconic store Selfridges are releasing a one-off beauty box (filled to the brim with niche and luxury brands for us to sample) in celebration of the launch of their new Beauty Workshop.
The box costs £15 to buy but contains items worth that value many, many times over.
I can't divulge the contents, so instead you'll have to head over to my good friend Vexinthecity for that grand reveal.
The main thing to remember about the Selfridge's Beauty Box is that numbers will be extremely limited and are likely to sell out faster than a certain Mr. Bolt could do a lap of the sportswear department.
Will you be buying the Selfridges Beauty Box? If so, you'll need to sign up here – and be quick about it!