I generally balk at the prospect of paying more than £8 for a high street/drug store product, but I had seen/read a few reviews of the new L'oreal Studio Secrets Smoothing Resurfacing Primer and was too excited by the "resurfacing" claims not to at least check it out.
My skin isn't too bad and I'm generally fairly content with it… however, improvements can always be made right? and the thought of poreless, mattified smooth skin was one temptation too far.  So, I left Superdrug clutching my little 15ml pot of miracles whilst trying not to growl too loudly at the £12.99 receipt sat in the bottom of the bag.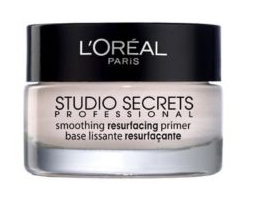 Please excuse the stock image, I've still got the sniffles and the thought of digging out my camera feels far too energetic!
The consistency reminds me of a slightly less fluffy Maybelline Dream Mousse product, it's a pale pink colour and a little goes quite a long way as it spreads smoothly and easily across the skin.  It feels quite heavy thanks to the silicones, although this feeling does fade after a little while you'll be pleased to hear.  After application, my skin feels very velvety and soft – but unfortunately, that feeling fades aswell.
L'oreal say:
Inspired by professional make-up, this primer masks wrinkles and uneven textures in the skin, making the complexion incredibly smooth with a velvety touch. Skin feels soft as if resurfaced.

The high elastomer content in the Smoothing Primer means that it has a beautifully smooth texture and is incredibly effective at disguising wrinkles and pores. The combination of soft, light powders gives a matte look and a silky finish.
Bold claims huh?
Well, this is where I stop talking and let you decide.  I've uploaded a picture… a great big massive ugly close up picture.  Here are my pores and wrinkles for all the world to see.  I've primed half my face with this product before applying my foundation whilst the other half has the foundation applied on bare skin.
Please excuse the wild hair and slightly goofy bug-eyed expression – my camera's wide angle lens is not the most flattering (but great for pinpoint focusing accuracy on those pores!)
Click the image to make it SUPER-SIZED! (if you dare)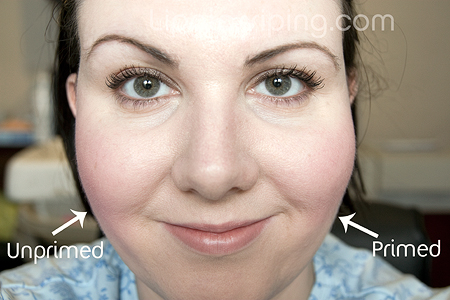 Are you back? Do you need therapy?
So what do you think?  Is there a discernible difference?  If there is… is it worth £12.99 of your money?
Personally, I don't think I'll bother repurchasing.
Tell me what you think!