Oh, I can't take it any longer! It's so dreary! Don't get me wrong, I'm not Summer's biggest fan… but c'mon, give a girl a break! I've got some gorgeous, suede boots that I haven't been able to wear for about two-months thanks to my lack of initiative in getting them scotchgarded**
Not only that but I had to wade through a field of mud picking Leila up from school yesterday after the wind had uprooted a monster tree onto the path and to add insult to injury, the workmen chopping it into teeny, tiny pieces weren't even hot.  No 3pm Diet Coke break for any of us Mums, just a bloody quagmire to wade through.
So I'm taking it upon myself to Spring things up a bit with this cheerful little number from Butter London.  Molly Coddled is from last Spring's "Sweetie Shop" collection and has the perfect amount of chalkiness to keep it looking fresh without pushing into starkness territory.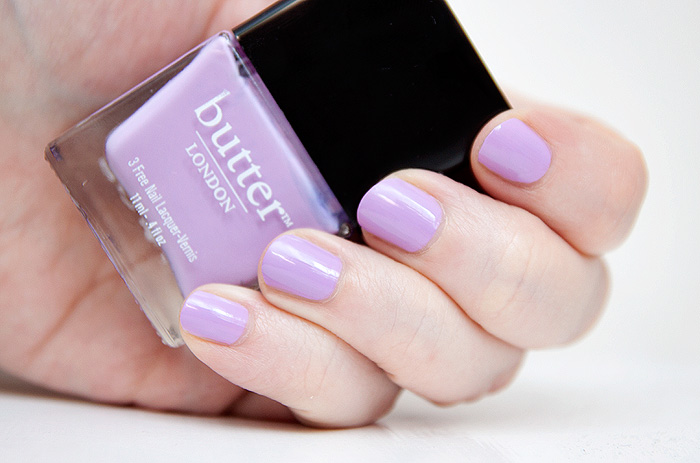 The more astute, or simply fashion-aware among us may also be getting seal-clappy about the fact that this lavender orchid would work nicely with the current Pantone Color of the Year.  If you give a shit about that sort of thing.
The formula is superb on this one with no patchiness or streaking like you'd often get with pastels.  I definitely recommend picking this one up if you're feeling a little Spring-resistant like me today.
Butter London Molly Coddled is priced at £11.95 and available to buy online from www.powderrooms.com
if you liked this post, don't forget to check out my subscriber options, here
* press sample
** 1st world problems