I received a press release a few days ago alerting me to a store called ToxicFreeBoutique.
To be honest, I didn't pay much attention to the email.  As soon as I saw the name of the store I was all "yeah, yeah… organic… dull… where did I put the biscuits…"
It was only a few days later at about 2 in the morning, when any normal person would be tucked up in their bed that I remembered the email and opened it up to have a look at what ToxicFreeBoutique was all about.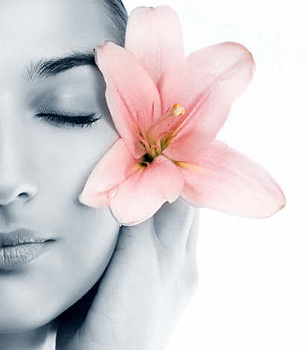 As it happens, it's far more interesting than I initially gave it credit for.
They have bath tea bags! Tea Bags! For your bath!  I love it, it's quirky and cute and I want one.  I love all things ginger (except cats), therefore "phew" has my name written all over it.
The website is kinda sucky (sorry, but it is) but I was well and truly snared when I read the following…
Mezaya water-based nail colours are an innovative concept to traditional polish. If you are used to traditional polishes you will immediately notice some differences.  Mezaya polishes do not have the potent smell usually associated with nail polish.
Wait.. what? Non-stinky polishes? Admittedly, I'm not hugely knowledgeable about nail polishes… I love 'em in a very shallow un-learned way.  But this is news to me!  Not only that, but the day Mr L. doesn't nag me about the smell painting my nails creates, is the day the world will fall of it's axis.  This sounds like it would give my ears a welcome rest from his "GOD, that stinks!" declarations.
Of course, I'm sure there are other "health" type benefits from toxic-free nail polish… but meh, whatever… just stop the nagging already.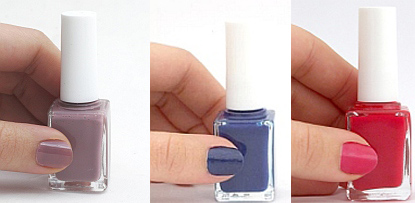 My 3 favourites from the collection: L-R: Pink Tea, Navy Angel, Big Kisses
They also have some transluscents… but they just annoy me.  If I wanna see my nails, I just won't wear polish.
I also have to give the company props for the images… it's nice to see "swatches" of shades next to the product information.  How many times have we been disappointed when a colour has applied NOTHING like how it looks in the bottle?  Too many, that's how many.
Also… for the love of God.  Tell us!  Is it a cream? is it a sheer? metallic?  There's honestly not many things that annoy me more than getting home a gorgeous opaque (in the bottle) shade only for it to take about 12 coats to achieve opacity on the nail.  So thank you for including the finishes in the description Mezaya. Kudos.
Something had to go and spoil it though didn't it… I looked at the price.  £12.95 for a 10ml (not even your standard 15ml) bottle of toxic free polish.  And then they want £3 to post it to you.  £16… for a 10ml bottle.  That's 26 of your US Dollars… for a bottle of nail polish.  That doesn't even smell of nail polish 😉
They're a bit too rich for me, even if they would work better than earplugs.