The lovely liloo is in search of a potential nail polish delight.  She's looking for a wearable (ie. not too bright or shocking) blue-based pink.  Think MAC Snob in a bottle.
I've been through my collection and can't find anything suitable.  This was the nearest.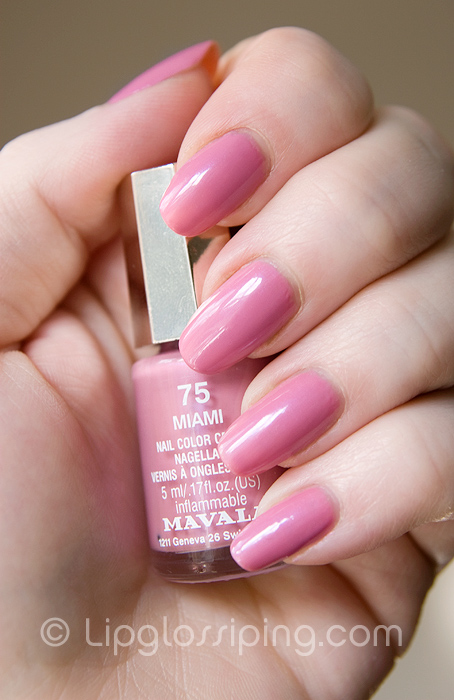 I picked Mavala Miami up when I raided the Debenhams sale last summer, it is blue based… perhaps not strongly enough to fit in the 'Snob' category, but it's getting there.
As for my polish requirements.  I LOVE it. It's pink and girly, but stops short of being sugary thanks to it's definite brightness.  I feel all summery wearing it and I may even have to reapply before moving on to another shade (high praise indeed!).
Application was tremendous.  3 easy, easy coats achieved a perfect finish, but as with a lot of Mavala's, it doesn't quite have the high-gloss finish I love, so I added a top-coat to get that glass-like sheen.  Longevity is average, a bit of tip wear towards the end of the 2nd day, but it's not too noticeable thanks to the forgiving shade.
I'm really pleased I picked this Mavala Miami shade up and I may have to start dragging myself into some more spring/summer-like shades!
Anyone have any nail polish "Snob" suggestions for Liloo?