Shade 1…. catchy…
Naming them must have ran the risk of breaking the budget for this new £1 line of makeup from Superdrug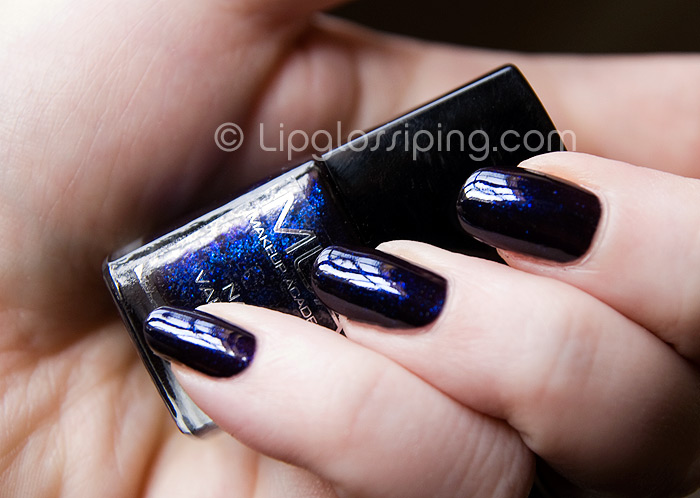 Ok, enough sarcasm…
Shade 1 is a blackened blue.  The best way to describe it is opalescent… a darker-than-navy base with royal blue glitter particles.  The glitter isn't chunky and a top coat isn't necessary to smooth the finish.  I had to go and stand in direct sunlight to capture the sparkles for the photo which is why you can see my conservatory roof reflected in my tips!
For a £1 polish it's a good looking finish.  Formula isn't the best… it dragged at the cuticles and if I look carefully there's still a couple of streaks visible after two coats.  However, it's not horribly gloopy or difficult to actually paint with which is an irritation I often experience with high street polishes.  Yes, I'm a nail polish snob I know (bar Asda!) *hangs head*
Ohh that's a good comparison actually…. I've tried two from the MUA line so far and quality isn't as good as the George formula.  The MUA polishes that I've tried have a denser, thicker formula, but they are fairly quick-drying.
Tip wear is a little worse than average, not by too much though and I haven't experienced any chipping after 2 days, so I'm very pleased with that.
I think I've covered most things… for a £1, you know you're not gonna get OPI quality… but I think this is a stonking shade and if you like your blues, definitely check it out next time you're passing Superdrug!  Alternatively, the entire range is now available to purchase from the website.
Do you like it?