In these times of austerity, does anything seem more wasteful than spending ££££ on disposable face wipes?  But for every face-wipe detractor out there, you'll find someone who wouldn't be without the convenience of their skincare-enriched, disposable towels.
As someone who tries to avoid too much water when cleansing, I've been known to use face wipes as part of my cleansing routine.  Not to remove a full face of makeup, but to freshen my face in the mornings…  I have to admit, however, that I've never paid more than around £6 for a pack.  I'm not sure I could bring myself to pay any more than this… but would you part with the cash for any of these?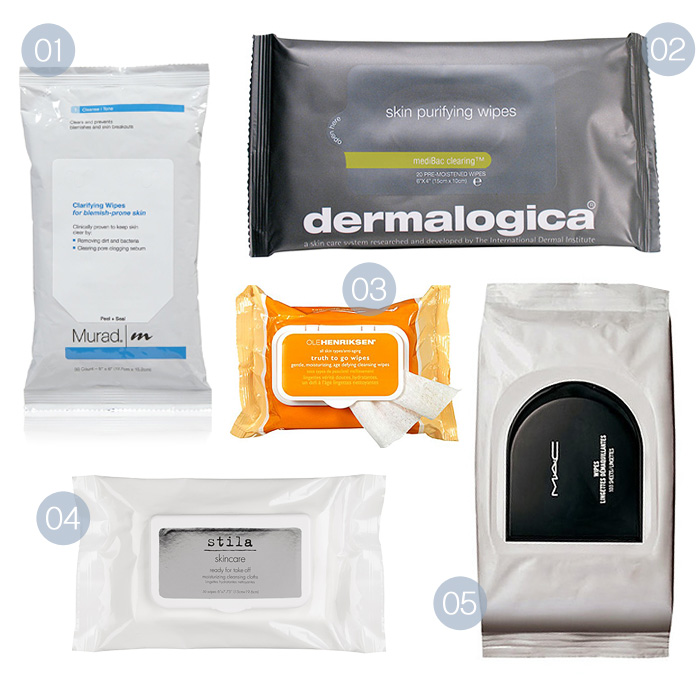 01: Murad Clarifying Wipes for Blemish-Prone Skin (£18.00, lookfantastic.com) – 30 wipes per pack / 60p per wipe
These wipes from Doctor-led brand Murad have been enriched with witch hazel, algae extract, grape seed extract and vitamin E.  Designed specifically for blemish-prone skintypes, the wipes promise to tighten your pores, regulate sebum and oil production and protect your skin from free radical damage.
02: Dermalogica Skin Purifying Wipes (£14.40, jerseybeautycompany.co.uk) – 20 wipes per pack / 72p per wipe
The Dermalogica Skin Purifying Wipes contain Antibacterial Triclosan, extracts of Balm Mint, Coneflower and Camphor, Salicylic Acid, and witch-hazel to cleanse, remove excess surface oil, and purify the skin.  These are particularly recommended for popping in your gym bag as a post-workout freshen-up.
03: Ole Henriksen Truth To Go Wipes (£15.00, hqhair.com) – 30 wipes per pack / 50p per wipe
For a less astringent cleanse, the Ole Henriksen Truth To Go wipes offer naturally based mild surfactants to gently lift away dirt and impurities while essential fatty acids nourish the skin.  These orange-scented wipes also include Vitamin C and Micro Algae stimulates Collagen production to lighten, brighten and tighten the skin.
04: Stila Ready for Take Off Moisturizing Cleansing Cloths (£12.50, fenwick.co.uk) 30 wipes per pack / 42p per wipe
The clue is in the name.  These wipes from Stila promise to deliver a more moisturising cleanse, perfect for the upcoming colder months.  Containing extracts of  lavender, chamomile, and aloe vera these wipes are made without synthetic fragrance, mineral oil, sulfates, parabens or phthalates, making them a great choice for more sensitive skins.
05: MAC Cosmetics Wipes (£15.00, debenhams.com) 45 wipes per pack / 33p per wipe
These oversized wipes from staple cosmetic brand MAC promise to make quick work of makeup-removal.  Saturated with M·A·C cleanser and infused with vitamin E, they offer a convenient cleanse.  Less of a skin treatment wipe, more of a fuss-free cleanse and go.
Would pay over £10 for a pack of face-wipes?  Are you a fan of any that I've mentioned?