So, it's the first of December…  Duhn, duhn, DUHN!
I would do pinch and a punch and all that crap but I'll leave it for my tweets where you can unfollow me without it costing me ad revenue.
BUT, seeing as it IS the first day of the final month of the year… the month filled with fairy lights, gifts, booze, food, and tinsel – I've got one hell of a festive NOTD for you.  Infact, it's SO festive that if you cross your eyes, turn off the overhead light and whistle the Colonel Bogey tune, you can make out the image of Baby Jesus on my pinkie.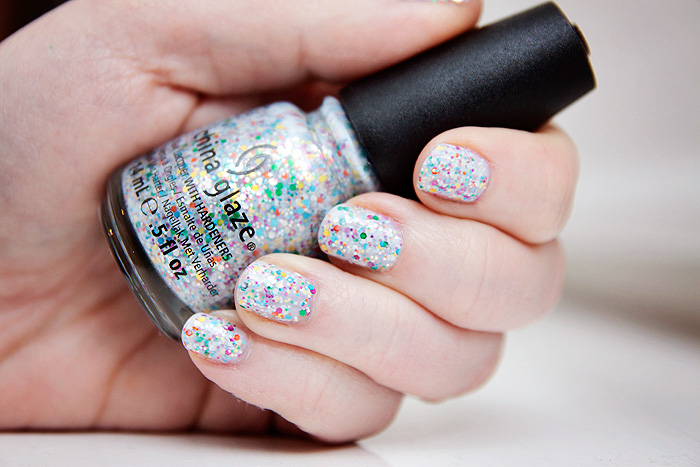 Hallelujah!
China Glaze It's A Trap-eze!* is a pretty cool (if not quite biblical) nail polish for the party season from the brand's winter Cirque du Soleil collection.  It actually reminds me of speckled eggs… which in turn, reminds me of that speckled frogs song (…five little speckled frogs…), which in turn, reminds me of being a kid – and really, that's no bad thing.  I know the world is going crazy for these glitters that play havoc with my OCD tendencies (…sat on a speckled log…) but have you ever tried to create symmetry with this polish genre?  It should have been one of Hercules 12 tasks.
The formula is pretty neat, the polish is packed with irregular-sized, multi-coloured glitter and the base colour – a very pale grey – is particularly runny yet doesn't give me any pooling issues.  You can tell that this isn't quite your standard formula (…eating some most delicious grubs *yum YUM!*…) and has been more or less engineered to compliment this particular polish format.  The above photo shows the coverage you achieve in three coats… it builds very quickly both in base pigment, and in the amount of glitter that accumulates on the nail bed.  I need two layers of top coat to stifle the cringy feeling I get from heavily glittered fingertips, or you could use something thicker like Gelous.
My OCD may not like it, but I do!
www.thebeautypartnership.co.uk
* press sample