Do you ever make snap judgements about products only to be proven very, very wrong?  I don't mind admitting that I do… and in this case, I got one hell of a shock when the product put me firmly in my place.
The RMK W Crayon & Gloss Lips is a new release from the Japanese beauty brand and features a duo crayon/gloss system designed to impart big colour and shine.  When it comes to lips, I don't tend to expect much in the way of pigment from Asian brands… my past purchases have taught me that it's all about the sheer juiciness and moisturising formulas.
Generalising much, I know… but this is just what I have come to expect.
The crayon end of the wand did two things to surprise me.
First of all, it dragged… it dragged across my lips like a dog not wanting to be taken for a walk.  It feels hard, a little waxy and not what I was expecting.  To be fair, this did mean that I could achieve a great, sharp line around the edge of my lips but I wasn't impressed.
The firm texture meant that it took a fair amount of "colouring in" before my entire lip area had been filled and I couldn't smoosh my lips together to spread the pigment, the formula just wasn't creamy enough.  This does mean that it is however, extremely long-lasting.
The second surprise came from the amount of pigment the crayon imparted.  We're talking serious colour.  Bold, opaque and a little startling.  In other words, fabulous.
So there I am… crayon on, thoughts a little jumbled at this point.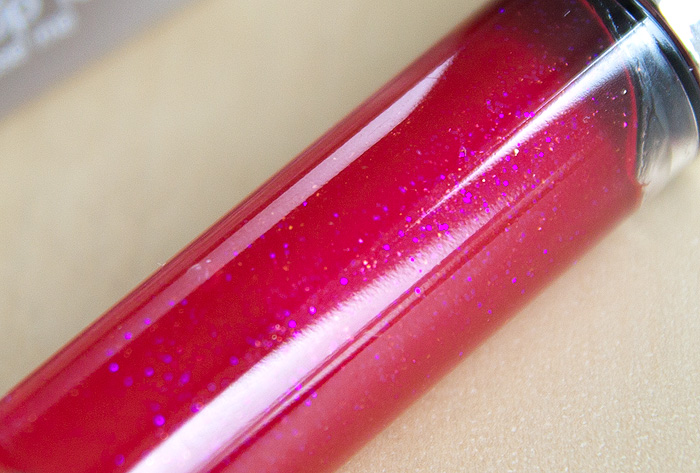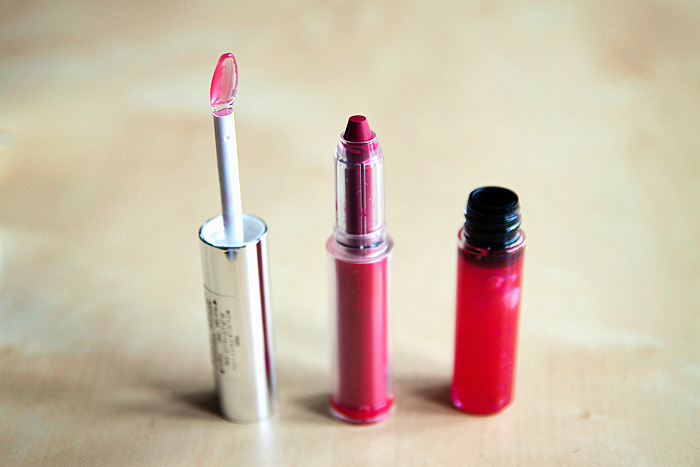 Ahh, the gloss end of the equation.  I hate gloss.  You know I hate gloss, we all know that yes… Lip"gloss"iping hates gloss.
Prior to actually trying the W Crayon & Gloss Lips out in person, I did toy with the idea that I'd probably just wear the crayon alone… but once it's applied, it needs something more.  It just looks unfinished with the crayon worn alone on the lips.
And so I dived into the gloss section of the tube, pulling out the silicone spatula-esque applicator and layering a coat of the glitter-filled semi-transparent gloop across my lips.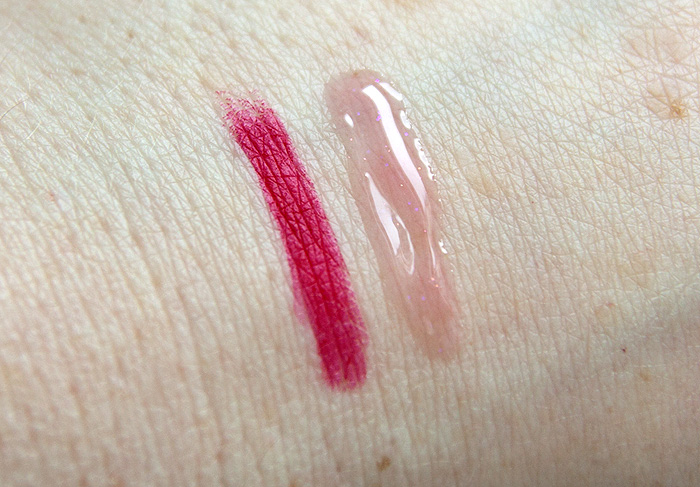 "Oh!"
"It looks nice!"
"Really nice!"
The truth is that I just didn't expect it to look like the perfect combination between pigmented AND juicy.  It didn't expect it to plump and fill my lips to the point where I found it tricky to resist snogging myself in the mirror.
The gloss is completely non-sticky (trust me, I'm a massive fusspot) and refreshingly light on the lips.  It doesn't try to migrate or pool unattractively, waiting for me to open my mouth and share strings of globby gloss with the world.  It just sits gently across the surface, sparkling away and making the crayon underneath feel far more comfortable than it did prior to the partnership.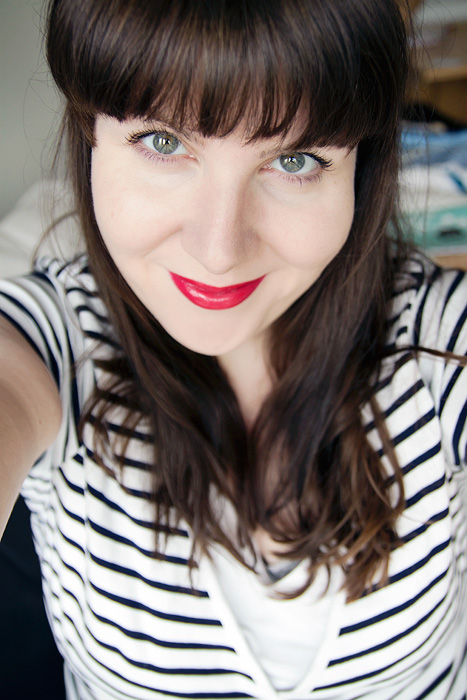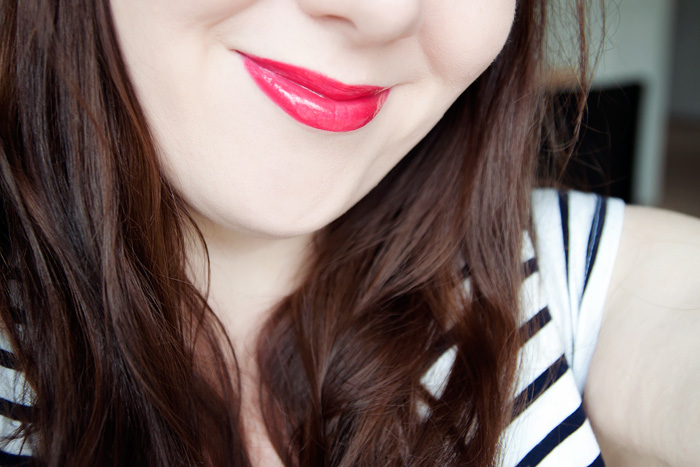 Transfer is a bitch, so be aware… although my teeth were unaffected, my glass and cup both took a shocking hit.  Having said that, there's so much pigment in the product that the transfer had no impact on how it looked on my lips.
After around 45-minutes, the shine gradually dissipates and it (to my eye) looks even better.  It loses the screamy "look at me" shine but retains the juiciness, appearing much like a well-formulated creamy lipstick.  Roll forward a couple of hours and you can just start to feel a little dryness creeping through from the crayon.  As your lips press together, there's more texture and at this point, it would be a good idea to give your pout a quick blot with tissue or reapply another layer of gloss.
It's not completely low-maintenance but for such a bold shade, that undercoat of crayon sticks like you-know-what to the proverbial blanket, making touch-ups with the gloss a lot less hassle than re-lining your lips or dealing with an ugly ring of colour around the lip-line.
Well, there you have it.  Massive, big and completely unexpected love from me for this unassuming tube of lip colour.
RMK W Crayon & Gloss Lips in 01 Cherry Red is priced at £22 and available in 5 limited-edition, seasonal shades.  You can find them online in the UK from BeautyBay.com, LookFantastic.com and instore at Selfridges!
* press sample
if you liked this post, please don't forget to check out my subscriber options, here