If you always struggle to buy the man who has everything, something… then I might be able to help you out.
Whether it's a partner, a brother, a son, or a father… there's always one fella in the family who leaves you scratching your head when it comes to accommodating him in your annual Christmas shop.  You may not think that fragrance is the most original gift choice in the world but if you get it right… you're on to a bonafide winner.
Over the years, I've managed to grind down Mr. L's resolve to the point where he is finally, a fully-fledged fragrance fiend.  His tastes vary but he's not too particular… if it smells great, offers long-lasting wear and isn't too extreme, he appreciates a well-crafted scent whatever the notes.
I've picked out two from his collection that I think would appeal to most men on your gift lists… and perhaps even more excitingly, you can pick them up for less than £16 each!  Yes, I'm talking about some of my favourite kind of fragrances, those mainstream buys that slip under the radar, punching well above their weight!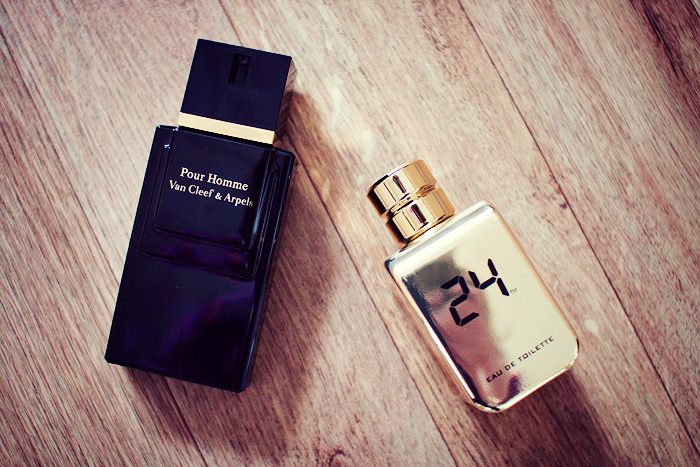 The Dad/Husband Choice: Pour Homme – Van Cleef & Arpels (from £12.15 – link)

Of the two fragrances that I've selected as "great buys", this is the one that would be better suited to an older gentleman.  It has a 70s vibe that might not appeal to the younger, Paco Rabanne 1 Million-wearing crowd.  It was revealed by VC&A a couple of years ago, that Pour Homme was one of Serge Gainsbourg's favourite scents and if you know me, you won't be surprised that this fact alone made me RUN for the nearest stockist.
Pour Homme opens with a vintage blast of green, a combination of aromatics that include basil, juniper, and bergamot.  It's a pungent beginning, herbaceous and dated – though depending on your personal tastes, that last adjective is not meant as a criticism – merely a caution.
The heavyweight bottle hints at the darkness of the juice inside, I like to imagine the contents swirling around in there like some kind of twilight-zone vortex because I do believe that the dark arts were afoot during its creation.  I simply cannot envision how it is possible to blend so many different discernible notes without creating a complete hash of a fragrance.  From the freshness to the spiciness, the leather to the wood, the soapiness to the magnificent rose – it's all in there, managed like a military operation.
Though I have mentioned the Serge Gainsbourg connection, I find it quite hard to associate the two personalities, myself.  Pour Homme is the epitome of a formal fragrance, it's perfectly styled to sit beautifully against the backdrop of a dark suit, buttoned up to the hilt.  I can only amalgamate the personalities by unbuttoning that collar a few inches and adding 20 Gitanes into the mix.  Ahh yes, there you go.
As the fragrance dries down on my skin, the soft rose notes blossom into a bouquet against a somewhat-soapy backdrop… on my husband's skin the rose whips against leather and patchouli, darkening the shadows further and stretching them into a bygone age.  The projection and longevity is equal to nothing else in his collection of fragrance, it can only be described in a cliche, as a powerhouse.  I can still smell this on my husband's collar when doing the laundry, days later.
Talk about getting some serious bang for your buck.  Oui, Je T'aime.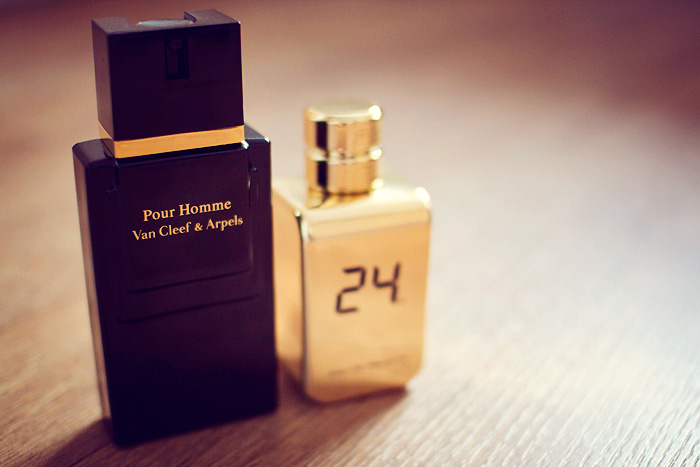 The Son/Boyfriend Choice: 24 Gold Eau de Toilette (from £15.00 – link)
If you can get past having Twentieth Century Fox logos emblazoned across the outer packaging, you'd be extremely wise to give this one a chance.  24 Gold is indeed a spin-off fragrance, paying homage to TV's Jack Bauer.  On paper… it's about as gimmicky as they come, Mr L's bottle even arrived with a 24-emblazoned ipod armband… presumably so he can listen to his favourite tunes while taking down the world's baddest baddies.  Frankly, it should be shit.  But it isn't, it's about as far away from shit as you can get, it's amazing.
24 Gold has an alltogether younger feel than Pour Homme, with gourmand chocolate box qualities and a boozy heart of amber.  From the off, it delivers up a beautiful and striking blend of powerful oud and vanilla – remaining forever sweet and better suited to the cooler weather.  It's an atomic blast of a fragrance, lasting for hours and hours on both mine and Mr. L's skin, projecting itself into a room long after we've left its walled confines.
24 Gold describes itself as a unisex fragrance, and I agree… it has some feminine qualities and a sweet oriental heaviness that would undoubtedly frighten off most Davidoff Cool Water-loving men, so do have a precursory sniff at some of the other scents in your intended target's collection before jumping in with a blind buy.  Certainly, if most of his collection is light and airy… steer well clear, 24 Gold is decadent, rich, and very, very dense.
If you think you might have the green light on a bolder choice of fragrance, 24 Gold genuinely wouldn't be wildly out of place in a designer's private blends collection – exclusively available to only the world's most revered department stores.  In conclusion, it belies its frankly ridiculous price tag.
Taken at face value, it would be easily forgivable to overlook this one in your local perfume store's bargain bin.  But do so at your peril!
These two fragrances prove that it's simply not necessary to drop £££ to find an incredible fragrance and although fragrance buying is a very personal experience, I believe you'll be hard-pushed to find better quality for the money this Christmas.
if you liked this post, please don't forget to check out my subscriber options, here