My first Deborah Lippmann glitter polish.  It feels like every iconic DL polish comes with it's own story firmly entrenched in popular culture.  Glitter in the Air was created by Deborah after she had watched Pink's performance at the 2010 Grammy Awards (if you search on You Tube you can find it).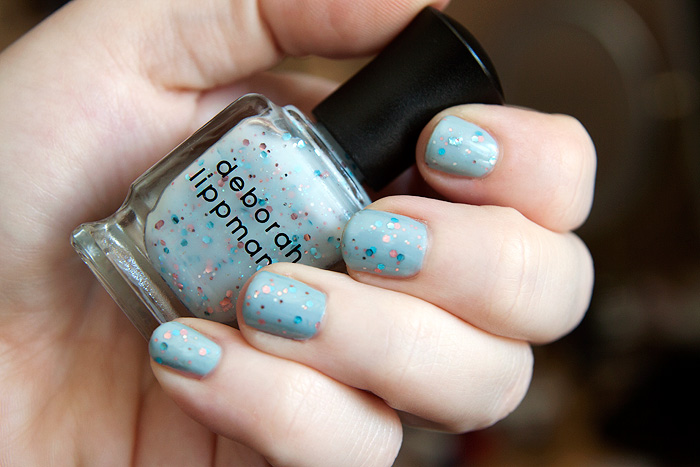 The most important thing you should note is that in the above swatch, I have LAYERED the Deborah Lippmann polish over Essie's Sag Harbor.  The polish on my bare nail is VERY sheer… not a good look over yellow-stained tips.  I wanted you to be able to appreciate the glitter without the distractions from my ugly nails.
So again, I repeat… even with three coats… you will be able to see your own nail beneath Glitter in the Air unless you layer it over another colour.  Got that?  Right.
The overall effect of the mani reminds me of a baby's birthday party… it's ethereal, light, delicate and sunny.  A true feel-good polish for the playful amongst you.  It's limited edition for Spring 2011 and has already disappeared from the website so if you want it?  Better get down to HoF fast!
£16 for 15ml at House of Fraser.  It's undoubtedly pretty but has a hefty price tag to match.
* press sample