What gorgeous weather we're currently enjoying!  Over the weekend I was looking for something a little lighter than my standard liquid foundations to wear on my face.  As I was digging around in my collection, I happened across a little pot of tinted moisturiser by a company called Mádara which I'd received as a free sample with an order I'd made a couple of weeks ago.
Now, I would normally consider my skin not clear enough for tinted moisturisers, so I approached this 'try out' with slight apprehension (and my eye on my Revlon Colorstay incase it all went horribly wrong).
Mádara are a Latvian organic company who carry the tag line 'ecocosmetics' under their brand name.
Here's a blurb from their website:
Today we shape, create and nurture MÁDARA. MÁDARA is our story about love towards the place we come from, about good design, high quality natural and organic products and good honest business practice.
How good does that sound?
Well, let's see if it's too good to be true.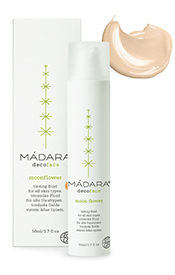 Mádara Decoface Tinting Fluid in Moon Flower (the lightest of 2 shades)
What they say:
Tints, illuminates and lightly moisturises the skin of the face and neck. Evens out skin tone. Gives the skin freshness and radiance. Disguises imperfections and fine lines. A lighter alternative to foundation. Like daisy petals shimmering in the moonlight.
What I say:
The first thing I noticed was the smell, it has a slightly herbal scent to it.  Not musky herbal, more floral – really rather nice, especially as it isn't at all overpowering.  The formula, although thin, is very pigmented – a little goes a long way!  I used my fingers to apply and found that it spread evenly and easily across my skin.  I was also pleased to discover that it contained sunscreen, although to what extent/rating I can't find out, not that it matters hugely to me as I always slap on my DHC facial sunscreen anyway.
Application finished, I looked in the mirror and was disappointed to discover no difference in terms of coverage.
However, after uploading these photos, I'm re-evaluating my thoughts on the coverage.  If you look at the before and after, there is definitely more evenness in my skintone in the after shot (the one on the right).  I think it is most noticeable across my nose.  Yes, it is pretty sheer – but I need to remind myself, that's exactly what I was looking for!  I don't want to be caked in makeup on days where it's liable to melt!  I hadn't applied any concealer, but I will apply a little to key areas  next time I wear this tinting fluid.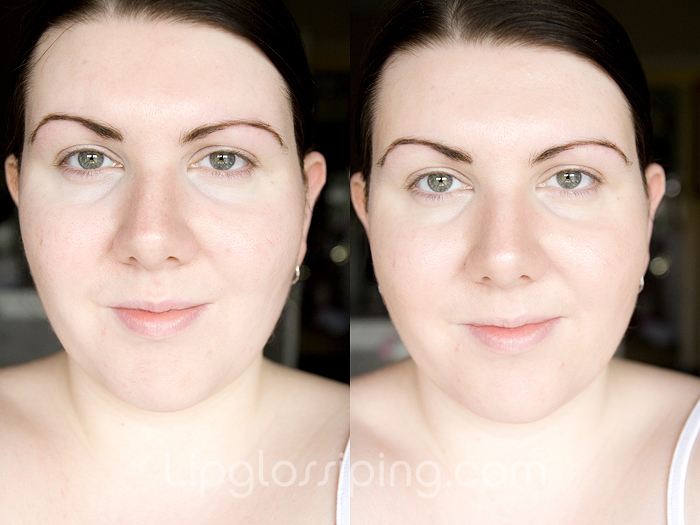 Before on the left/After on the right
I have typical combination skin which also suffers from sensitivity and I experienced absolutely no burning/stinging or tightness during or after using this product which is obviously crucially important and something that Mádara prides itself on achieving. 
One negative (and unfortunately one my ultra pale skin won't let me overlook) is that I did encounter a little oxidisation very quickly after application.  It certainly didn't tango me, but I did smooth over my neckline with some untinted moisturiser to re-blend the colour and ensure there were no giveaway 'foundation' lines.  It didn't oxidise further.
Mádara Decoface Tinting Fluid comes in 2 shades, so there's not much room for error for pale gals like me.  The 2 shades are Moon Flower and Sun Flower, could they give them prettier names?!
Once out in the heat and the sun, I was pleased with the longevity of this product.  It lasted pretty well all day.  It did nothing to tame the oilies, but I didn't expect it to and was simply surprised that it could last despite them!  My skin continued to feel moisturised and supple throughout the day and into the evening.  I had no issues with flakiness (which I sometimes get with my Colorstay).
I would really recommend this product to anyone looking for a lighter alternative for the summer.  It doesn't offer the greatest coverage in the world, but if you're looking for that… then I believe you'd be hard pressed to find it in a tinted moisturiser.  As a bonus, you know that what you're putting on your face is natural and organic.  You can read more about Mádara's Eco credentials here.
In conclusion, this is on my purchase list, but I definitely want to make friends with a reliable concealer too!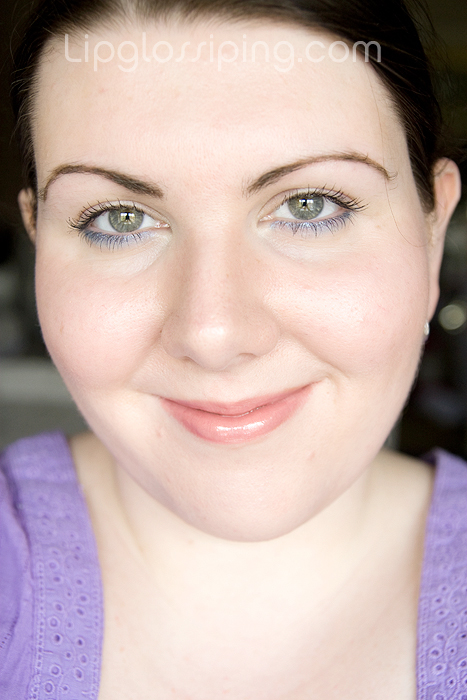 My simple summer FOTD featuring Mádara's Tinting Fluid (please excuse the stray hair)!
Mádara Tinting Fluids are available at LoveLula.com£21.50 for 50mls.
[starreview tpl=14]