I went to the Beak St. store last week in an attempt to find a shade match for the new Illamasqua Skin Base Foundation.  I'd previously been to the Selfridges counter where they were OOS of the shade the MUA had recc'ed for me, #2.  Once at Beak St. I had a closer look at the tester for #2 and I wasn't convinced.  It's very pale.  Like proper porcelain pale.  I'm pale but ruddy with it and dislike "too pale" foundations even more than ones that are a little too dark thanks to a morbid fear of a face that looks like an uncooked pasty.
Again, I was matched to #2 and though I could see where the MUA was coming from with her recommendation, I asked her if she knew whether the base was prone to oxidising in the hopes it was!  In other words, I still wasn't convinced by the shade but I wanted to try the formula so badly I was clutching at straws just so that I could convince myself into purchasing.
The MUA disappeared and came back with a little sample tube which was a kind gesture gratefully received and one that has since saved me £25.00 of disappointment.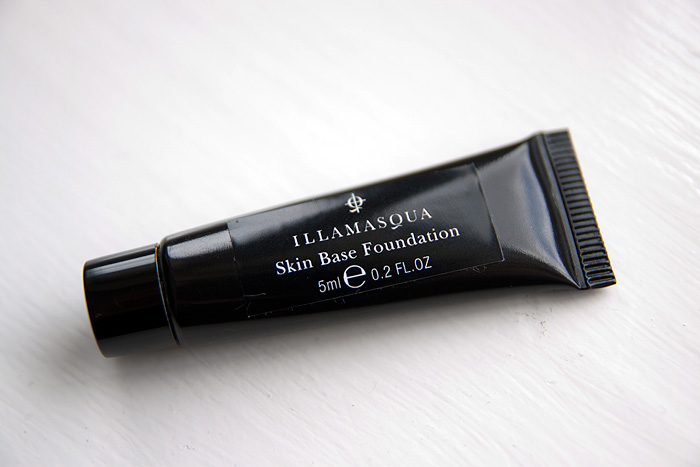 Illamasqua's latest foundation is marketed as being inspired by the Asian BB Cream market, promising to smooth, soften and condition your skin whilst providing natural, buildable coverage.  Unfortunately, my experiences don't tally with any of those claims.
The formula is thick but not unblendable, it takes well to warming up with your fingertips before spreading over your face.  This makes it (as with most true BB creams) a good lazy day foundation… no brushes are needed, just apply… blend with your fingers and go.
As for natural coverage?  I found this a little on the heavy side.  Not too heavy… but heavier than I'd like to call 'natural'.  As with most things as subjective as this, you may well be immensely pleased to hear that it's a fuller coverage foundation!
But my first disappointment (aside from the lack of sun protection and downplayed skincare ingredients) was the shade.  Now, with 18 shades available, I've got a cheek moaning about it.  But despite those 18 shades, I haven't found a match.  The Missha #21 is pretty much perfect for me… this is too pale and the next shade up is too yellow… any further than that and it's too dark.
IMO possibly the first time my skin has looked better WITHOUT foundation.
The second disappointment came with the flakies.  My skin is admittedly quite unbalanced… I have flakes and congestion occupying the same areas.  Before applying any foundation, I moisturise well… it's a rare foundation that can take the place of my moisturiser but look, flakies immediately after applying despite a good dose of Oilatum.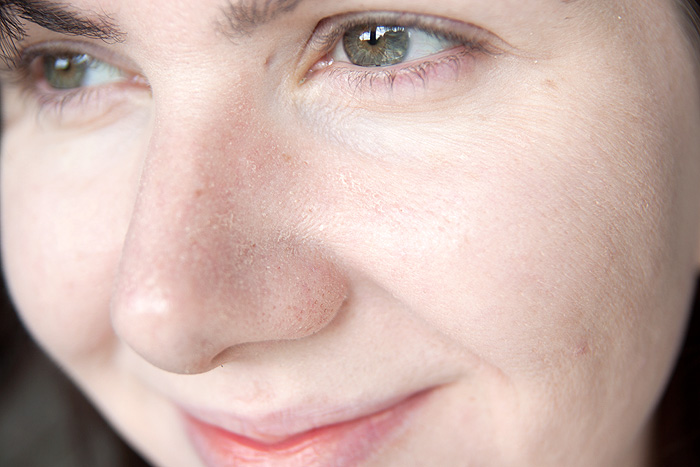 The foundation clearly sent out mini heat-seeking missiles to every dry spot on my face and clung on for dear life.  I just can't recommend this for dry-skinned sisters… these flakes weren't apparent before foundation, though of course I'm not denying they were there but I don't enjoy foundations that accentuate my dryness like this.
Finally, despite the dryness thing… I found that this didn't control oil very well either!  The centre strip down the bridge of my nose was shiny within a couple of hours and the foundation had slipped from my t-zone by lunchtime.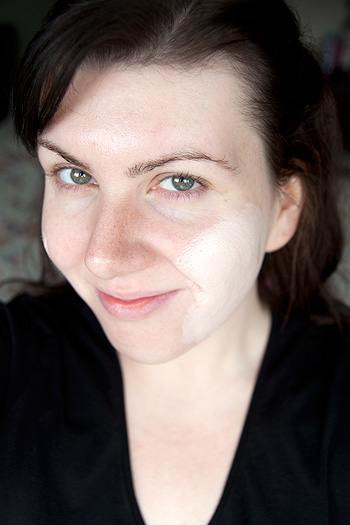 sexy
I really think this foundation should be tried before buying.  It's garnered some rave reviews across the net by some awesome reviewers whose opinions I trust implicitely.  I think that the Illamasqua Skin Base Foundation is simply a slippery customer and will either delight or disgust you.  Do try and get a sample or a full face applied by a MUA before purchasing.
For me, this doesn't compare to my BB Creams… infact, it reminds me of my MUFE HD Foundation which as a revered product is probably a huge compliment.  But then I disliked my MUFE HD foundation for the same reasons.
Illamasqua Skin Base Foundation is priced at £25 and available instore, on counter or online.
Have you tried it?  How did you find it?