Just a quickie post to give you a heads up (if you didn't already see my tweet) about the Love Makeup sale that's currently ongoing.  There are some real bargains to be had… not those faux 10% off rubbish ones but proper, bonafide, hide-your-purse-before-you-spend-next-month's-rent extravaganzas.  I was pretty good about it tbh, grabbing a couple of things that I'd wanted for a long time and dipping my toe into waters unknown with a stonking red eyeshadow (I have a weird little "thing" for red eyeshadow).
Anyway, here's what ended up in my basket, with a couple of swatches thrown in for good measure.  What can I say?  I'm a horrible enabler.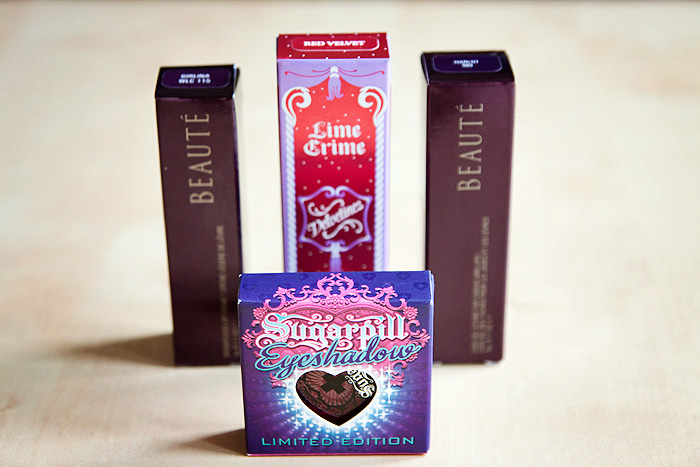 I already own a couple of products from Beaute in the form of one of their Weightless Lip Cremes in Masochist (don't bother searching, to my shame it's not been blogged yet) and also the Beauté Liqui-Gel Lip and Cheek Stain in Fluoron which HAS been blogged, and you can read about it here.  To add to my Beaute collection, I picked up the Weightless Lip Creme in Girlina… ever since I saw Bubblegarm modelling it a billion years ago, it's been on my wishlist.  The other item that has found its way into my lipstick drawer is the Beaute Liqui-Gel Lip and Cheek Stain in Harlot… a rich, blood-red.
I've since spoken to Cami on Instagram, who is shamelessly trying to tempt me into going back for the Beaute Liqui-Gel Lip and Cheek Stain in Fever.  I can't take the pressure!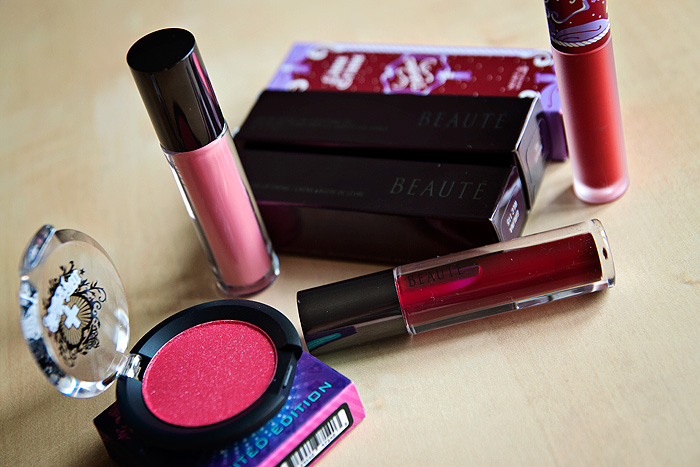 Going somewhat against my principles, I bought one of the much-lauded Lime Crime Velvetines in Red Velvet… there were too many beautiful swatches on the interne that made me think this could be my ultimate Snow White red… I coudn't resist the temptation.
And finally, to re-balance the good/evil in this world (you know I'm being overly dramatic again right?), I picked up a stunning, limited edition, sparkly red eyeshadow from Sugarpill.  Isn't it gorgeous?  Swatches below…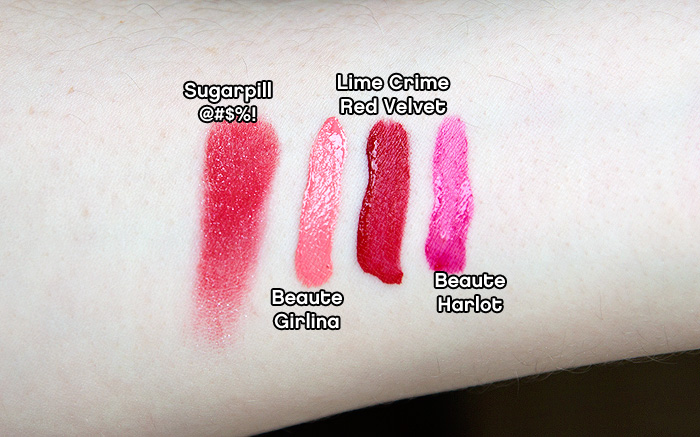 How nice do they all look lined up like that?  I'm in makeup heaven right now.
Anyway, I shall try and do proper reviews in due course… give me a slap if there's something from the above that you'd really like to see and I'll keep it out near my PC… if it goes in one of my drawers, chances are… it's gone FOREVER.  Well, in terms of reviewing promptly!
Have you been tempted into indulging in the Love Makeup sale?  Gotta love a "new makeup buzz"!